Georgian cuisine is hot khachapuri with viscous cheese, juicy meat with piquant sauces, fragrant thick stews in clay pots. Everything is natural, hearty, prepared with care, and at home. Georgians are proud of their cuisine and cook not only for the sake of tourists – they really appreciate traditional dishes, but they also eat them on weekdays and on holidays. We know exactly what we are talking about because we managed to live in different parts of this country and communicate with local residents. We will tell you what national dishes you should try in Georgia. We are sure she will conquer you!
Khinkali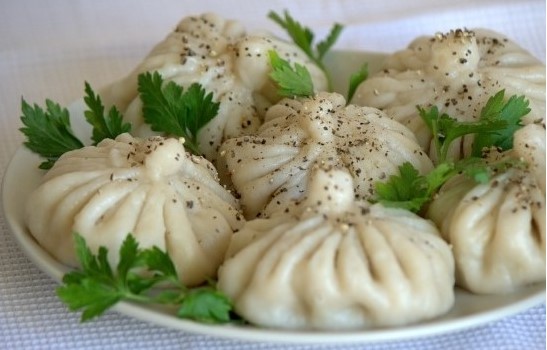 If you think that khinkali are big dumplings, come to Georgia rather. This is not just a dish – it is a whole art. Just imagine a bag of thin unleavened dough, tender minced meat with refreshing cilantro, fragrant broth. Most often, the filling is made from lamb or its mixture with veal. The chefs masterfully form folds and keep the balance of meat and broth – it's more difficult than making dumplings. Georgian restaurants never serve semi-finished products – they cook from scratch according to a home recipe. Flee if you find an establishment that uses freezing.
In Georgia, khinkali is ordered by the piece. They are very satisfying: if you are a "beginner", take 5. The dish is fantastically juicy, so sour cream or adjika will be superfluous. To eat khinkali properly, hook it with a fork on the cap. Take a bite of the base, drink the broth. Then enjoy the "milk" meat and tender dough.
Khachapuri

Khinkali
In Georgia, you should definitely try khachapuri. Unleavened dough, salted cheese, butter – it's amazing how a combination of the simplest foods can give such a rich taste. Locals often eat khachapuri for breakfast. Check out the local mini-bakeries found in almost every neighborhood in every major city. Usually, their signs are inconspicuous – you have to go by the smell. And such places sell fresh hot khachapuri, Georgian shoti bread, samsa, and other pies just from the oven.
Kharcho

KhachapuriKhinkali
Be sure to try kharcho in Georgia – it is prepared "correctly" only here. The recipe may vary from region to region, but never the basis. Kharcho is a thick beef soup with walnuts and "sour lavash" tilapia made from dried cherry plum. The last ingredient is replaced or supplemented with tkemali plum sauce. Rice, vegetables, or tomato paste are added to the soup. Kharcho is a very thick, spicy, spicy soup with lots of fresh herbs and garlic. It has a complex taste: spicy, sweet and sour, pungent, refreshing, very meaty. Be sure to try it in Georgia and bring home tkemali, spices, and adjika to prepare the dish at home according to a special recipe.
Chakhokhbili

KharchoKhachapuriKhinkali
From chicken dishes in Georgia, we recommend trying chakhokhbili. This is a thick, spicy stew with a savory flavor. The chef sauces chicken pieces in a dry skillet and then simmer with tomatoes and onions. No liquid is added to the dish – it languishes in natural juices from vegetables and meat. A couple of minutes before cooking it is flavored with a generous portion of butter, garlic, Georgian spices, and chopped cilantro. Usually, this dish is prepared spicy in Georgia.
Chashushuli

ChakhokhbiliKharchoKhachapuriKhinkali
Translated from Georgian, chashushuli means "sharp". The dish is usually prepared in ketsi, traditional Georgian pottery. Chashushuli is tender beef meat in tomato sauce. It is spicy, spicy, and quite fatty. Veal is stewed in adjika with bulk tomatoes, onions, cilantro, and a lot of garlic. If you don't like spicy foods, ask for chasushuli without pepper. True, the whole essence of chashushuli is precisely in the "fire". The dish is worth trying with Georgian bread or lavash.
Lobio

ChashushuliChakhokhbiliKharchoKhachapuriKhinkali
Do not confuse with Lobiani. Each dish is based on beans. Lobio is a snack and lobiani is a bean-filled tortilla similar to khachapuri. This hearty dish of Georgian cuisine has a piquant taste, the slight sourness of tkemali or vinegar, and a spicy aroma.
Mtsvadi

LobioChashushuliChakhokhbiliKharchoKhachapuriKhinkali
Connoisseurs of meat dishes and "pure" tastes should definitely try the Georgian shashlik mtsvadi. It would seem that what can be surprising here – the meat on the grill, it will be excellent at home in the country. But don't jump to conclusions; order to compare. Georgians do not marinate meat for the barbecue. Only those who are confident in the highest quality of the product can afford this luxury. The secret of mtsvadi is in selected fresh meat and grapevine coals. Lamb or calves are slaughtered on the day of cooking. Meat can be steamed or chilled but never frozen. It is believed that the most delicious kebabs in Georgia are fried in the mountains – try to try it on an excursion to Svaneti or Kazbegi. Although in city restaurants, mtsvadi is also invariably fresh and good. The meat is served with crispy onions and pomegranate seeds; choose the sauce to taste.
Pkhali

MtsvadiLobioChashushuliChakhokhbiliKharchoKhachapuriKhinkali
Among the snacks in Georgia, you should try pkhali – a group of dishes with one name and a dozen recipes. Not a single meal is complete without them. The base of pkhali is any vegetable or succulent herb. The classics of Georgian cuisine are spinach, beetroot, and cauliflower snacks. The main ingredients are passed through a meat grinder and mixed with a sauce based on walnuts, hot peppers, garlic, onions, cilantro, vinegar, and hops-suneli. The result is a refreshing sweet and sour snack with spicy notes and a touch of pungency. Be sure to try pkhali in Georgia. We advise you to take a platter if the restaurant has such an opportunity.
Badrijani

PkhaliMtsvadiLobioChashushuliChakhokhbiliKharchoKhachapuriKhinkali
Eggplant dishes of Georgian cuisine are called badrijani. First of all, we advise you to try the traditional cold appetizer in the form of rolls. This is nigvziani badrijani made from walnuts, ground with garlic and Imeretian saffron. Also in Georgia, it is worth trying warm badrijani. This is an appetizer in the form of rolls stuffed with fried onions and garlic. Be sure to eat badrijani khizilala in Georgia. This is roe made from baked eggplant with onions, spices, and pomegranate seeds. All this goes perfectly with Georgian bread and suluguni.
Satsivi

BadrijaniPkhaliMtsvadiLobioChashushuliChakhokhbiliKharchoKhachapuriKhinkali
Satsivi is a traditional Georgian sauce made from walnuts with spices. A skillful set of spices makes it piquant, cilantro adds freshness, and lemon juice adds sourness. A whole group of national dishes is prepared with this sauce in Georgia: chicken, turkey, duck, beef, or fish satsivi. The first option is considered a classic. Be sure to try the sauce separately and as part of a meal of the same name. This spicy, buttery taste will be remembered for a long time.
Also Like