Belgian cuisine is not only about the legendary chocolate or waffles. And in Brussels tourists are not imposed on Brussels sprouts at all – here is completely different street food. Eateries across the country offer home-style, simple, hearty dishes, while restaurants offer impressively fine dining.
By the way, Belgium holds the record for the number of Michelin-starred restaurants per square kilo. We will tell you what is worth trying in Brussels, Antwerp, Bruges and other cities: from traditional dishes to street food. We will advise which products to bring home. Descriptions of Belgian cuisine with photos will help you not to get confused in this "delicious" country.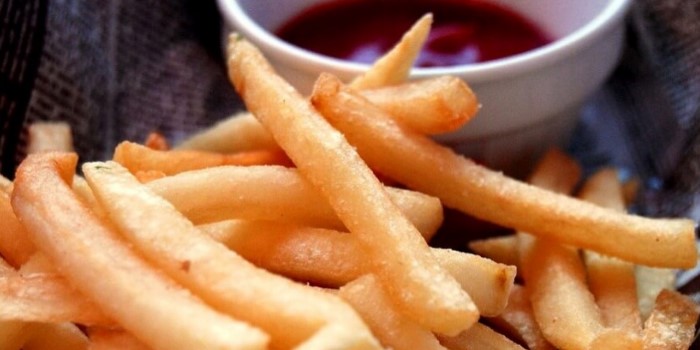 Waterzooi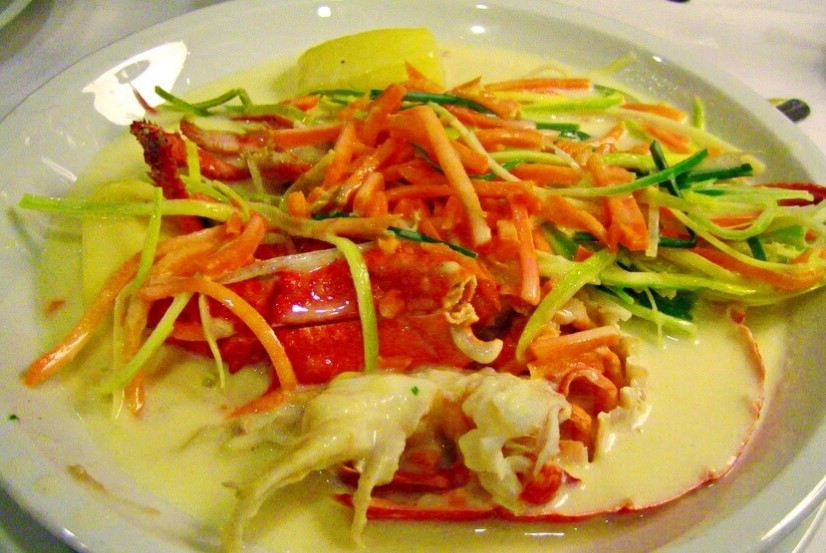 For seafood lovers in Belgium, you should definitely try the traditional fish soup. It is prepared from fish, mussels, shrimp, or eel, and sometimes from a whole "cocktail" of seafood. Carrots, leeks, potatoes, celery are added to the broth. Usually, there are a lot of vegetables. The most delicate creamy sauce, classic European spices, and fresh herbs give a special taste to the Belgian soup. Order this dish in one of the restaurants in Brussels or Antwerp – it's really delicious.
French Fries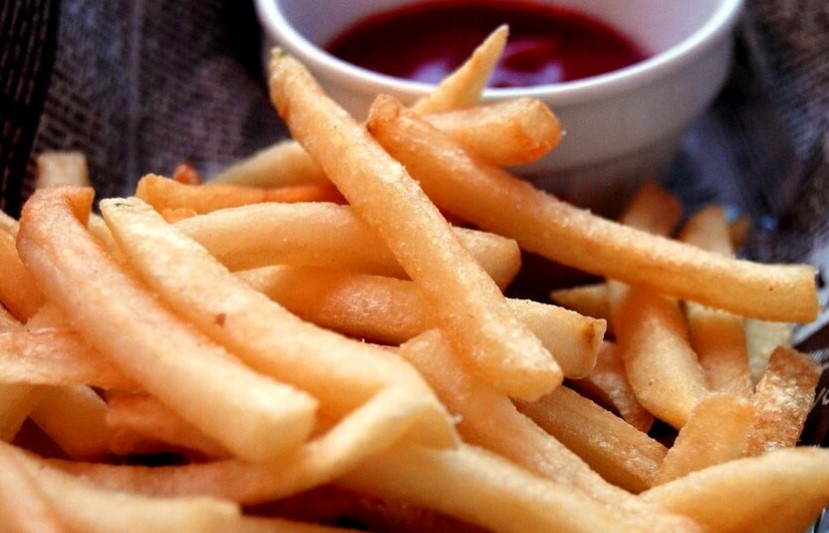 Be sure to try the Belgian fries. It was invented in this particular country. In Belgium, they cook the most "correct", and most importantly – delicious french fries. Warm, soft, crispy – it is good even without any sauces, but the Belgians prefer mayonnaise to it. French fries should be eaten hot, and the most delicious is sold on the street in ordinary street food stalls. In Brussels, you can sometimes meet politicians or other famous people in line for a legendary snack. Even in the most expensive restaurants in Belgium, french fries are a popular side dish for meat.
Moules Frites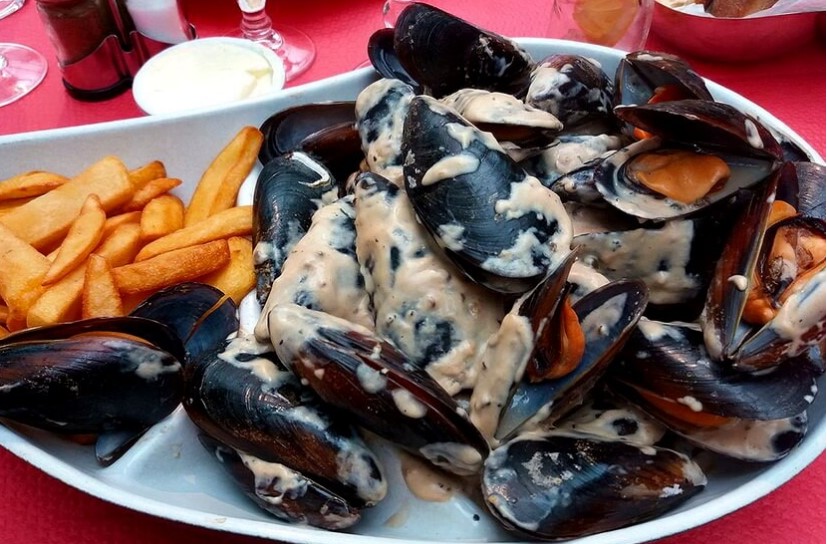 A simple and incredibly tasty Belgian dish – mussels with fries. It can be found all over the country and is considered traditional. The combination of products seems strange at first glance, but in Belgium, they definitely know a lot about good cuisine. Therefore, be sure to order this national dish at one of the eateries in Brussels or buy a portion at a street food stall. Mussels are often served with the broth in which they were cooked. Shallots, herbs, butter, sour cream, mustard are often added to it. Potatoes with mussels complement each other harmoniously.
In Belgium, there are three types of this dish worth trying:
a la creme – with herbs in a creamy sauce;
hot circus – with hot sauce
a la biere – in beer sauce.
Mitraillette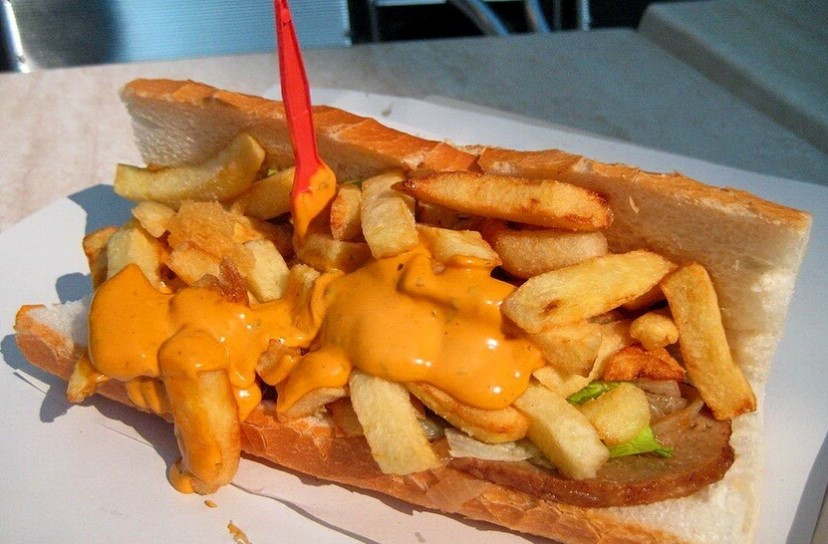 Another popular street food in Belgium based on French fries. Literally translated, the name of the sandwich sounds like "submachine gun". On the streets of Brussels, Antwerp, Bruges, and other cities, mitraillette is sold in mobile eateries. The sandwich contains a crispy baguette, French fries, selected pieces of fried meat, sauce (usual mayonnaise with mustard), some vegetables, cheese. Try this delicious Belgium sandwich at least once in your life – you'll see why it's considered a favorite food of local students.
Take home some Belgian meat (like Ardennes ham) or bacon in its original vacuum packaging. And also local sauces. You can buy mayonnaise to understand why it is so popular in Belgium.
Carbonnade Flamande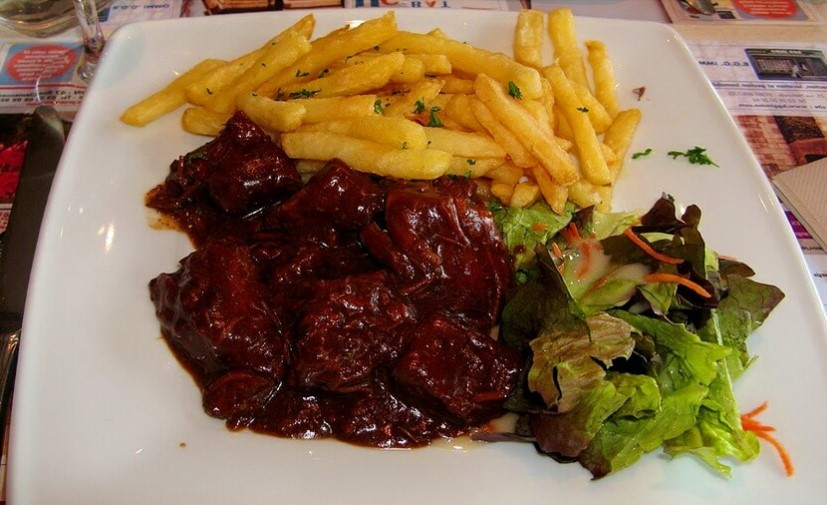 Flemish goulash is a national Belgian dish originally from Flanders. You should definitely try it because it is really tasty. The locals love Belgian goulash – it is a hearty food that is especially good in the cold season. Dark beer, bread, and mustard, which are added to meat when frying, add a special piquancy to the dish. They transform the taste of beef, make it especially tender. The bread is boiled and thickened – you get a great beer sauce.
It is believed that goulash should be washed down with the beer with which it was prepared. Therefore, bring a couple of jars of the national drink from Belgium – an excellent treat to loved ones.
Beer-Braised Rabbit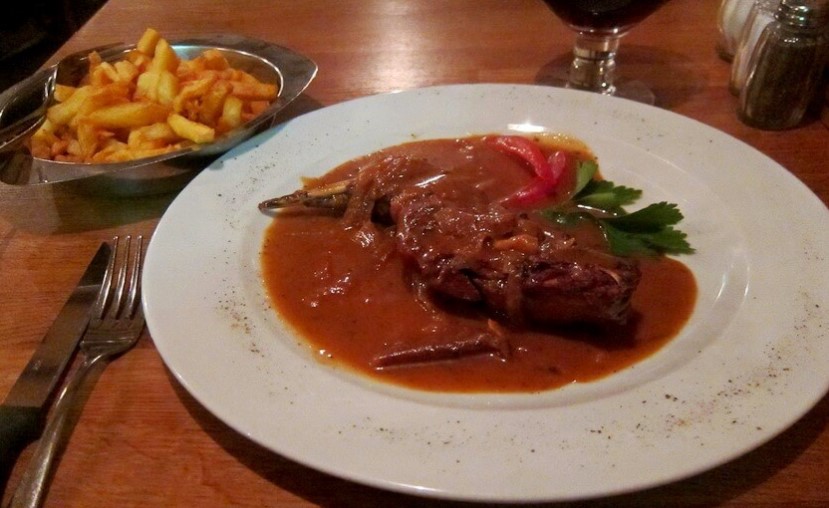 Feel free to try in Belgium any dish in the name of which the word lapin (or konijn) appears – rabbit meat. The locals cook this meat amazingly. The most popular Belgian dish in this category is rabbit meat stewed in beer. The meat is marinated in beer with wine and vinegar (sounds strange, but it's delicious!), Then sprinkled with spices and fried in bacon until golden brown. The already fragrant dish is filled with the most delicate creamy beer sauce. The meat literally melts in the mouth, it is so soft. Try another version of rabbit meat in Belgium – with plums.
Eels in Green Sauce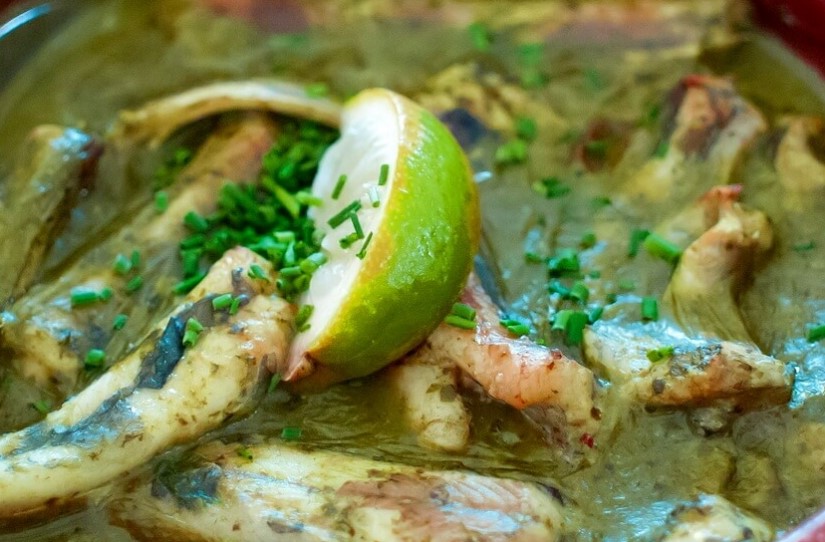 Be sure to try this unusual dish in Belgium. River eel is used for its preparation. Its piquant taste is successfully complemented by a whole bunch of greens. This appetizing creamy sauce contains refreshing mint, oregano, sage, lemon balm, and many spices. Sometimes a little spinach is added to it for a brighter color, but in the classic recipe, it is not. This masterpiece of Belgian cuisine can be tasted hot or cold, lightly drizzled with lemon juice. Be sure to order a glass of beer or wine with it – it is in this form that gourmets advise to use it.
The eel can be delivered from Belgium in vacuum packaging. And in the Sunday bazaars of Brussels, Antwerp, or Bruges, it is easy to find excellent quality spices.
Chicory Gratin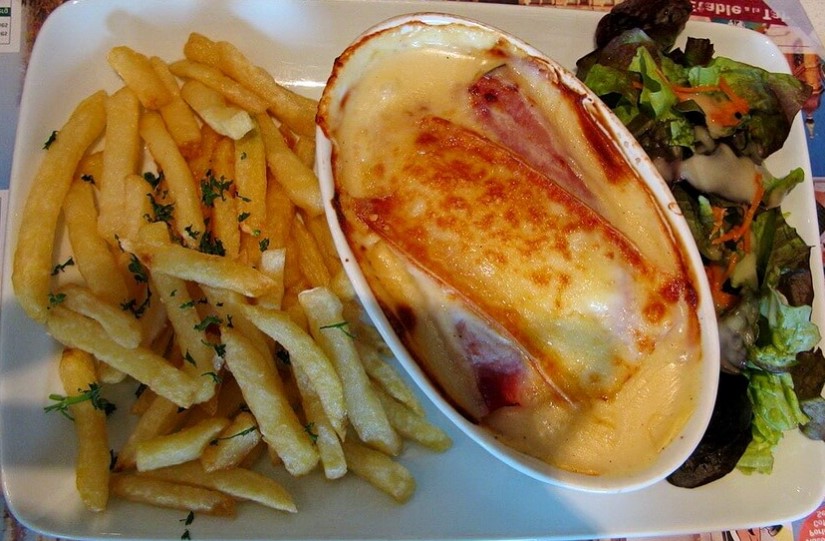 Chicory is often found in typical Belgian cuisine. One of the most popular options that you should definitely pay attention to is chicory baked in ham with cheese sauce. This is a surprisingly tender dish with a pleasant salty and creamy taste. Ruddy ham, delicious cheese crust, unusual chicory pulp – the combination is simply delicious. Usually, the gratin is served with green salad and fries.
Liege Salad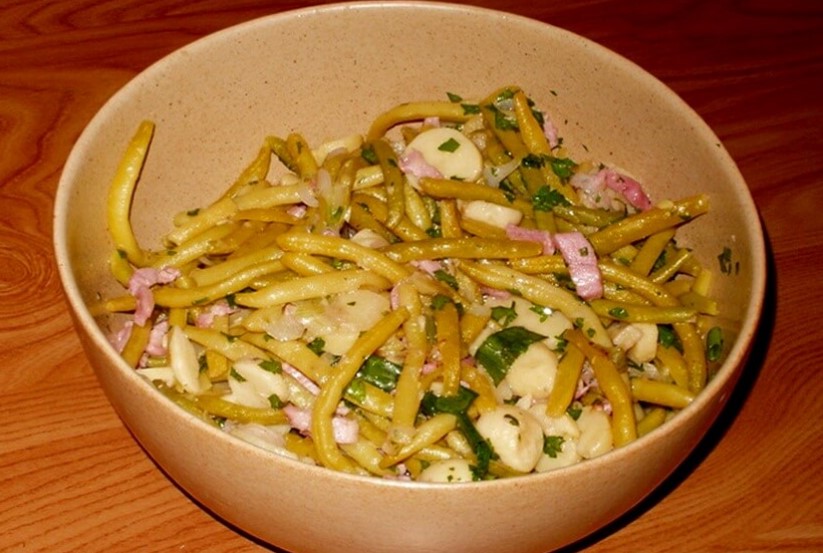 For lighter traditional dishes in Belgium, we advise you to try the warm salad, the recipe for which was invented in the Liege region. The composition is simple: potatoes, green beans, bacon. However, the last ingredient and the spicy vinegar dressing make for a great dish. Sometimes a poached egg, buttercream, shallots, or something else is added to a liege salad in Belgium. Either way, it should be ordered from a diner or restaurant.
Stump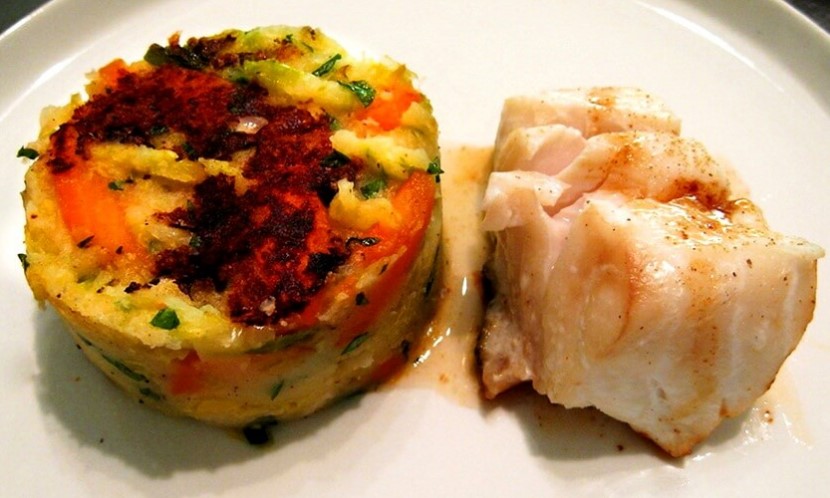 As a side dish to any meat dish in Belgium, it is worth ordering not only french fries. Try a stump (pictured on the left). This is a very aromatic vegetable puree with spices. Potatoes, carrots, green peas, spinach, leeks, or a mixture of several root vegetables can be any base. The aroma is given by bay leaf and thyme. Sometimes chunks of crispy bacon and heavy cream are added to the stump – a great stand-alone dish that can be tasted without any additives.
Also Like