Old Krakow is a beautiful corner of tranquility and comfort. But it is hardly possible to fully immerse yourself in its atmosphere if you do not eat at one of the authentic local establishments at least once. Simple or sophisticated, very tiny or pompous – they delight tourists with good cuisine and pleasant hospitality. Below we will tell you what prices are found in a cafe in Krakow, where you can eat quickly and deliciously near the city center and where to go to spend a luxurious and romantic evening together.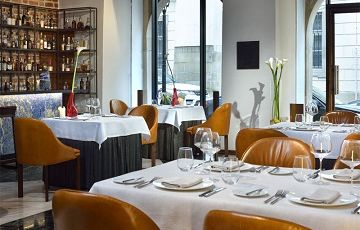 Pierogarnia Krakowiacy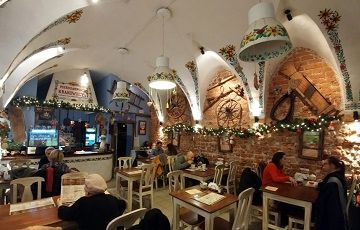 If you find yourself in the center of Krakow and want to have a quick meal, it is worth stopping by Pierogarnia Krakowiacy near the Main Market Square. This is a pretty budget café with a simple and unpretentious setting, with brick walls, white vaulted ceilings with floral patterns, and wooden furnishings. There are no scurrying waiters here – only self-service. The specialty of the cafe is a huge selection of delicious dumplings: with sauerkraut and mushrooms, duck and apple, pork and beef, mascarpone and cherries, cottage cheese, and coconut. In cold weather, you can warm up with hot soup and a glass of aromatic mulled wine.
address: Szewska, 23
facebook.com/PierogarniaKrakowiacy
Polskie Smaki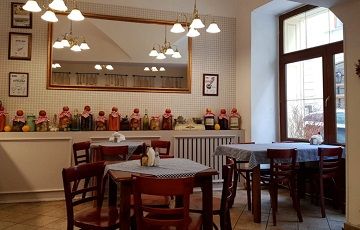 A good self-service cafe just a couple of minutes walk from the Main Market Square – another place to eat tasty and inexpensive in the center of Krakow. Here you will be offered traditional Polish dishes prepared according to old recipes: zurek, shank stewed in beer, bigos, dumplings, and other national dishes. Hearty and affordable breakfasts are served in the morning.
address: Świętego Tomasza, 5
polskie-smaki.pl
Bar Mleczny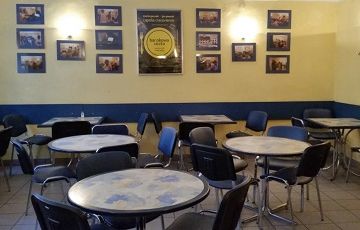 Listing the inexpensive cafes and restaurants of Krakow, you should definitely name this small bar in the historical part of the city – it is especially convenient to drop in here while walking along the famous Royal Road. Of course, Bar Mleczny cannot be called super respectable (it looks more like a dining room), but the establishment can offer really tasty, fresh, and cheap food. These are omelets, dumplings, soups, meat with a side dish. You don't need to order a lot: one dish will be enough for a hearty meal.
address: Grodzka, 43
facebook.com/pg/Bar.Mleczny.Krakow
Piwnica Wolnica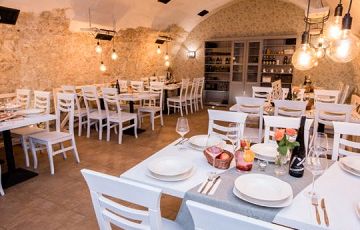 In the old district of Krakow, on Wolnica Square, you can find a very remarkable restaurant with original Polish cuisine. The local dishes are based on traditional, time-tested recipes and fresh organic products from small farms and markets nearby. Down a small staircase to the basement, you will find yourself in an atmospheric room with rough stone walls, a vaulted ceiling, white tables, and chairs. Sit back and get ready for the best pork shoulder soup, aromatic beef goulash, or juicy chicken cutlets "de-volay".
address: Plac Wolnica, 11
piwnicawolnica.pl
Szynk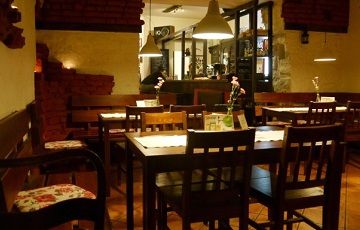 This place will definitely appeal to those looking for a place to eat in Krakow in a relaxed and cozy environment. Finding the "Shink" is quite simple: it is located right next to the famous Tempel synagogue. Sitting at one of the tables, you can enjoy the wonderful atmosphere and a pleasant view from the window on a quiet street of old Krakow (or, rather, Kazimierz).
Inside "Shink" is decorated with many interesting and original items: black and white photographs, door keys, chess, samovar, clock, guitar. In some places, rough brickwork appears on the walls. But to get a complete impression of the restaurant, you must definitely eat here: a traditional pork chop with fries and fried cabbage, a zurek with egg, sausage and mushrooms, stuffed breast with mashed potatoes.
But the pride of "Shinka" is not only in the skill of the cook, who knows how to deliciously present your favorite Polish recipes. Especially for the restaurant, a small local brewery brews several top-fermented beers, including the original light honey (Piwo Miodowe). A huge "beer board" is offered as a snack, which can be very difficult even for two to master.
address: Podbrzezie, 2
szynk.pl
Czarna Kaczka The Black Duck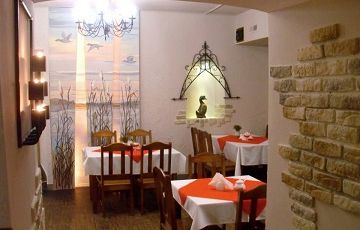 Perhaps, while walking around Krakow, you will be lucky enough to stop by to eat at this wonderful restaurant of Polish cuisine. Any guest will be welcomed here, taken to a free table, and will certainly be treated to pate, bread, and a glass of plum brandy.
All specialties – and there are about 10 of them – are made from duck. These are carpaccio, duck soup with meatballs, baked duck, and other delicious dishes. In addition to them, the menu also includes other traditional meat and fish dishes, including cutlets, ribs, steaks, pies, and, of course, dumplings. Connoisseurs of foam will be able to pamper themselves with a mug or two of Okocim beer or original Danish apple cider Somersby.
address: Poselska, 22
facebook.com/CzarnaKaczka
Morskie Oko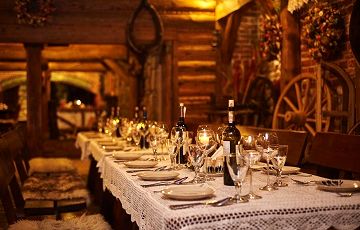 Morskie Oko is the name of the most beautiful lake in the Polish Tatras. Poles say that to visit those places and not see it is almost the same as to visit Rome and not look at the Colosseum. Well, if you happen to be in Krakow, then you should definitely dine at Morskie Oko, named, as you might guess, in honor of the beautiful lake.
As soon as you enter the hall, you will immediately feel the indescribable atmosphere of the highlanders' dwelling: the pleasant aroma of logs crackling in the fireplace, burning candles, melodious singing. The table serves regional Polish cuisine of lamb, veal, pork with spicy homemade sauces. Specialty – delicious handmade dumplings with meat, cabbage, mushrooms. In Morskie Oko you can also taste Polish regional alcoholic beverages: sweet honey vodka and herbal liqueurs.
address: Plac Szczepański, 8
morskieoko.krakow.pl
Introligatornia Smaku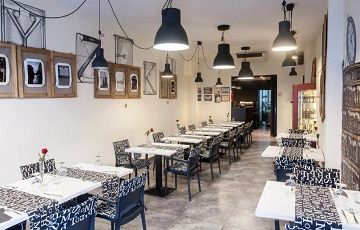 There are many restaurants in Krakow where you can eat deliciously, and this place is definitely one of them. Every day, the chef pampers guests with seasonal European and traditional Polish cuisine, made from natural and fresh ingredients. The highlight of the menu is rabbit foot stewed in wine and mustard sauce with vegetable stew and a great beef steak with tiger prawns.
However, to get a gastronomic pleasure, it is enough to order even the most modest dish in the restaurant. It doesn't matter whether it is baked dumplings with fish or homemade ice cream – everything that is served on the table will turn out to be very tasty. And the zurek with egg and white sausage is fabulously prepared here!
address: Józefa, 20
introligatorniasmaku.pl
Trzy Rybki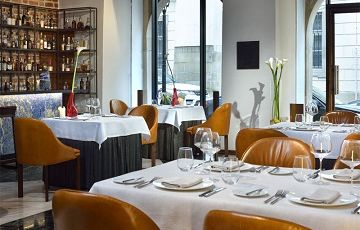 It is no coincidence that this elegant restaurant at the Hotel Stary in Krakow has been awarded the Michelin Plate. Although the menu of "Three Fish" is based on ancient traditions of national cuisine, the chef skillfully gives it a modern sophisticated cut. Almost all dishes are seasonal: in spring and summer fresh vegetables, asparagus and artichokes rule the ball, and in autumn and winter, the kitchen pays tribute to games and mushrooms.
But people come to Trzy Rybki not only to eat in a sophisticated and peaceful atmosphere – the local wine list can challenge the natural sommelier. The best wines of France, Italy, and Spain are presented on dozens of pages, and the Award of Excellence from the authoritative edition of Wine Spectator only serves as an additional incentimeterve to taste them.
address: Szczepańska, 5
likusrestauracje.pl/en/restaurants/trzy-rybki-restaurant
Cyrano de Bergerac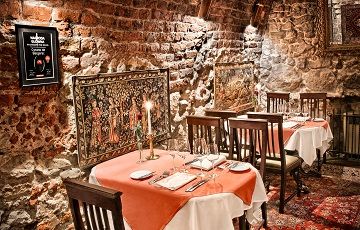 Atmospheric, colorful, romantic, unique – perhaps even these epithets will not be enough to fully represent "Cyrano de Bergerac". Its interior is skillfully stylized to resemble the premises of a medieval castle, and the food delights with masterly performed samples of French author's cuisine. By the way, in 2018 this restaurant in Krakow was noted by Michelin experts, assigning it the Michelin Plate honorary badge.
And can you resist if you get a chance to join the great traditions of Auguste Escoffier, even being far from Paris? Foie gras terrine, fresh oysters, guinea fowl with chestnuts, venison medallions – each dish is so beautifully decorated that you want to photograph it. A glass of excellent French champagne or wine will complement the pleasure of delicious food.
address: Sławkowska, 26
cyranodebergerac.com.pl
Also Like