When it comes to eating in Bangkok, the question is not where, or even when to eat. With so many opportunities throughout the capital, you might be wondering how to make the most of it all. Whether you're looking for style, ambiance, and flavors that challenge everything you've experienced before or getting in touch with world-renowned celebrity chefs, Bangkok has a lot to offer. So what are the best restaurants in Bangkok? We've tried literally hundreds of locations around the city and compiled a list of the best.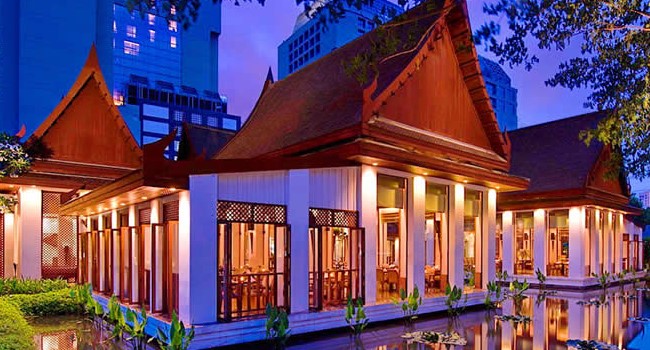 Never-Ending Summer Bangkok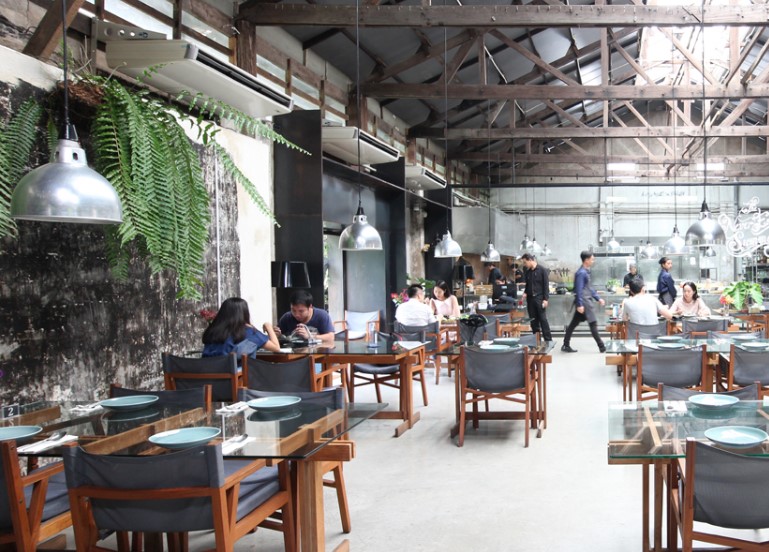 Never-Ending Summer may have a weird and trite name, but it's actually quite an elegant and sophisticated place to eat well. Located in a converted industrial warehouse adjacent to the Millennium Hilton, this restaurant is nonetheless a welcoming place to eat thanks to the abundance of dangling plants everywhere.
This cool restaurant serves classic traditional Thai cuisine. The menu is inspired by traditional Thai food, but it also has modern and European influences.
The chic and trendy atmosphere and stylish design elements of the modern warehouse make 'Never-Ending Summer' the perfect environment for a night out or a meal with friends. The restaurant within the Jam Factory is a large complex and includes an architecture studio, bookstore, and art gallery.
opening hours: 11:00 – 23:00 daily
Location: 41 5 Charoen Nakhon Road, The Jam Factory
BTS Subway: Saphan Taksin (after getting off, take the free shuttle to Millennium Hilton. After arriving at Hilton Pier, walk right along the river, pass Klongsan Market, and then to The Jam Factory)
phone: +66 (0) 2 861 0953
Sala Rim Naam
Sala Rim Naam at Mandarin Oriental Bangkok combines all the elements you need to become one of the best romantic Thai restaurants in Bangkok. It's not easy to achieve with so many fine-dining restaurants throughout the city, and Sala Rim Naam blends an amazing riverside location with delicious Thai food, stage shows, and exceptional service that the legendary Mandarin Oriental is known for. Of course, all of this would be meaningless without the key ingredient in a truly wonderful place: delicious food!
Prepared by Chef Vichit Mukura, the menu at Sala Rim Naam is complex yet completely Thai. The menu is well suited for both beginners and those who are already familiar with Thai cuisine but still want to be surprised at something.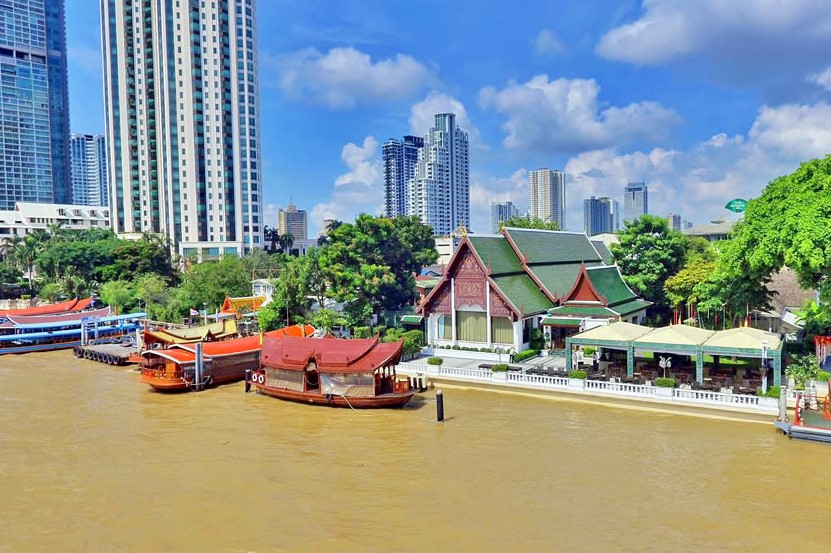 Surprisingly, although the restaurant is owned and operated by the Mandarin Oriental, it is located on the opposite side of the Chao Phraya River, offering much better views of the city. The classic wooden shuttle boat gives you a free ride from the hotel to the restaurant, adding a nice touch of pre-dinner romance. The restaurant itself is divided into two parts: a pavilion, a room with a set menu, and on the terrace by the river both are served: a set menu or a la carte, which we recommend.
With such an ideal riverside setting and excellent Thai food, Sala Rim Naam is the perfect place to end your day on a romantic note, just remember to book your table in advance!
Opening hours: Lunch 12:00 – 14:30; Dinner 19:00 – 22:30, show starts 20:15 – 21:30
Address: Mandarin Oriental Bangkok, 48 Oriental Avenue, Bangkok 10500
phone: +66 (0) 2 659 9000 ext. 7330
Cuisine: Traditional Thai
Savoey Thai Bangkok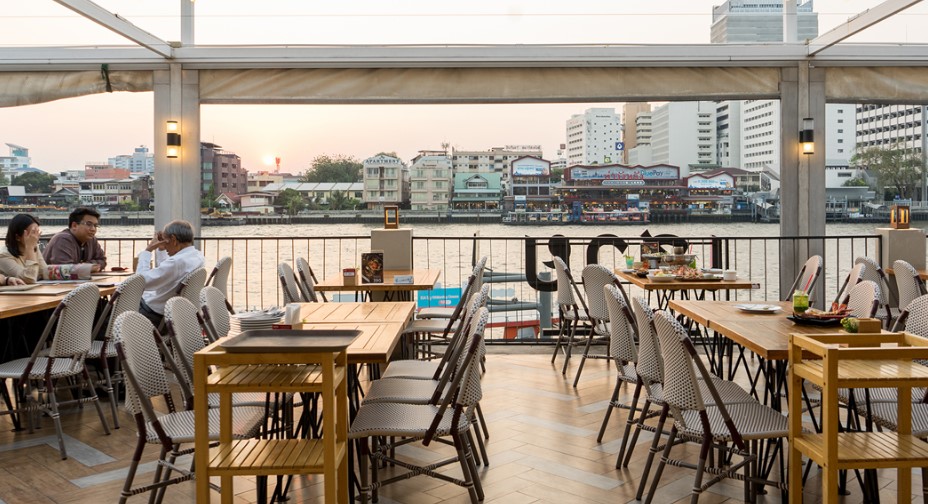 At Savoey Thai Bangkok Restaurant you will find excellent Thai cuisine from a menu that contains all the best dishes from every region of the country. However, the very best menu items at Savoey Bangkok are fresh seafood.
There are actually eight Savoey Thai restaurants in Bangkok, although the riverside flagship restaurant is popular with tourists. It is located in Maharaj Lifestyle Shopping Center, close to Wat Pho and the Grand Royal Palace. View from the terrace of the second floor to the Chao Phraya river is unforgettable as you can watch live on the river, boats, and cruise ships while eating.
working hours: 11:00 – 21:00
Location: Riverside, 2nd Floor, Building 'G' Tha Maharaj Lifestyle Mall, Maharaj Road
phone: +66 (0) 2 024 1317
Thara Thong Bangkok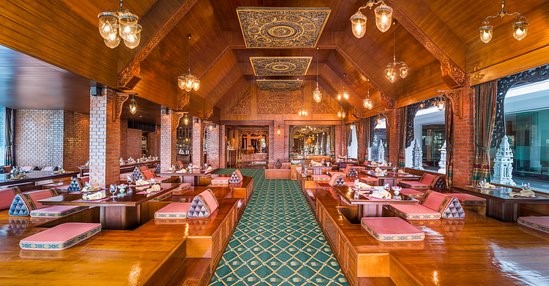 Thara Thong Bangkok is a charming Thai restaurant decorated with golden teak wood, with the sounds of traditional Thai instruments floating through the elegant dining room. The royal aesthetic, classical dance performances, and traditional cuisine of this place encapsulate Thai culture, making it the perfect restaurant for the city's regulars.
Floor seating and low tables at Thara Thong create an elegant yet relaxed atmosphere. Music and dance shows start at 19:00 and you can choose between indoor and outdoor seating. If you sit inside you admire the beautifully painted teak ceiling, and outdoors you have a magnificent view of the river Chao Phraya, especially when night falls.
working hours: 18:00 – 22:30 daily
BTS metro station: Saphan Taksin
Address: Royal Orchid Sheraton Hotel & Towers, 30 Charoen Krung Road, Soi 30, Khwaeng Bangrak
phone: +66 (0) 2 266 0123
Steve Cafe and Cuisine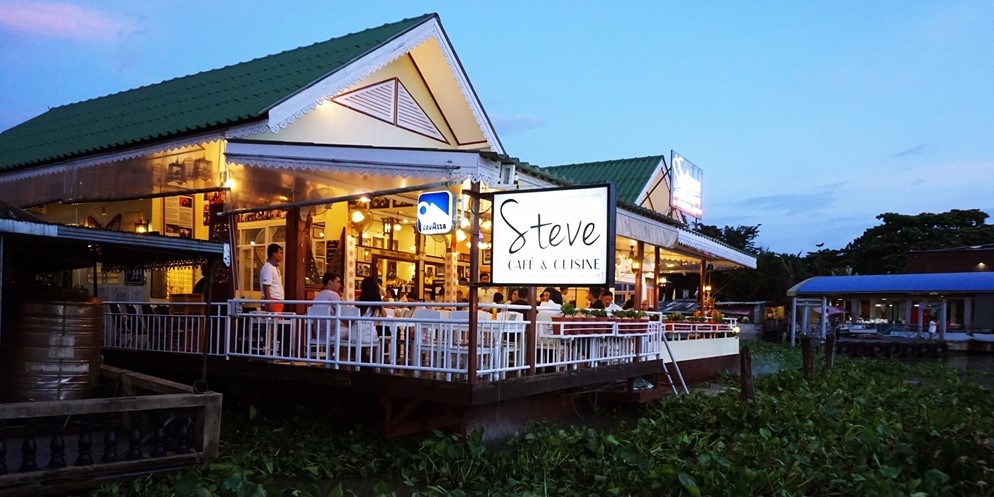 You'll find one of Bangkok's best-hidden restaurants purely by chance as you explore the surrounding area of ​​Thewet, just north of the Grand Palace. Steve Cafe & Cuisine is moored to the river bank, away from busy streets, with no easy access and no large signage. Everything looks like you should have found it. Of course, this is not an unknown restaurant, as it opened in 2012 and since then good news has flowed from word of mouth that Steve Cafe is doing well, guaranteeing its success. Today, you are advised to call in advance if you are coming for dinner. People love to discover little secret places.
Steve Cafe combines several successful key ingredients: great riverside location, no tall buildings blocking the view, thousands of silverfish swimming around as the locals feed them, and a constant ballet of old-fashioned wooden boats passing almost silently. Second, and most important, of course, the food is very Thai, using quality and products and cooked with passion. The menu even stipulates that the dishes are not prepared in advance, so stock up patience, and when the restaurant is full of customers, which happens every night, the service can seem a little slow.
It's actually not that bad, order a beer and relax while waiting for a delicious meal. And for this Steve Cafe offers a relaxed atmosphere with a cool river breeze and friendly staff to round off the experience with ease.
working hours: 11:00 – 22:30
Address: 68 Sri Ayuthaya Road, Soi Sri Ayuthaya 21 (Duvet), Vachiraphayabaan, Dusit, Bangkok 10300
phone: +66 (0) 81 868 0744, +66 (0) 2 281 0915, +66 (0) 2 280 2989
how to get there: take a river taxi to disembark at the Dhevet pier and walk along the main street for about 100 s from the pier, cross the small bridge on your left and continue on to a small path along the canal until you reach Wat Thevarakunchong, and then you need to walk to temple pier.
Saffron Thai
Saffron Thai Restaurant guarantees fantastic views, delicious food, and excellent service, and that every visitor will get an authentic taste of Thailand and the opportunity to enjoy the special Banyan Tree brand. The restaurant is split into two levels, high above the city on the 52nd floor of the Banyan Tree Hotel on Sathorn Road. The nearest metro station is MRT Lumphini, but we recommend taking a taxi; The hotel is well known to taxi drivers. Saffron has a smart casual dress code, so no flip flops, shorts, sportswear, or open shoes for men.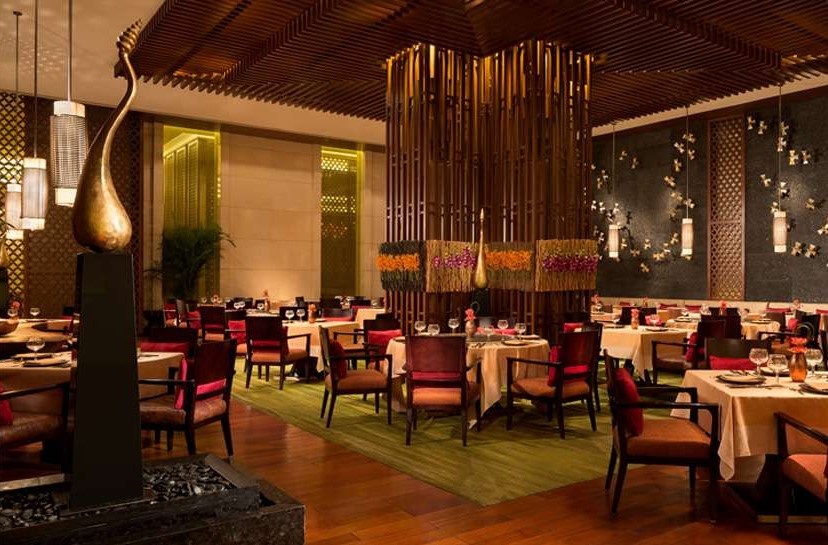 Saffron has floor-to-ceiling windows to maximize views of Bangkok, which is truly impressive from the 52nd floor of the Banyan Tree Hotel. The furnishings are a careful fusion of modern and traditional Thai, with murals featuring pinkish buds and lotus candles and rich red highlights in curtains and silks. Despite being a sophisticated dining establishment, the space is welcome and unimaginable. Dinner at Saffron Restaurant begins with a traditional handwashing ceremony, where a friendly waiter pours jasmine water onto his hands. It may seem a little uncomfortable at first, but the staff is so welcoming and attentive that you immediately forget about any shyness and enjoy an exotic experience. Each member of the team was delighted and knowledgeable about the dishes, which made our choice of dishes much easier.
Saffron Thai Restaurant at Banyan Tree offers a wide variety of Thai dishes, some classics, and some updated with care using the finest ingredients. Excellent service and great views round out the experience, making Saffron a great choice for those looking for fine Thai food.
working hours: 18:00 – 23:00
MRT metro station: Lumphini Bangkok 10120
phone: +66 (0) 2 679 1199
Secret Garden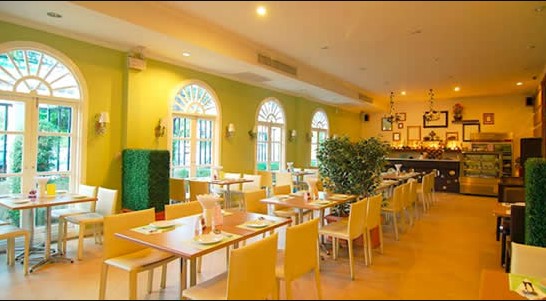 Looking at the Secret Garden photo, you will never guess that this beautiful restaurant is located on Sathorn Road, one of the busiest streets in Bangkok. Sathorn is the city's business district, often jam-packed with cars lined with tall, shimmering glass towers, and if you haven't heard of Secret Garden, you'll probably walk past its discreet facade without noticing it.
The Secret Garden is a first-class bakery as well as a Thai restaurant. Housed in an English style white house surrounded by a beautiful garden, you can dine here in a cozy indoor space decorated with green tones, flowers, and large chandeliers, on a wooden deck or, weather permitting, outdoors under very large trees. Each area has its own ambiance, but the well-kept garden is always the most popular. If you're just cake-minded, the bakery, with its attractive large sofas, is very renowned for its pastries (including Napoleon cake).
The Secret Garden now has over six branches, including several malls, but none can rival the beauty of this old English house and its majestic hidden garden.
location: South Sathorn Road
hours: 11:00 – 22:00
phone: 02 286 2464
Nahm Restaurant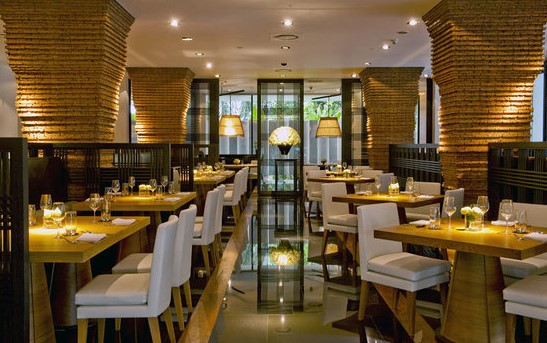 Consistently ranked among the finest restaurants in the world, and with a Michelin-starred chef in the kitchen, Nahm serves Thai cuisine prepared according to ancient recipes, focusing on how the flavors and textures of quality ingredients work together.
Housed on the ground floor of COMO Metropolitan Bangkok Hotel on Sathorn Road, the restaurant's ambiance combines an exquisite mix of Thai-style brick pillars with subtle gold and blue color schemes and lattice wood screens to help keep dinner intimate. There are separate rooms behind the go-to seats for politicians and celebrities, as well as additional outdoor tables near the hotel's swimming pool and water feature that looks like a lily pond.
Opening hours: Lunch – 12:00 – 14:00, Dinner 19:00 – 22:30
Address: Ground Floor, COMO Metropolitan Hotel, 27 South Sathorn Road, Bangkok
Phone: +66 (0) 2625 3333
Blue Elephant Bangkok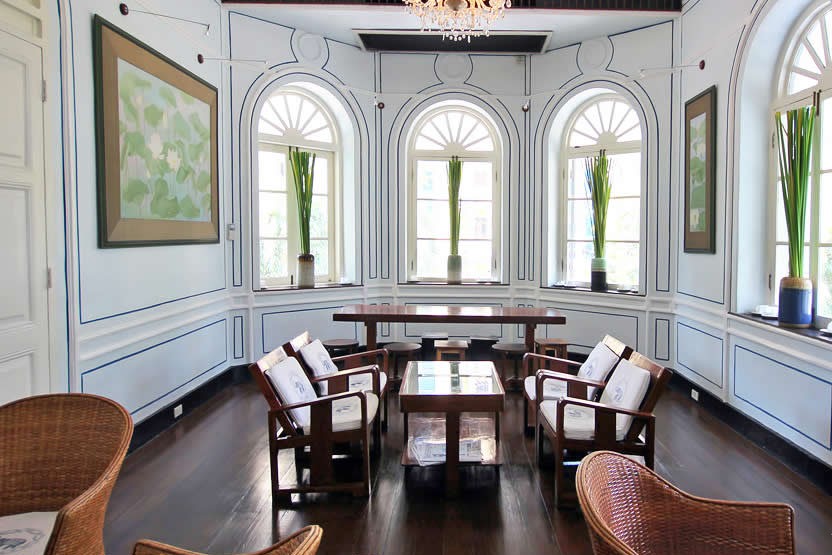 Going to the Blue Elephant Restaurant in Bangkok is about the same as eating. It is a spectacular experience that allows you to travel back in time and enjoy the best of Thailand, from great service to wonderful surroundings. Established in 1980 with the impressive Nooror chef at the helm, the restaurant has branches in London, Paris, Dubai, and Malta, but nowhere else has the same aura as the old house on Sathorn Road.
There is something very special about Blue Elephant Bangkok. The sophistication and variety of dishes ensure that everyone is satisfied, whether guests are looking for the flavor of Thailand they recognize or want to be surprised by innovative cuisine that uses the finest Thai herbs, spices, and aromas.
Opening hours: 11:30 – 14:30 and 18:30 – 22:30
BTS metro station: Surasak
Address: 233 South Sathorn Road, Bangkok, Thailand 10120 Tel: +66 2 673 9353
Celadon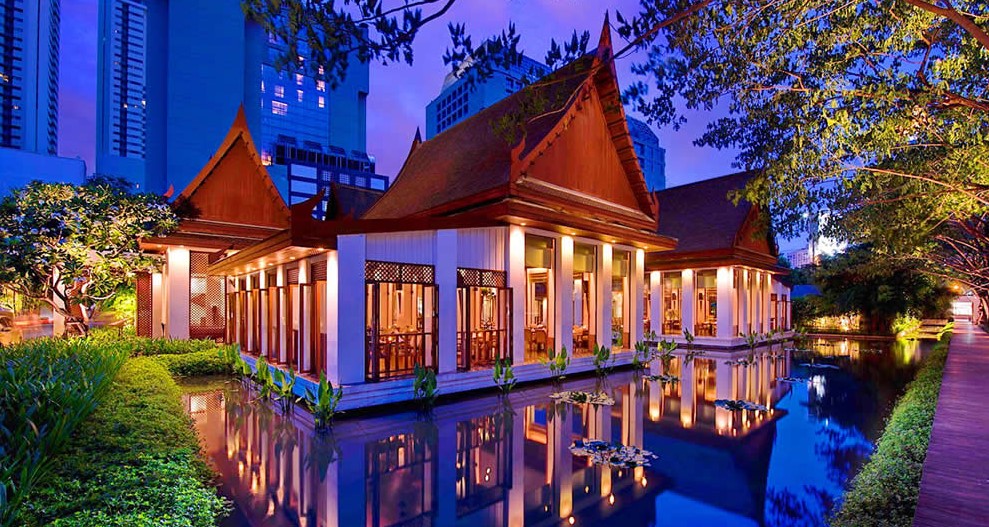 Celadon at The Sukhothai Hotel Bangkok is an award-winning restaurant that strikes the perfect balance between a sophisticated, sophisticated atmosphere, and delicious and quite artistically presented classic Thai cuisine. Celadon has consistently won several awards from visitors and food critics around the world, welcoming a mix of both hotel guests and outsiders.
Although part of the stunning luxury hotel The Sukhothai Bangkok, Celadon Restaurant is located in two divided Thai-style pavilions (complete with these iconic red arched roofs) as well as its own
herb garden behind and a delightful lotus pond all around. The furnishings inside looks much more
modern: plush chairs, tiled floors, and electric lighting indicate five-star haute cuisine, not a traditional Thai meal. One of the interior features is floor-to-ceiling windows.
Opening hours: Lunch 12:00-15:00; Dinner 18:00-23:00 (daily)
Address: Celadon Restaurant, Sukhothai Bangkok, 13/3 South Sathorn Road, Bangkok
Phone: +66 (0) 2344 8888
Also Like