For those travelers who cannot imagine getting to know the country without a gastronomic immersion in its culinary traditions, the capital of Thailand suits perfectly well. On the territory of Bangkok, there are about 50 thousand establishments of various levels and classes, where you can have a quick and hearty snack for $ 10, or spend several hundred dollars for a luxurious evening with a delicious dinner. It is impossible to list all the iconic culinary places, let's try to identify only the most famous of them.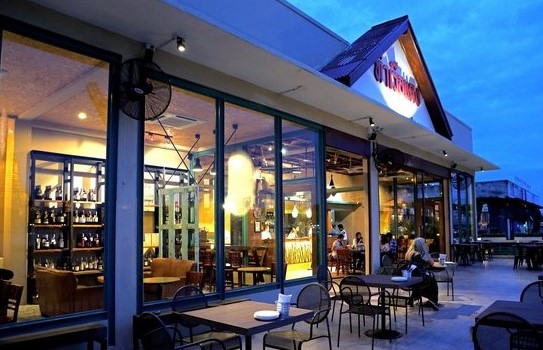 Long Table Sky Bar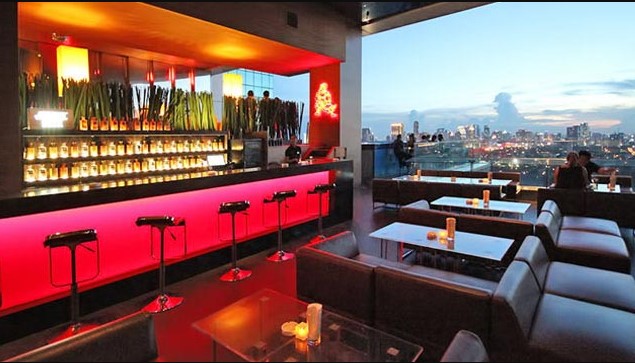 The Long Table is a little below the sky, but if the place lacks height, it is more than made up for with great Thai cuisine that tastes delicious and amazing, as well as creative cocktails that will make you forget this is not a rooftop. In fact, after spending an evening here watching the sunset over majestic Bangkok with a three-course dinner at one of the comfortable Long Table lounges, I can honestly say that there is no more refreshing bar in town. Daily, from 5:00 pm to 7:00 pm, drinks are offered 'two for one' and inexpensive food prices won't break your budget.
The furnishings resemble a spaceship, and just around the corner you will find the longest table in Thailand and catch a glimpse of the city below through the double floor of floor-to-ceiling windows. The Long Table dining room is decorated in warm honey, cream, and scarlet tones, as opposed to the bar area, which has a sharper contrast with neon red and sleek marble. This is such a regeneration, to distinguish it from other roofs in the city.
Opening hours: daily from 17:00 – 02:00 (dinner last order at 23:00)
MRT station: Sukhumvit
BTS station: Asoke
Address: 25th Floor, 48 Column Tower, Sukhumvit Soi 16
Soul Food Mahanakorn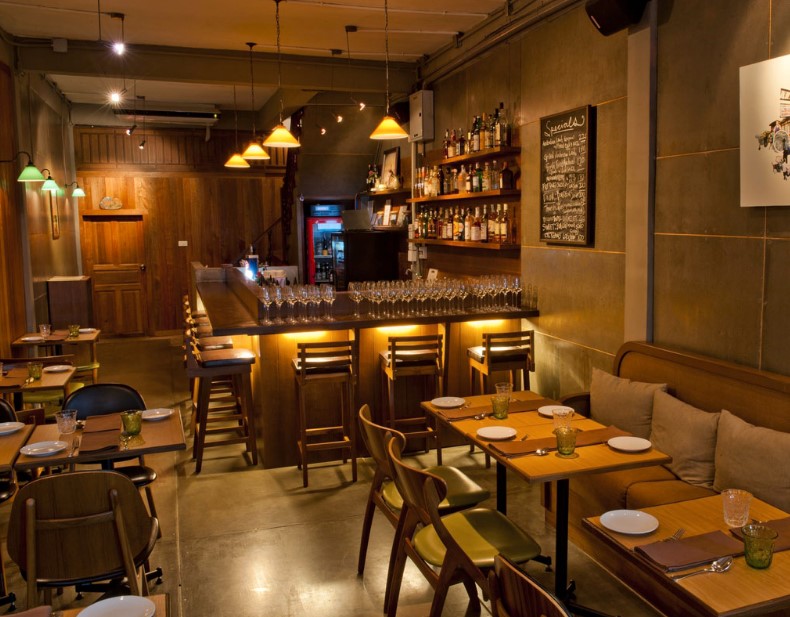 It seems strange, but one of the best Thai restaurants in town is American-run. Soul Food Mahanakorn serves popular regional dishes in a comfortable wood-lined restaurant on Thong Lor, a five-minute walk from BTS Station. If you are looking for a place for a good evening with delicious food and no pretensions then head to this restaurant.
On the ground floor you will find a bar, and if your visit is for a drink then just sit down on a stool. A restaurant with a simple ambiance; on each floor, original artwork depicting a hive of activity that can be seen on the streets of Bangkok. There is no denial of the loyalty and love you feel for this city and Thailand, and nowhere is this better reflected than in Soul Food.
The restaurant is the perfect place to come in a large group, there are a lot of mouth-watering dishes on the menu and you will probably want to try all of them, but in this case, it is better to pre-order as the place starts to fill up after 19:00. The whole show at Soul Food is that you don't have to be Thai to create fantastic Thai food.
working hours: Sun-Thu from 17:30 – 23:00 and Fri-Sat from 17:30 – 00:00
BTS station: Thong Lor
Address: 56/10 Sukhumvit Soi Thonglor
phone: +66 (0) 2 7147708
Ma Maison Restaurant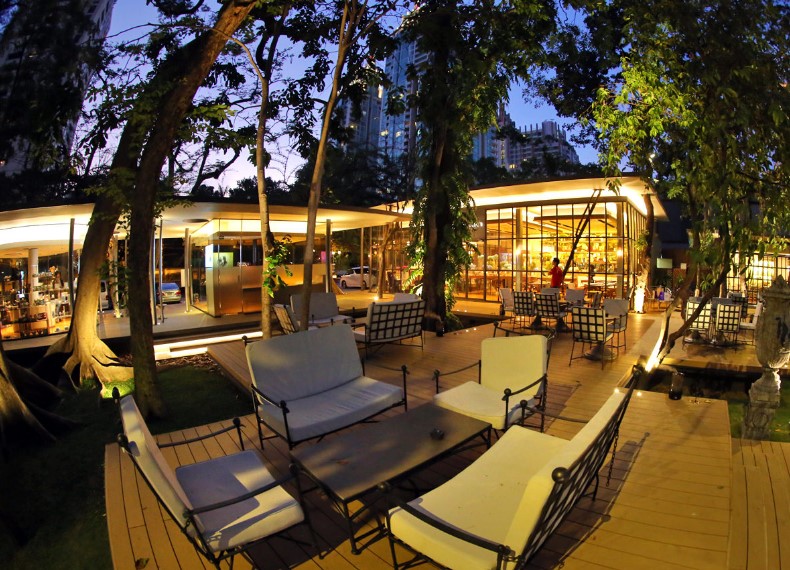 Ma Maison Restaurant is a modern establishment that combines an elegant atmosphere with traditional Thai cuisine. Situated on the sprawling lawns of Nai Lert Park Heritage Home, this restaurant offers a luxurious experience and prides itself on family recipes passed down from generation to generation. Ma Maison is located on Wireless Road, within walking distance of Chit Lom or Ploenchit BTS Skytrain stations.
Ma Maison is in a glass pavilion and is surrounded by manicured gardens. The restaurant is just a few steps from the old family estate. Don't be fooled by the French name; this restaurant is now dedicated to sharing homemade recipes from the Nai Lert family. Their specialties include crispy pork noodles for 200 baht and rich massaman chicken curry for 280 baht. The tastes are inherently Thai, but the dishes are suitable for those who are not used to Thai food. Cool off with one of their thirst-quenching or homemade sodas, and be sure to try the local coconut-based desserts. Some of the dishes can cost up to 850 baht, such as the ribs salad, so Maison can be the choice for a special occasion. Change your flip flops so you don't feel underappreciated and be sure to make an advance booking.
working hours: 11:00-14:30, 18:00-22:00 (daily)
Location: Nai Lert Park Heritage Home, Wireless Road
BTS metro station: Chit Lom
phone: +66 (0) 2 655 4773
Madame Langsuan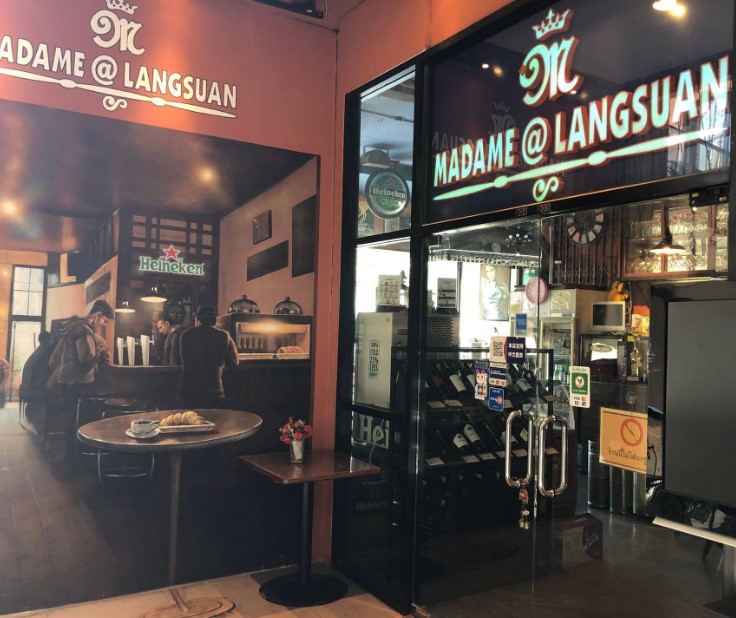 Madame Langsuan (formerly known as Madame Krok) is a popular Thai restaurant on Langsuan Road where Isan food is cooked authentically and is offered at very reasonable prices. The dining area is clean and bright thanks to its second-floor location and floor to ceiling windows, and the service is lively but friendly.
Today, the place is located on the second floor of Portico Lifestyle Shopping Center and you can walk from BTS Chit Lom Station for a couple of minutes and, surrounded by several hotels and service apartments, Madame Langsuan is a great option for regular but consistently good food in the area. In fact, Bangkok visitors who are lucky enough to stumble upon Madame Langsuan often make it their regular restaurant for lunch or dinner.
Madame Langsuan is a local Thai restaurant that is popular with the people of Bangkok for the quality of Thai food but keeps everything clean and stylish, so even the pickiest tourists will be pleasantly surprised.
working hours: 11:00-21:00
Location: 2nd Floor, Portico Mall, Langsuan Road
BTS metro station: Chit Lom
phone: +66 (0) 2 652 2424
Osha Restaurant
Osha Bangkok recently opened its tall doors in a famous corner on Wireless Road opposite Lumpini Park and is run by the same family behind five hugely successful Thai restaurants in San Francisco. Along with some outrageously impressive décor, the Osha team hired the Thai famous Iron Chef, who is now the man in charge of the restaurant's menu for "authentic Thai cuisine with a molecular twist" – and of course, that's the biggest cool.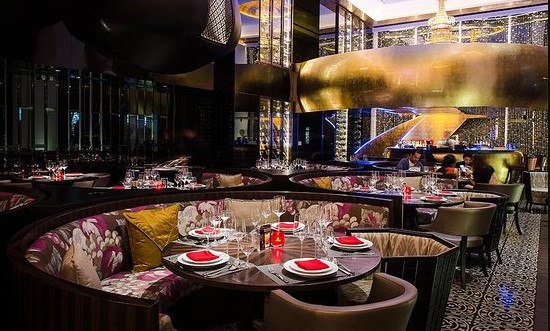 Upon entering, it's hard to imagine this restaurant was born out of a humble diner in the suburbs of San Francisco. A look at the giant doors is the first sign of the extravagance that awaits inside. Osha's golden hand-drawn theme definitely leaves a lasting impression, and other vibrant touches include the huge handcrafted 'Chada' (crown) hanging above the bar, as well as some of King Rama's traditional art upstairs to take a stroll up the magnificent spiral staircase to see with my own eyes.
With all this grandeur, one might hope that the dishes coming out of the kitchen are just as impressive and you won't be disappointed. Everything here is delicious!
Opening hours: Lunch: from 11:00 to 14:30; Dinner: 18:00 – 24:00
Location: 99 Wireless Road, Lumpini Pathumwan, Bangkok
Phone: +66 (0) 2 256 6555
reservations: reservations@oshabangkok.com
Dress code: Smart Casual (no sportswear, no shorts, or open shoes – also applies to children)
Bodega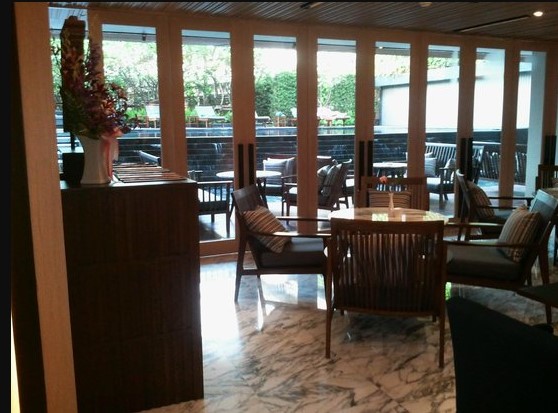 On the ground floor of Arcadia Suites Ploenchit, Bodega Restaurant serves delicious Thai and European cuisine in a chic setting with floor-to-ceiling windows and inviting views of the water. Whether it's a fillet steak on the rib or a classic pad thai with huge river shrimps, Bodega restaurant has put together a menu that has something for every family member and the service is fast and efficient.
A varied menu at reasonable prices makes Bodega a great choice for lunch or dinner in Ploenchit or Chidlom.
Opening hours: 11:00 – 22:00
Location: Arcadia Suites Ploenchit, 15 Wireless Road Soi Nai Lert (5 minutes walk from BTS Ploenchit Skytrain Station)
Phone: +66 (0) 2305 6565
Babble & Rum
Babble and Rum is a sophisticated bar and restaurant with a casual coastal ambiance. The large dining area and chic top-floor terrace are ideal for dinner or a drink, and offer tourists visiting the Old Town a stylish and elegant alternative to other options along Pra Athit Road.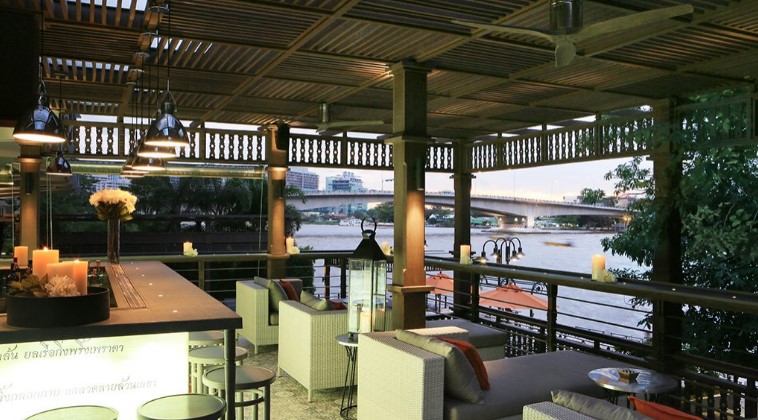 The highlight of Babble and Rum is definitely the bar on the ground floor. Aside from the orange bar stool legs, the airy lounge continues the monochrome theme of the bistro downstairs. While the best view is from the tables overlooking the Chao Phraya River, the most popular spots are at the back of the terrace, where you can relax on the large white sofas.
Getting here is not too difficult, either by boats that ply the river from Saphan Taksin BTS and get off at stop 13, which is by far the most scenic route. For those who prefer to travel by land, you can take a taxi from the National Stadium Metro, although traffic can get a nightmare during rush hour. Some of the hotel's bars and restaurants aren't distinctive enough to merit their own attention, but Babble & Rum has a different experience and the atmosphere is just as chic as the boutique hotel it is attached to.
working hours: 10:30 – 22:30
Address: Riva Surya, 23 Phra Athit Rd., Bangkok
Phone: +66 (0) 2 633 5000
how to get there: either by boat from the pier at Saphan Taksin BTS or by taxi from the National Stadium BTS metro
Eat Sight Story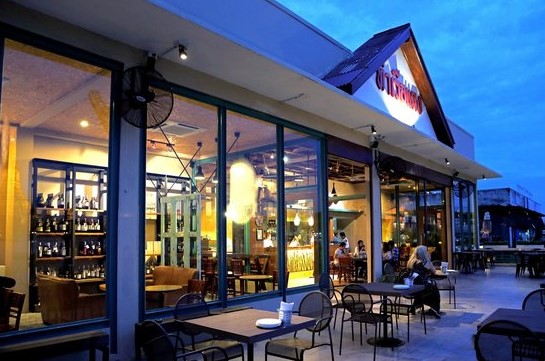 Eat Sight Story is a quirky new place where you'll find delicious Thai fusion cuisine and an exciting variety of cocktails, all overlooking Wat Arun and the Chao Phraya River. This is a delightful surprise hidden in an alleyway, quite unassuming and you might not find it if you don't know what you are looking for. Eat Sight Story is the perfect place to relax and watch the colors of the sunset reflected in the river, and then admire the sparkling evening lights of the temples.
The restaurant's European-Asian decor is vintage and patchy, with antiques from all over the world. Menu a little expensive but considering good service and incredible location, this riverside restaurant offers excellent value for money.
working hours: Mon -Thu 11:00 – 22:00, Fri -Sun 11:00 – 23:00
Location: At the end of Tha Tien Maharaj Road, Phranakorn, Bangkok
Phone: +66 (0) 2 622 2163
Err Restaurant Bangkok
Err Bangkok Restaurant (Urban Rustic Thai) is a casual dining concept serving mouth-watering Thai dishes and snacks with a selection of delicious cocktails. The menu is replete with expert street food names, one-off meals, and a few hearty curries, all very cheap if you come with friends you can pretty much count on the extensive menu.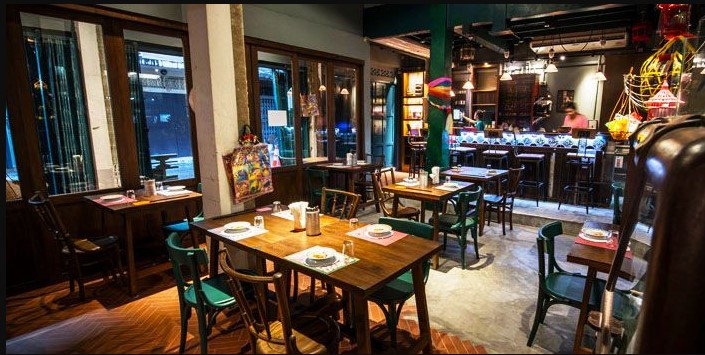 Designed by renowned chefs Dylan and Bo, the couple behind the incredibly popular Thai restaurant Bo. Lan, Err is very different in scope. Graffiti cookies on bare brick walls, pewter cymbals, soul tunes, and funk on the stereo – the atmosphere is a nostalgic take on Thailand's past. The setting is really well thought out and creates a fresh atmosphere for food and drink.
Despite the small size of the dining room, looking around you will find many antiques, children's toys, and outdated tools, as well as gizmos of different shapes and sizes. There are even retro kids' games that you will be asked to play, including the classic game of chance in which you bet your chips on one of six symbols and then pull your card out of the bank, if your symbol is on the card, you win – trust us. after a few cocktails, it's great! Err Bangkok is like going back to the 1970s, like a nice evening with food and drinks, and it's a cool place that many will return to often.
Opening hours: 11:00 – until late (closed on Mondays)
Address: 394/35 Maha Rat Rd, Khwaeng Phra Borom Maha Ratchawang, Khet Phra Nakhon, Krung Thep Maha Nakhon 10200, Thailand
Phone: +66 2 622 2291
Chakrabongse Villas Restaurant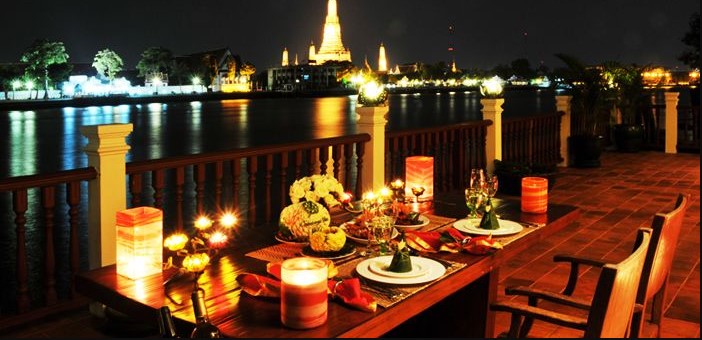 The ultra-exclusive and truly gorgeous Chakrabongse Villas is located above the Chao Phraya River, in a traditional Thai pavilion floating on its own private jetty. While you can get through the back door, the best way to arrive – especially if you have a date – is to book your private speedboat in advance; from the popular Central Sathorn Pier near Saphan Taksin BTS Subway Station to an impressive water entrance (surcharge).
Offering only set menus (including vegetarian and raw options). The menu here changes daily, but you can count on a list of all Thai classics. Best to arrive straight before sunset for the most dramatic views stretching over the water to Wat Arun (Temple of Dawn), and you will also need time to explore the beautiful villas that surround the restaurant, before or after your meal.
opening hours: from 17:00 (closed on Mondays)
Location: Chakrabongse Dining 396 Maharaj Road, Tatien, Bangkok
phone: +66 (0) 89 810 0498; +66 (0) 80 045 7778
Chon Thai Restaurant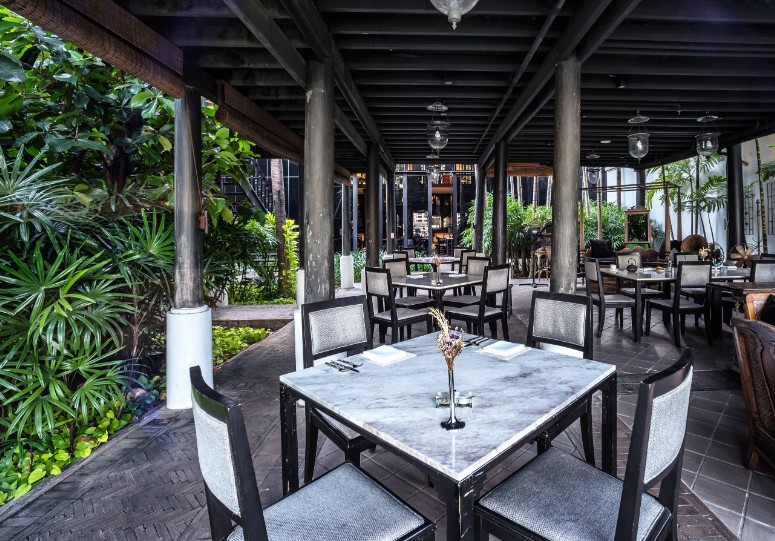 Chon Thai Restaurant is the flagship restaurant of the ultra-luxury The Siam Hotel in Bangkok. This sophisticated dining room offers tranquil sunset views of the Chao Phraya River and provides a relaxed and very peaceful environment. To reach Chon Thai Restaurant on Khao Road, you can take a 30-minute scenic ferry ride from the pier near Saphan Taksin BTS Subway Station. A taxi ride from the Silom area in Bangkok will take approximately 20 minutes. If you want to impress your spouse, you can be picked up by The Siam's own private boat!
Chon Thai restaurant is considered one of the most popular establishments among members of Bangkok's high society. The restaurant consists of three refurbished teak houses that originally belonged to world-famous Thai merchant antiques. Although the history is unique, the Thai menu has a variety of classic Thai dishes making it suitable for authentic Thai food that is still adapted for Western tastes.
working hours: 12:00 – 15:00, 18:00 – 22:30 daily
BTS subway: Saphan Taksin or Victory Monument
Address: 2 Khao Road, Dusit
phone: +66 (0) 2 206 6999
Eagle's Nest Restaurant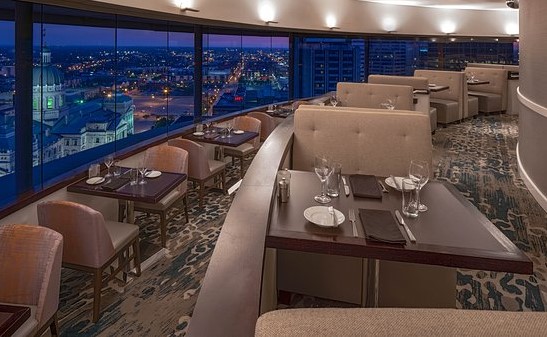 Eagle's Nest Restaurant is the rooftop bar and restaurant of the Sala Arun Hotel. The hotel overlooks Chao Phraya for stunning views of the famous landmarks on the opposite side of the river. This is the perfect place to enjoy a few drinks with your other half while watching the sunset.
On the restaurant deck, you have unobstructed views of the river and watch the sun go down behind the iconic temple and symbol of the city, Wat Arun. On the other hand, you can admire Wat Po and the glittering Grand Palace. The best time for visits is at 5:30 pm or 6:00 pm, so you can get there just before sunset. The restaurant is located on the top floor of the Sala Arun Hotel. To get there, enter the hotel lobby and then climb the winding wooden staircase.
working hours: 17:30 – 23:00 every day
Address: 47-49 Soi Phen Pi Marn, Tha Tien (near Maharaj Road)
phone: +66 (0) 2 221 9158-9
Also Like