Bangkok is an amazing city often called a gourmet paradise. It is very difficult for the hungry to stay here. Local food vendors await you every step of the way, not to mention the many cafes and restaurants.//bosskitchen.com/blg/bkn/user_img/20230815/1692122147881012.webp
Most of the restaurants offer visitors national cuisine, but there are also establishments where you can taste the cuisine of different countries of the world. In addition to a cozy atmosphere and delicious food, some restaurants offer an entertainment program.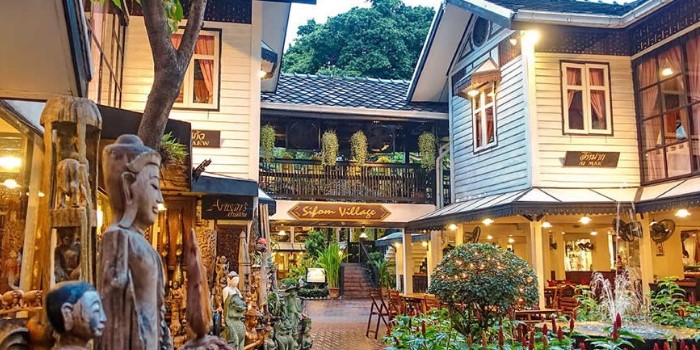 Le Du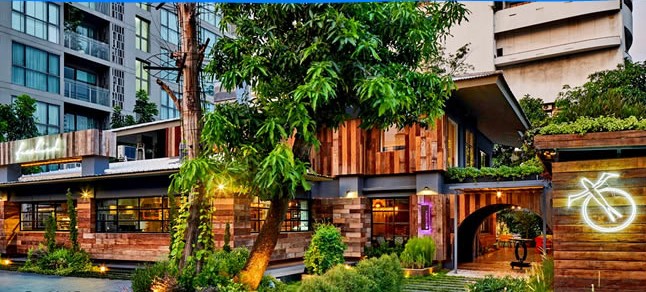 Le Du has been in the culinary scene of Bangkok for several years now, and the name is really on everyone's lips. Seasonal, creative, and talented cuisine will surely surprise you. Familiar Thai dishes are listed on the menu, but what comes to the table will often be something completely redesigned by Chef Ton and his team.
Despite the French-sounding name, Ledu is not a French restaurant at all. Le Du means "season" in Thai and it is a little difficult to classify its cuisine. It can be defined as "Young Creative Cuisine with Thai Roots" which touches many international origins. And here "youth" does not mean an amateur - Chef Ton has worked for many years in several Michelin-starred restaurants in America. After graduating from the Culinary Institute of America with the highest score in his class, he has worked at restaurants Eleven Madison Park, The Modern, and Jean Georges.
Restaurant Le Du is definitely hard to find, squeezed into a very narrow soi between Silom and Sathorn. The place is modestly decorated to make you feel comfortable as soon as you enter. The team and chefs are very bright and friendly and speak good English which helps explain the menu. As you choose your dishes, you can enjoy excellent wine from their impressive cellar, chosen by the chef Ton, who is also a certified sommelier.
With such a talented and enthusiastic team, LeDu Restaurant is Bangkok's shining star, bringing new original food at a reasonable price, something was definitely lacking in the city.
Hours of operation: Mon-Sat 18:00 - 23:00 (Last order 22:00), Closed on Sundays
BTS Subway: Chong Nonsi exit 4
Address: 399/3 Silom soi 7, Silom, Bangrak, Bangkok
Phone: +66 (0) 92 919 9969
How to get there: The restaurant is hidden but very close to Chon Nonsi BTS. Take exit 4 and walk a few s until 7-11. Enter the small street and walk another 20 s.
Benjarong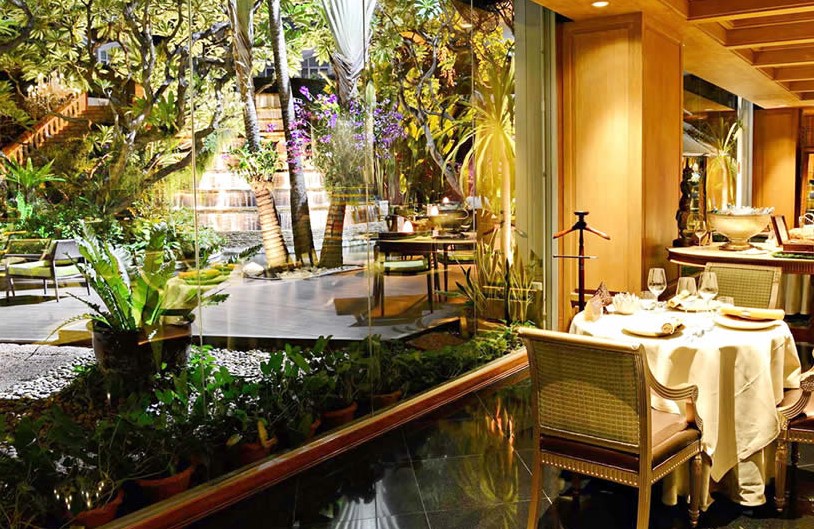 Benjarong Restaurant at Dusit Thani Bangkok has been one of the city's finest Thai restaurants for over ten years. Recently, this legendary hotel decided to revamp its menu and brought in a visionary chef to combine contemporary haute cuisine with classic Thai flavors. If you are looking for traditional Thai food with European touches, consider ordering lunch or dinner here. The place is quite upscale but unpretentious, with a decorative dining room with traditional artwork and Thai wall murals. Live classical Thai music is played here in the evening, and there are a pond and small waterfall visible through floor-to-ceiling windows.
The menu features traditional Thai recipes, salads, soups, fried foods, and curries. Main courses: red curry with crispy roast duck and salad. papaya with chicken or pork skewers.
Opening hours: 11:30-14:30 and 18:00-22:00 (weekdays), 18: 00-22: 00 (weekends)
Location: Hotel Dusit Thani Bangkok, 946 Rama IV Road, Silom
Metro MRT / BTS: Silom / Sala Daeng
Phone: +66 (0) 2 200 9000
Baan Phad Thai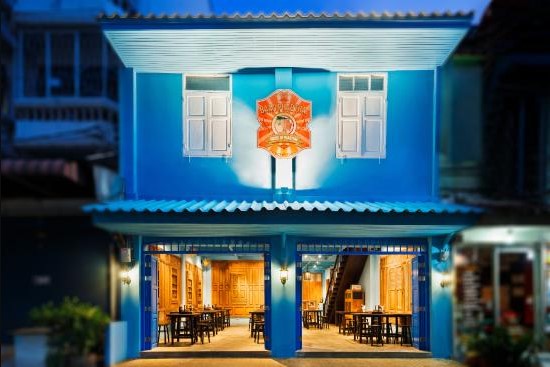 Baan Phad Thai is a restaurant dedicated to Thailand's most famous dish - noodles. The recipes created at this restaurant near Sapan Taksin BTS Subway Station are special!
Baan Phad Thai takes this simple, delicious dish to the next level with high-quality ingredients and
several innovative options such as Phad Thai Boo (crab) or Phad Thai Moo Yang, traditional and extremely popular roast pork, perfect for those who are allergic to seafood and cannot eat this
famous Phad Thai with shrimps.
The Baan Phad Thai restaurant itself is beautifully decorated in a simple Thai vintage style with superb serving. Every detail has obviously been chosen with this vintage spirit in mind, from wood tables, carved stools, to wood paneling on the walls, and even a restaurant logo. Baan Phad Thai is an open door restaurant with fans only as it was in the past. The pleasant music goes well with this homely atmosphere: old Thai folk tunes are often based on famous English songs (the Thai version of "I Feel Good" by James Brown was especially memorable).
working hours: 11:00 - 22:00
place: 21-23 Charoen Krung (Soi 44)
phone: +66 (0) 2 060 5553
Saneh Jaan Restaurant
Saneh Jaan Restaurant is a stylish, elegant restaurant that represents the heritage of Thai cuisine. The style conjures up European design from the early 20th century, and historical photographs of old Thailand complement the graceful setting.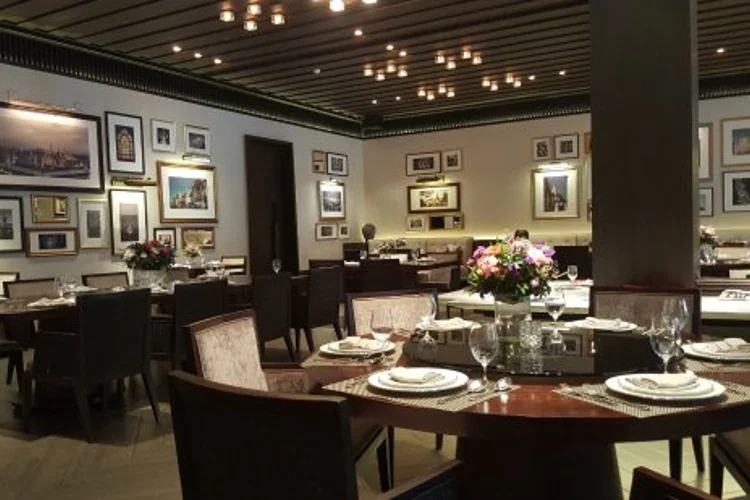 Image Credit: Trip Advisor
The menu features traditional Thai dishes made with only the finest local ingredients, including black bean tofu, homemade curry, dried rice noodles, glass noodles, and organically grown vegetables. The dishes are a painstakingly assembled collection of Thai recipes from different regions across the country. Try the crispy sweet and sour noodles with grilled freshwater shrimp, or the cumin leaf curry with chicken.
The restaurant also offers a wide variety of drinks to match the complex, aromatic, spicy, and exciting food choices. The drinks list includes herbal teas, classic cocktails, and fine wines. The bill may be a little high, but you get what you pay for and this is the perfect opportunity to enjoy bold Thai flavors cooked to a high standard in a chic setting.
working hours: 17:00 - 22:00 daily
BTS station: Ratchadamri
Location: Ground Floor, Sindhorn Tower, 130-132 Wireless Road, Pathumwan, Bangkok
phone: +66 (0) 2 650 9880
Somtum Der
Som Tum(som-tam) is one of the hits of Thai food and is commonly sold in anonymous street shops and stalls. But things are changing: a new generation of Thai chefs have taken this excellent dish to a whole new level, and Somtum Der is a good example of this. Located on Soi Sala Daeng in Silom near Patpong, Somtum Der is a small but attractive two-story restaurant serving excellent 'som-tam' that does not compromise on original taste.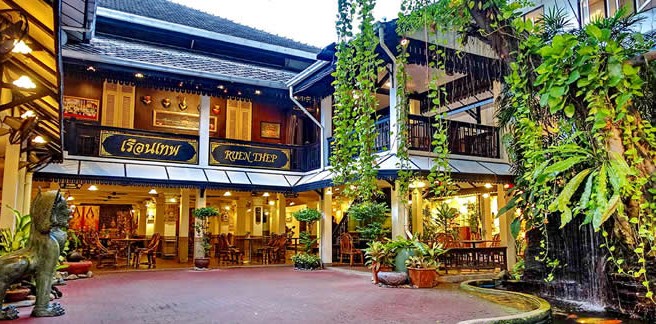 In case you don't know what it is, som tum is a spicy green papaya salad where all sorts of additional ingredients are blended, including salted eggs, fried chicken, blue crab, fermented crabs, and lots of other delicious ingredients. As such a popular and traditional dish, the expectations of the customers are quite certain, but the chefs at Somtum Der know the ins and outs of som-tam and stick to the basics without compromise. There is no fusion here, although you may find some original dishes with high-quality ingredients.
Somtum Der is a very pleasant establishment with an extremely friendly team, a great place to come with a friend or group of friends for a good and classic som-tam lunch in a youthful atmosphere. The air-conditioned restaurant is a big plus next to the high temperatures of Silom and Patpong!
working hours: 1: 00-14: 30, 16: 30-22: 30 every day
BTS station: Sala Deang
Address: 5/5 Saladaeng Rd, Khwaeng Silom, Khet Bang Rak, Krung Thep Maha Nakhon 10500, Thailand
phone: 02-632-4499, 084-764-4291
Thanying Royal Cuisine
So you've heard of Royal Kitchen and wondering where to find the real thing and not fall into the tourist trap? Or if this one dish costs such a royal sum that you have to eat plain rice for the rest of your vacation? If you're not careful, it's possible!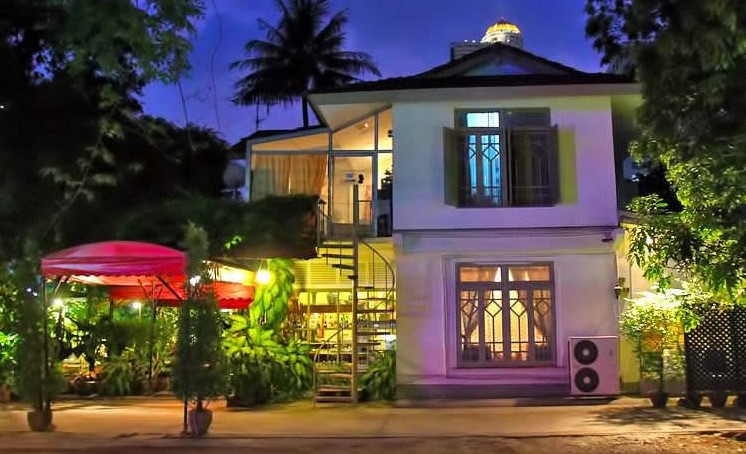 Fortunately, we know a small restaurant tucked away in the Silom area that offers exactly what you are looking for, and even at reasonable prices: Thanying, a delightful restaurant owned by Mr. Sorut Visuddhi, the son of Princess Sulabh. Royal cuisine does not mean overly complicated dishes but requires the use of only the finest fresh ingredients, elegant presentation, and pre-cut food so that the guest never has to use a knife, the fish must be absolutely boneless and there are many other details that help to distinguish between food and cuisine.
Thanying Restaurant is housed in a charming classic house with a small, shaded side terrace. The interior is elegant without being overly complicated, with lots of antique wooden furniture and chandeliers.
Opening hours: daily from 11:30, last order at 22:00. Location: 10 Thanon Pramuan (Pramuan St.), off Silom Rd. (between Silom 17 and 19)
BTS subway: 3 min walk from Surasak Station
phone: (66) 02-236-4361, (66) 02-235-0371
Silom Village
Silom Village Restaurant is the place in Bangkok if you want to taste traditional Thai food in colorful tandem with a traditional dance performance. The menu of classic Thai food pairs well with the entertainment that includes dancers dressed in colorful costumes, dazzling jewelry, and ornate masks, performing classic Thai folklore.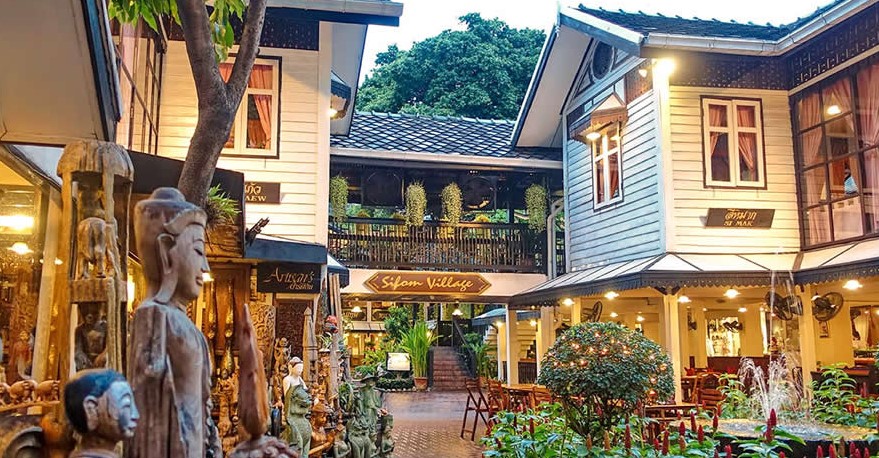 On the other hand, the food menu features several fresh seafood dishes with sophisticated Thai flavors - cooked to order with river or sea fish caught that day.
Popular with visitors to Bangkok, Silom Village is not just a restaurant, it is also a hotel and shopping arcade with a beautiful courtyard. Traditional Thai houses housed in Silom Village have been awarded the Thai Conservation Awards in honor of recreating authentic styles. After dinner, you can take some time to familiarize yourself with the local Thai handicraft souvenirs, antiques, jewelry, silver, and silk products, and buy something home at the memory of my trip to Thailand.
working hours: 11:00 - 23:00 every day
BTS Subway: Chong Nonsi
Address: Silom Shopping Complex, 286 Silom Rd., Bangkok
phone: +66 (0) 2 235 8760
Jok Prince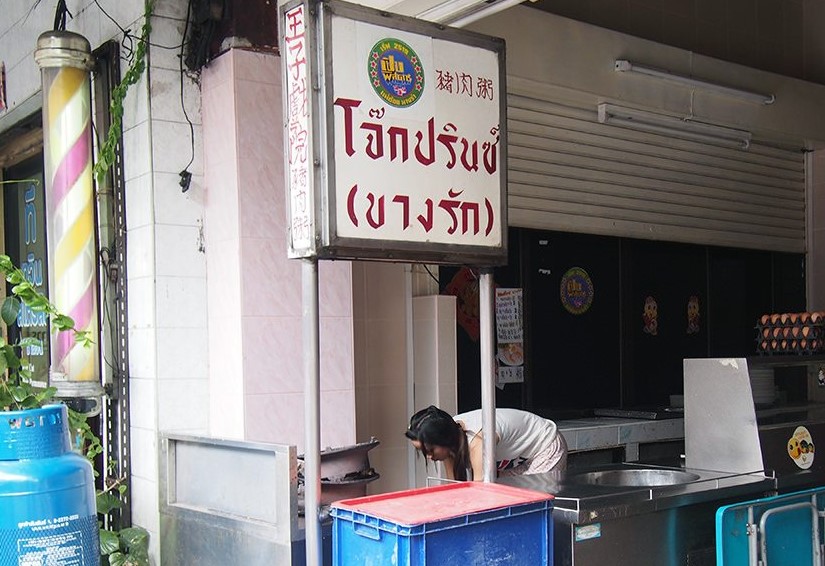 Jok Prince is well known to both Thais and foreigners in Bangkok for its porridge - although for some, the simple rice soup served here with only pork is also good, so we had to go and try it. Getting to Jok Price is not very difficult as it is located opposite Robinson Bangrak, an old mall known for creating constant traffic jams near the Shangri La Hotel. But finding a place is much more difficult as there are no signs in English. There is a metal serving counter at the entrance, and despite this modest superstructure, the take-out line lasts during meal times, not to mention that all tables are fully occupied.
Jok Prince serves only a few types of cereals: with meatballs or without offal, with a raw egg … and that's it. This allows them to manage a large number of clients very quickly.
opening hours: from morning to night, with a lunch break
Location: Charoen Krung Road, opposite the Robinson Shopping Center
Bombyx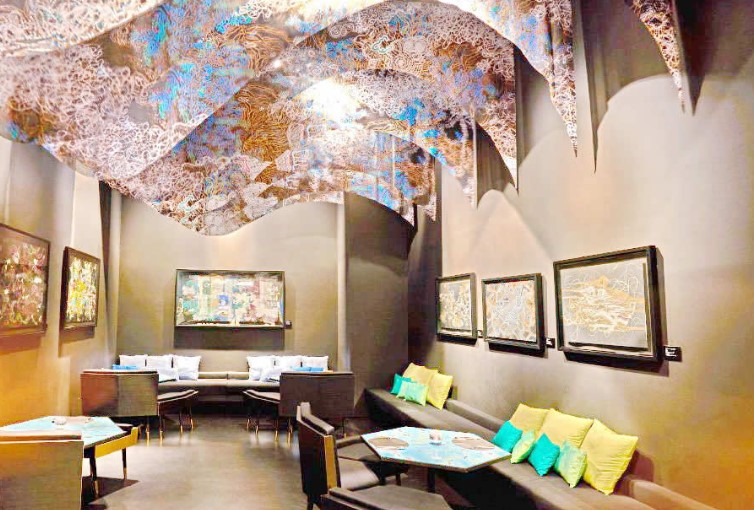 Bombyx Bangkok brings Jim Thompson's great food and homeware together in an ultra-stylish dining room at Siam Paragon. Situated on the mezzanine floor, this contemporary art restaurant serves high-quality Thai food, beverages, and organizes quarterly art exhibitions. Launched in early 2017 by legendary Thai silk brand Jim Thompson, this style is one of the top reasons to visit Bombyx, with extravagant designs filling the room. The restaurant has also earned praise for its popular food menu, which includes bean salad, Panang curry, and a variety of noodle dishes.
The name Bombyx is actually the scientific name for the silkworm - going back to the silk roots of this brand and all the art presented in the restaurant was created by Ithipol Thanchalok. The artist is known for his dynamic works on different media, including sculptures, paintings, and prints. Visitors can also sample a variety of cocktails at the bar and purchase some of Jim Thompson's famous silk scarves from the restaurant and also at the nearby Jim Thompson store.
Opening hours: daily: 10:00 - 22:00
Location: Siam Paragon Shopping Center
BTS metro station: Siam
Phone: +66 (0) 2-129-4840
Som Tam Nua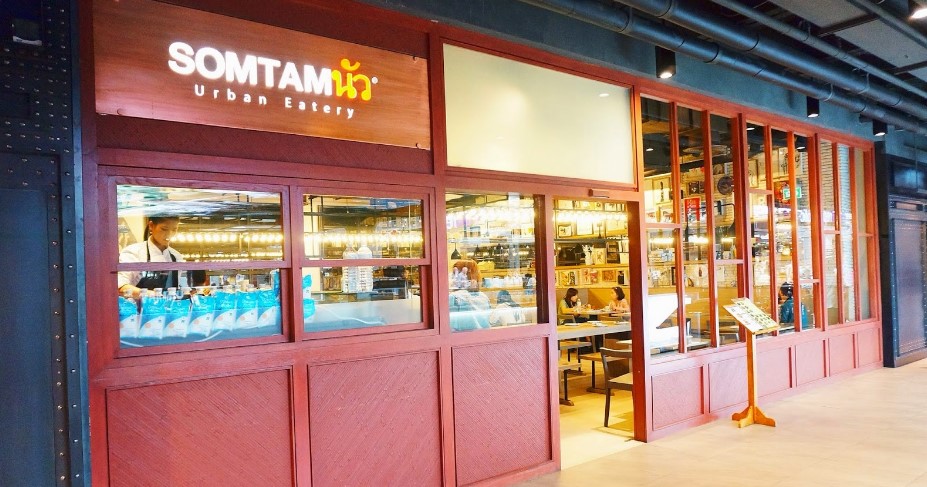 Som Tam Nua at Siam Square Soi 5 is a laid-back and trendy eating place that has risen to fame for serving delicious, foreign-friendly papaya salad and other specialties from the Issan region. Hidden deep in one of the alleys leading from the Siam BTS subway station, the search for Som Tam Nua is a fun prelude to delicious food, and at times the queues of locals coming out the door testify to his reputation. Located in Siam Square, the main trendy city center, the restaurant is surrounded by a range of trendy stalls and interesting shops.
Som Tam Nua is a bistro restaurant stocked with cutlery and seasoning tables. This place is never empty. One side of a restaurant is a long wait but this is a consequence of its popularity. The tables are located on two floors.
Opening hours: from 10:45 am to 9:30 pm
Address: 392/14 Siam Square Soi 5, Rama 1 Road, Bangkok
Phone: +66 (0) 22 51 4880
Ban Khun Mae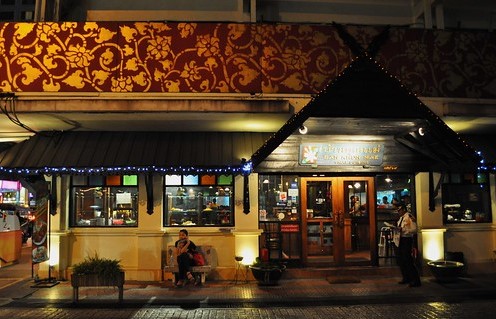 The tempting idea of ​​going to grandma's house for traditional home cooking is something that transcends boundaries and is exactly the feeling you get at Ban Khun Mae. Ban Khun Mae - or Mrs. Mae's home for literal translation - is actually a bit of an anomaly located in the heart of Siam Square, a famous shopping district popular with youth and university students. Exposed timber, hand-painted murals, and a large collection of charming ornaments give the restaurant a rustic, old-fashioned look that contrasts with the youthful, lively atmosphere of the nearby restaurants and cafes.
Outdated decor and grandma's mood may be a bit contrived, but the staff speaks excellent English and the menu is a nice mix of famous must-try Thai dishes with some others you've probably never heard of before. It's a great option for lunch or dinner at Siam Square and makes a pleasant break from the fashion franchises found nearby.
Address: 458 / 6-9 Siam Square Soi 8, Rama 1 Rd, Pathumwan
phone: (+662) 250-1952-3
subway BTS: Siam
Sra Bua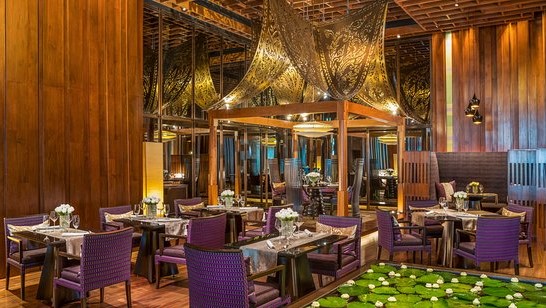 Sra Bua is a gourmet restaurant serving Thai cuisine different from what you've ever seen. Well-known Thai favorites are truly inside out, and every dish is a treat not only for the eyes but also for the tongue. The consulting chef is Henrik Yde-Andersen, the man behind Kiin Kiin in Copenhagen, a famous Michelin-starred Thai restaurant. Chef Henrik just flies to create seasonal menus that push the boundaries in terms of ingenuity. The menu changes every quarter, but the specialties and favorites remain.
Housed on the ground floor of the Siam Kempinski luxury hotel, Kiin Kiin's Sra Bua is richly decorated with teak wood and Thai decorations, nothing more than a lotus pond ("sra bua" means lotus pond in Thai) that is the restaurant's centerpiece. The most coveted table in the house sits under a beautifully carved teak roof in the left corner of the dining room, but there are also some cozy booths if you want a little more privacy.
Opening hours: 12:00 - 15:00 and 18:00 - 24:00 Daily
BTS metro station: Siam
Address: 991 Rama 1 Road, Bangkok, Thailand
Phone: +66 (0) 2 162 9000
Also Like