Indonesian cuisine is very interesting and varied: it will appeal to connoisseurs of meat dishes, seafood, vegetarians, and even those with a sweet tooth. We will tell you what dishes you should definitely try in Bali and in other regions of the country. Popular street food, quirky soups, expertly cooked rice – we've compiled a list of the tastiest Indonesian food with pictures and descriptions.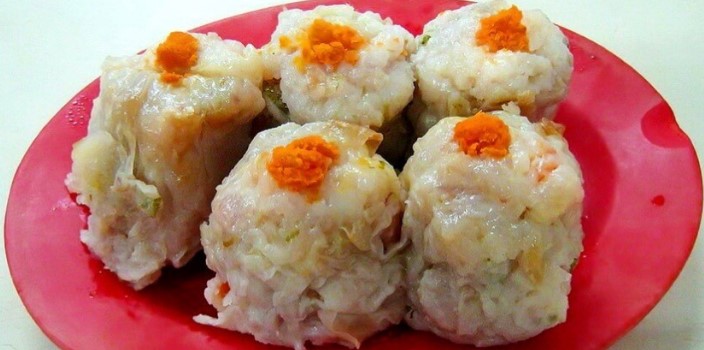 Sate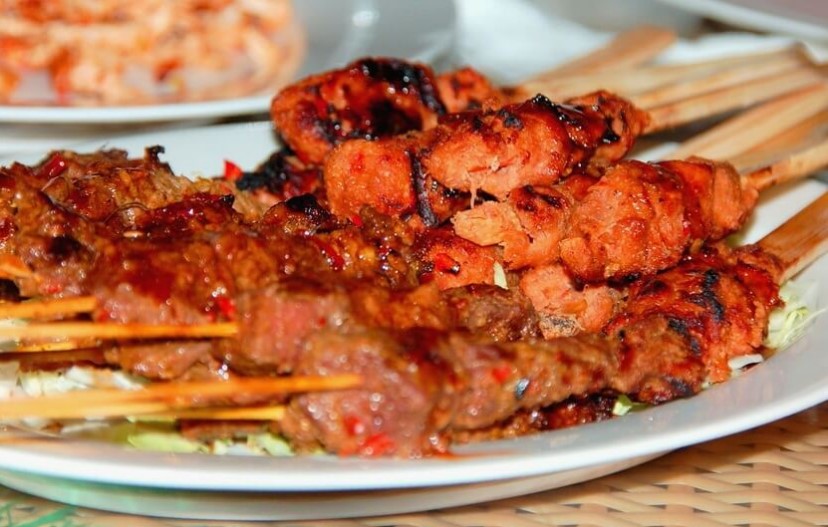 The most popular Indonesian food, legendary street food, and must-try in Bali. Delicious miniature kebabs on wooden skewers – for every taste. Sate in Indonesia is most often prepared from meat, poultry, or seafood (try shrimp – it's incredibly delicious!) With the addition of spices. Vegetarians in Bali can eat vegetable-tofu saté or fruit saté. Connoisseurs of the exotic should try barbecues made from cobra, turtle meat, lamb eggs, or even calfskin in spices. Sate is one of the top 50 best dishes in the world according to CNN. The snack is the most popular street food in Indonesia, and therefore locals and tourists alike buy it at the markets or open-air eateries. Feel free to do the same.
Bakso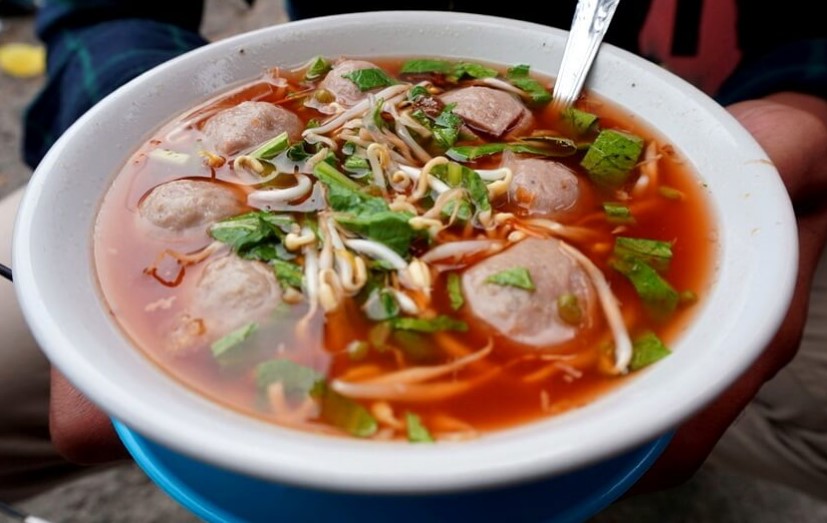 Another popular street food in Indonesia that every tourist should try. Bakso is meatballs made from meat, fish, or seafood, sometimes tofu. They are in broth or in soup with noodles, rice, or vegetables. If you decide to buy bakso in a mobile food cart, which is very popular in Bali, the dish will be "assembled" according to your desire. You choose the type of meatballs, broth, and toppings, and the salesperson prepares food in front of you, mixing products from different pots. Vegetarians in Indonesia are advised to try fried tofu (bakso tahu goreng) based bakso without broth, but with vegetables and gravy.
Laksa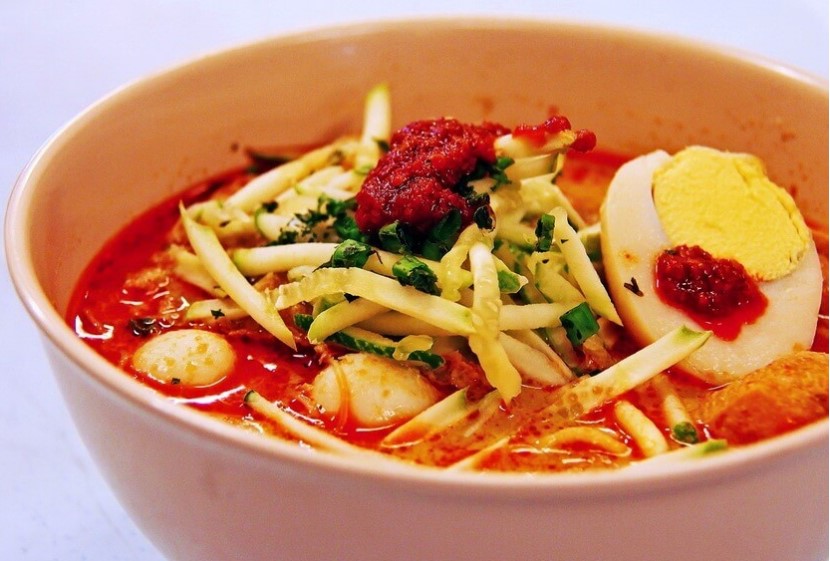 A very popular dish in Bali that should be tried by connoisseurs of spicy food and seafood. Laksa soup is made from noodles with shrimps, fish, shellfish. And most importantly – hot pepper. Sometimes chicken is used instead of seafood. Often herbs, a little lime juice, and a boiled egg are added to the soup. CNN ranked Indonesian Asam laksa soup (noodles with fish) in the top 50 best dishes in the world, placing it in 7th place.
Rendang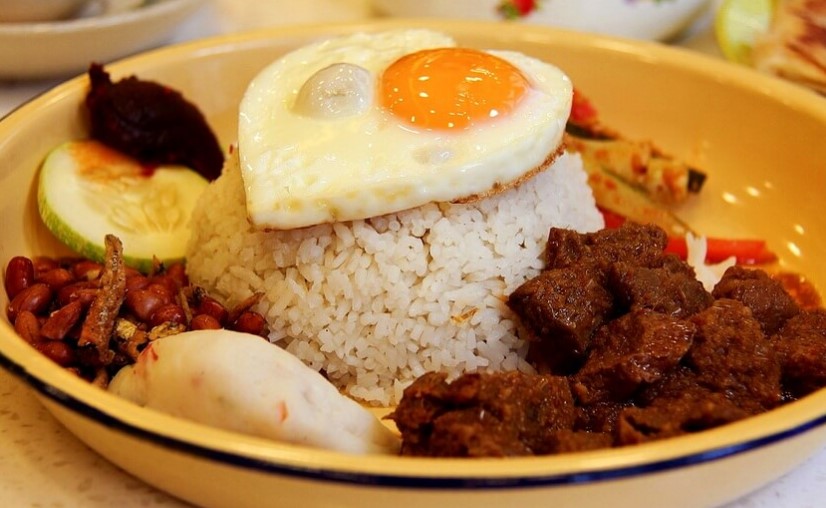 From meat in Bali, you must definitely eat the legendary rendang. Most often, the main ingredient in the dish is beef, but sometimes it is prepared from liver, chicken, eggs. Vegetarian rendang is also found in Indonesia. Imagine mouth-watering chunks of beef, or any other ingredient, simmering in a spicy coconut-based sauce. The aroma is simply incredible! Add to this a little rice, fresh vegetables, and egg – you get a very satisfying dish, the taste of which will be associated with your rest in Bali for a long time.
Nasi Goreng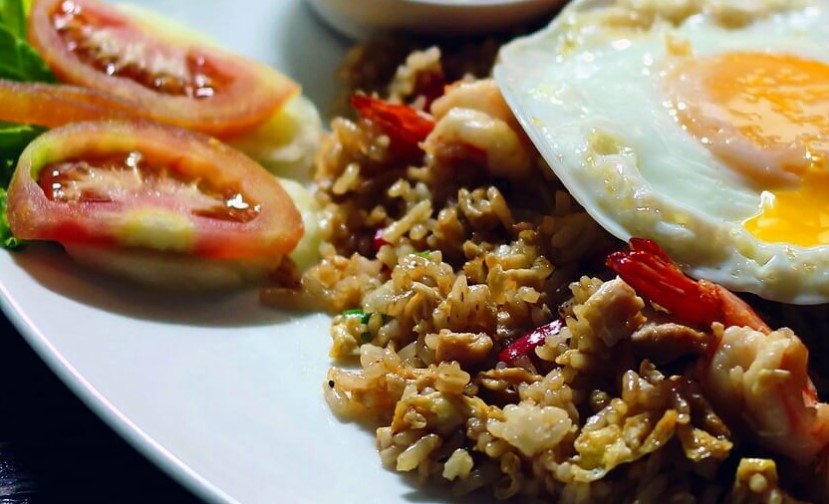 The legendary national dish nasi goreng (fried rice) has long been considered a culinary symbol of Indonesia. There are many variations of nasi goreng: with meat, chicken, shrimp, fish, tofu, eggs, vegetables. All are good in their own way. Rice is fried in vegetable oil along with the "filling" and a little spices. Sometimes an egg is broken into it. It turns out to be a very simple but incredibly tasty dish. It is especially good to try it in Bali with scrambled eggs and sate, washed down with local beer. Feel free to take street food, it tastes even better.
Krupuk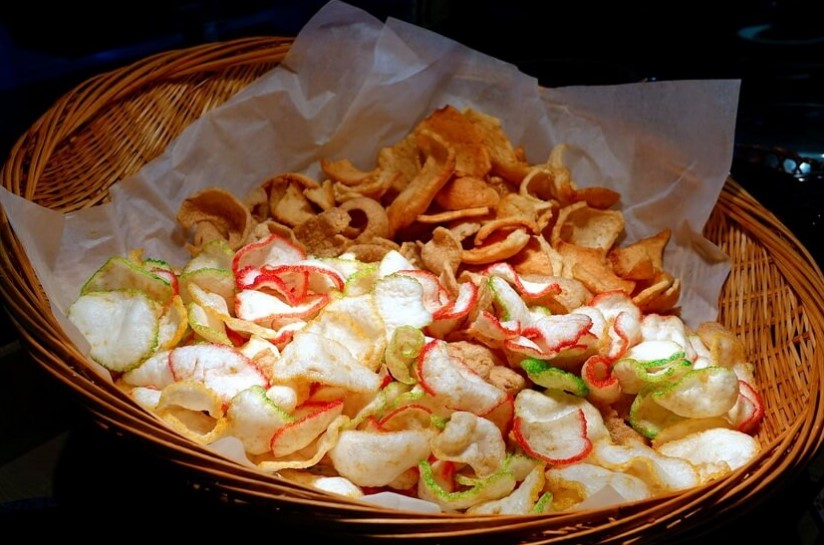 The most popular Indonesian snack that every tourist should definitely try. are mouth-watering crispy chips that can be made from flour (rice, beans, corn, or something else) or powdered dried seafood. Sometimes they are generously sprinkled with aromatic spices, but most often they are eaten neat. This snack in Indonesia can be bought in supermarkets, markets, food trucks, eateries. It is necessarily prepared in restaurants of national cuisine, even in the most expensive ones in Bali. Krupuk chips can be just crunchy and are worth trying with one of the local sauces. Indonesians themselves use snacks instead of bread.
Siomay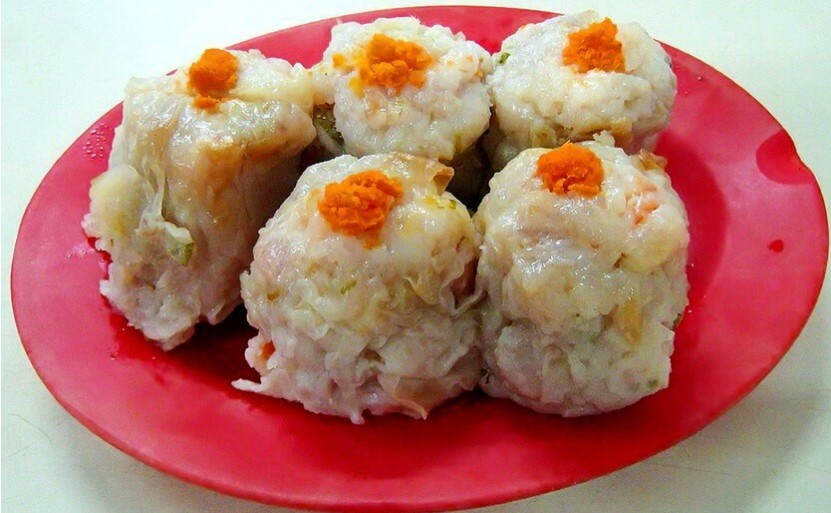 Very popular street food in Indonesia that is also worth trying at least once in a lifetime. The dish looks not very appetizing, but it tastes excellent. Siomay is Indonesian fish dumplings. If you order this street food at a diner in Bali, it will usually be served with a serving of potatoes, cabbage, and eggs. Siomai is inconceivable without nut sauce – it makes the dish extremely tasty. The best siomay is sold by rickshaw vendors with carts.
Nasi Uduk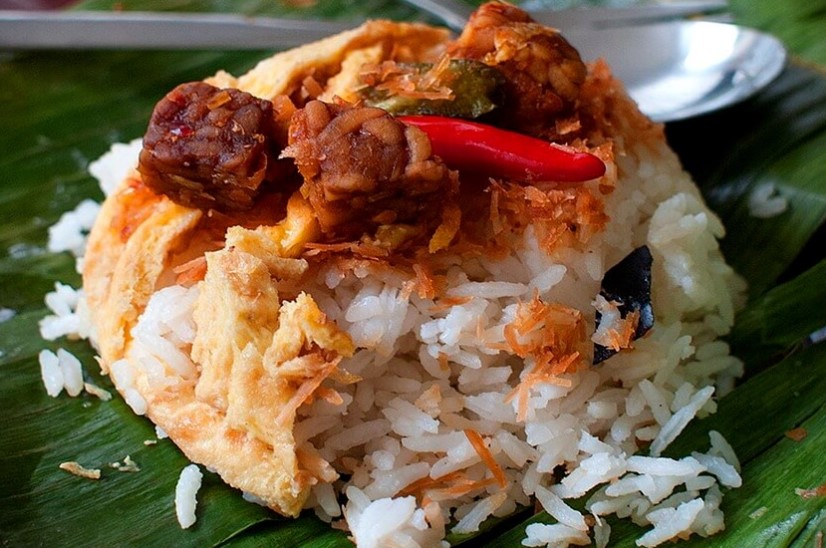 This legendary dish was invented on the island of Java and then spread throughout Indonesia. Today it is a favorite food of tourists and locals alike and is highly regarded in Europe (Asian restaurants often add nasi uduk to the menu). Be sure to try this national dish during your holiday in Bali. Just imagine: the legendary long-grain Indonesian rice cooked in coconut milk with aromatic spices, lemongrass, and pandanus leaves. This already sounds delicious. Now add filler in the form of meat, seafood, anchovies with peanuts, omelet, or vegetables to it. A real gastronomic delight!
Martabak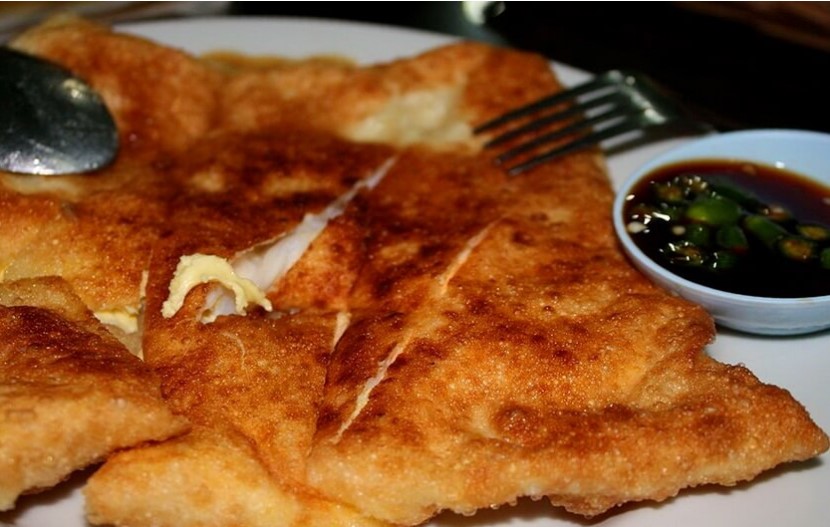 Fried pie made from the finest dough with delicious juicy filling. Most often, martabak is prepared in Indonesia in the form of a large flatbread that resembles a layered omelet. But in shops with street food in Bali, there are often small, neat envelopes. The filling can be anything: eggs with onions, meat, vegetables. Sweet martabak is a must for those with a sweet tooth in Indonesia. This is just a fantastic dessert with tons of chocolate, fruits, nuts, condensed milk, or whatever. In short, many people will like this street food, as the variety of fillings even in small mobile shops is really impressive.
Bubur Injin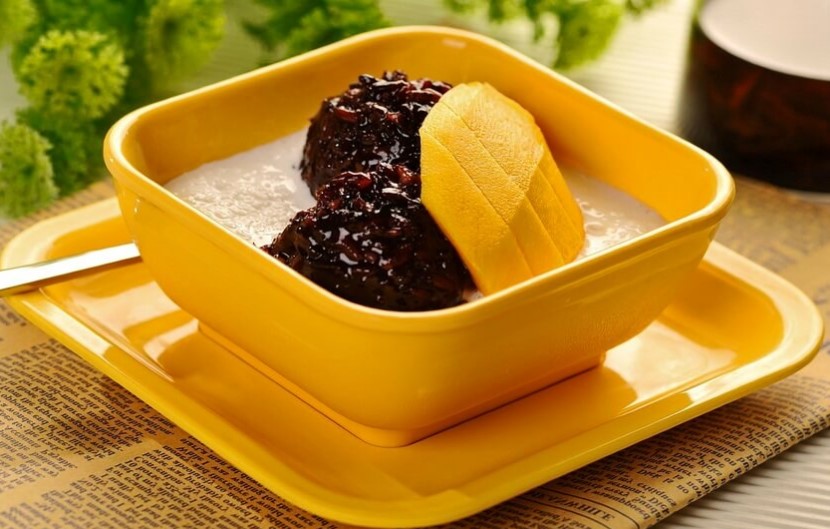 The most famous dessert of the national Indonesian cuisine, which is very popular in Bali among tourists from all over the world. It is made from black glutinous rice cooked in coconut milk with cane sugar. They do not regret the latter (Asians generally love making desserts incredibly sweet). Very often, black rice pudding is served with fried bananas, mangoes, or other fruits. A great choice for breakfast or as a complement to the main meal. Be sure to try it – this is a unique dish that is really great in Indonesia.
Also Like