This section of Bangkok food is your guide to restaurants in the capital of Thailand; From fine dining in luxury hotels, to roadside eateries and cafes serving authentic Thai food, if this is a restaurant worth going to. Sure, most places to eat in Bangkok specialize in local flavors, but this is a city where you can also find excellent quality food from all over the world, especially Chinese, French, Italian, Mexican, Japanese and Indian.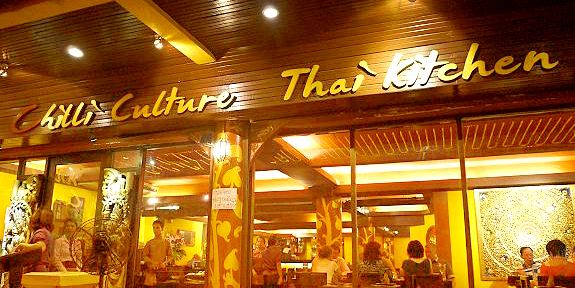 Bo Lan Restaurant
Recognized over the years, Bo. Lan is one of the best Thai restaurants in Bangkok. This is the kind of place to invite your discerning friends, or when you want to impress people who think they've tried it all before. The name 'Bo Lan' comes from the chefs 'Bo' (Duangporn Songvisava) and 'Dylan Jones', who were inspired by star chef David Thompson at Nahm Restaurant, London. With its understated luxury, this beautiful restaurant and its small garden, hidden in a narrow street just off Sukhumvit Soi 26, absolutely deserves its reputation as one of the top 10 restaurants in Bangkok.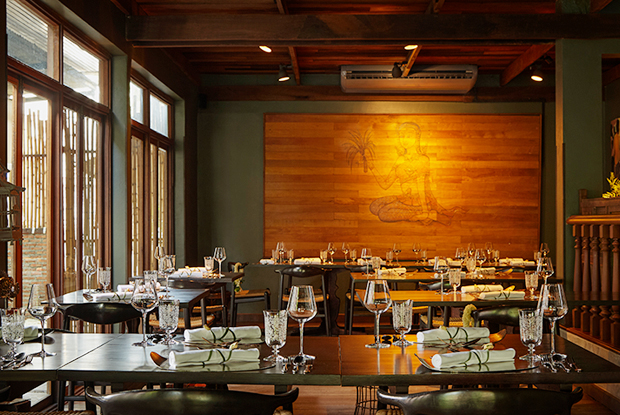 With only two modest dining rooms and a garden terrace, Bo. Lan is a fairly small establishment, so you should definitely pre-order – especially if you are two or more. Tucked away in a small garden at the bottom of a narrowing street, the restaurant – all made of wood, warm lighting and very welcoming staff – is almost impossible to find.
Bo. Lan Restaurant
opening hours: 18:00 until late (Tue-Sun)
Address: 24 Sukhumvit 53 Alley, Khwaeng Khlong Tan Nuea, Khet Watthana, Krung Thep Maha Nakhon 10110, Thailand
BTS Subway Station: Thonglor Exit 1
tel: +66 (0) 2 260 2962 (reservation is recommended)
account: set menu Bo Lan Balance from 1,980 baht
website: https://www.facebook.com/BolanBangkok/
Baan Restaurant
Baan Restaurant on Wireless road is a hidden place serving authentic Thai family cuisine prepared by a very talented chef from the famous Ledu Restaurant in Silom. The food in Baan (which means "home") is 100% Thai with no compromise; Chef Ton brought these recipes back from his childhood and added his knowledge of traditional ingredients and cuisine. So if you've been living in Thailand for a while or visiting often, the names listed on the menu like Som Tum and Kao Pad will definitely look very familiar. Some may (and will) ask why you have to pay more to eat dishes that can be found on the streets for half the price. The answer is simple: this is the same thing that distinguishes "food" and "kitchen"; between "cooking" and "home cooking" (in addition to a brand new cozy air-conditioned restaurant, of course).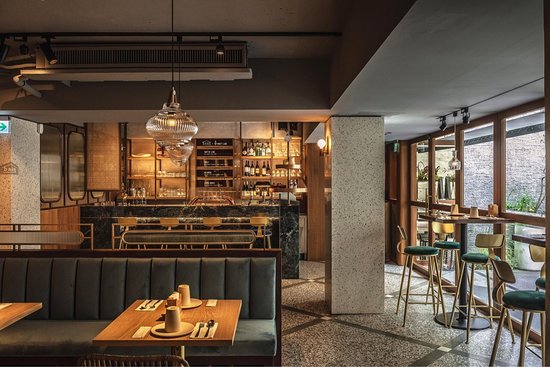 The restaurant is modest in size but has very high ceilings and classy design; the atmosphere is fresh and vibrant, with pleasant, unobtrusive background music. The staff is very attentive, and quietly scurries back and forth. The best way to describe Baan? This is a great place to meet friends who know what great Thai food is, when they want to share their passion for food in a relaxed yet more sophisticated setting.
Opening Hours: Lunch 11:30 – 14:30, Dinner 17:30 – 22:30 – Closed on Tuesday
Location: Next to Lumpini Park on Wireless Road, near the Japanese Embassy
Tel: +66 (0) 2 655 8995, + 66 (8) 1 432 4050
Cabbages and Condoms Bangkok
Cabbages and Condoms in Bangkok is a restaurant with a difference. Using a fancy name to highlight a serious problem, this is a great place to enjoy delicious Thai food in the knowledge that a portion of the profits will be well spent. Your food money is used to support development programs initiated by the Population and Community Development Association (CCP). The restaurant's motto "our food won't make you pregnant" is one of the most unusual slogans you'll see in the city.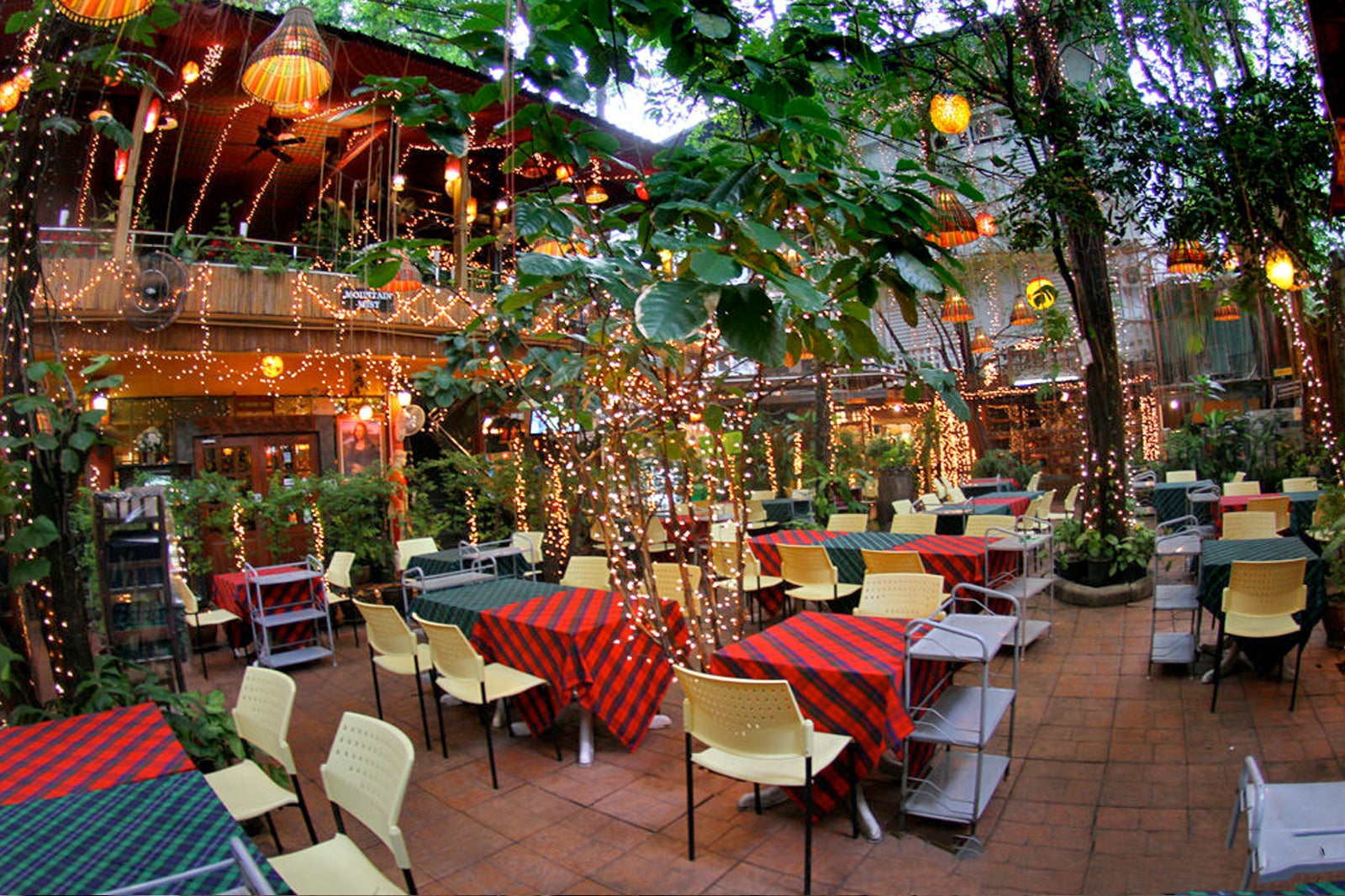 On your way out of the restaurant, you can grab some free condoms from the offered Democrats or Republicans. The restaurant has a shop selling an assortment of rubber products, some funny, some a little risky, but certainly a more unusual souvenir to take home. A humorous and quirky way to focus on a very serious social issue has been a hallmark of Cabbages and Condoms, and highly recommended for first-time visitors to Bangkok – this institution!
Opening hours: 11:00 – 22:00
place: MRT Sukhumvit; Bts asok
Address: Sukhumvit Rd, Bangkok, Thailand
tel: +66 (0) 2 229 4610
menu: http://www.pda.or.th/
Suk 11 Restaurant
Amid the hustle and bustle of Sukumvit Soi 11, in a small alley that leads to the main street, you will find Suk 11, a hectic yet charming hostel offering the best night's sleep. If you're unlucky enough to stay here, we recommend checking out their delightful ground floor restaurant, which is located in and around the hostel entrance. This is a fantastic place for some delicious, low-key Thai food with a couple of beers, before heading outside to take full advantage of one of the best entertainment streets in Bangkok.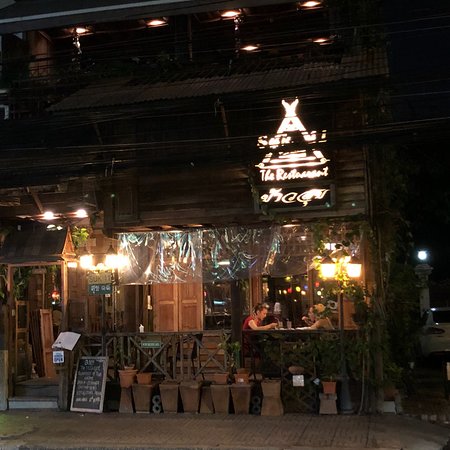 Although Sukhumvit 11 is busy during the day, it really comes alive after dark, with VW bars on the streets and music floats down the small strip that connects the restaurant to the main venue. It is only open in the evening, not hidden, but there is a certain distance from all the hustle and bustle if you want to avoid all this chaos.
Highlights: red curry duck and Thai green curry. Both are perfectly seasoned for some western flavors, but if you like it very spicy ask the staff when ordering because Sukhumvit 11 and the hostel serve a large number of foreign visitors and the restaurant's kitchen is used to not adding too much chili to the dishes. Finish the meal with mango and sticky rice – the sweet end of a very tasty meal.
If you're looking for an inexpensive, casual Thai dinner on Sukhumvit 11, Suk 11 is a delicious option.
Location: 1/13 Sukhumvit 11, Khlong Toei Nuea, Wattana, Bangkok 10110, Thailand
metro station: Nana BTS
tel: +66 (0) 2 253 5927
The Local Bangkok Restaurant
The Local Bangkok is a traditional Thai gourmet restaurant in the heart of Bangkok. The restaurant serves delicious homemade Thai food in a traditional wooden house in the Asoke area of ​​Sukhumvit.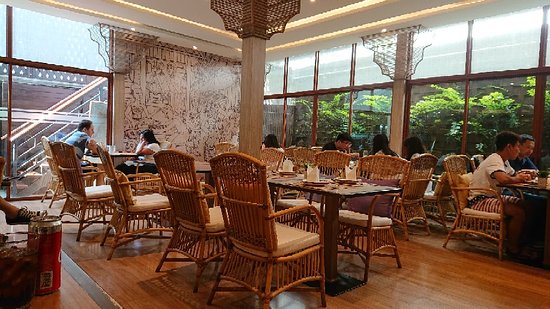 Inspired by traditional Thai cuisine and recipes from the past, The Local Bangkok offers superbly presented dishes from its extensive menu with over 70 contemporary Thai options. Start with a delicious dish called 'Ruam Kam Aroi' which includes 'khao-soi' soup, lemongrass shrimp and fried chicken wrapped in a banana leaf to seal all the juices (250 baht). Be sure to try one of the stars on the menu, Gaeng Run Juan, a traditional Thai curry that includes thin strips of beef steak cooked with shrimp and lime paste. 'Pla Ta Pien Tom Kem' (380 baht) is a delicious simmered fish for over 20 hours and mixed with The Local's secret sauce, another popular dish on the menu.
opening hours: daily 11:30 – 14:30, 17:30 – 23:00
Address: 32-32 / 1 Sukumvit 23, Klong Toey Nue, Wattana, Bangkok, Thailand 10110
menu: Thai
metro station: Asoke BTS
Phone: +66 (0) 2 664 0664
Zanzibar Bangkok Restaurant
The tropical setting you find yourself in when you visit Zanzibar is more like a quiet beach location than the busy capital city of Bangkok. This is also possible thanks to the pizza and pasta on the menu that leads to this place, often referred to as an Italian restaurant, but make no mistake – this restaurant specializes in fusion style Thai cooking.
Exit 3 from Nana BTS Station, and a short stroll down Sukhumvit Soi 11, will take you to a renovated 1920s home on the left side of the soybean.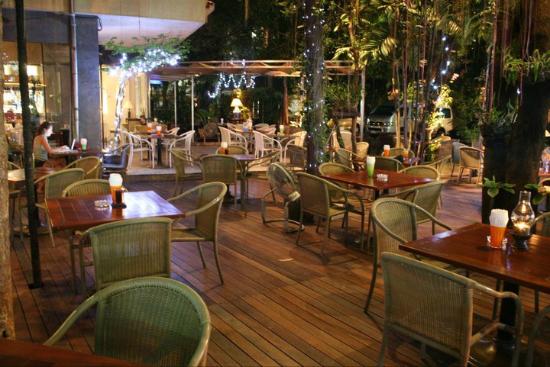 Although the accommodation is inside (the third floor is exclusively non-smoking), we decided to eat outside, on the spacious terrace. Umbrellas, lanterns, tall palms and foliage create a real festive atmosphere, and the hustle and bustle of street food vendors on Soi 11 is far away. Try to choose a table that has or is near a fan as it is still hot in the early evening.
The ambiance and relaxed atmosphere mean this is the perfect place to enjoy a meal with your loved one or friends. The staff is helpful and friendly, and so attentive when needed or prompted, making sure you enjoy a pleasant and peaceful evening.
working hours: 17: 00-02: 00 daily
BTS station: Nana
Address: 139 Sukhumvit 11, Sukhumvit Road, Bangkok
tel: 080-778-2250
Ruan Songnaree Bangkok Restaurant
At Ruan Songnaree Restaurant on Sukhumvit 33, every dish on their impressive menu is bursting with the sweet, sour and tangy flavors so strong in Thai cuisine. It should be so. In the more touristy areas of Bangkok, you'll often find that some places tend to hold back a bit when it comes to seasoning, in somewhat misguided attempts to appease foreign tastes. However, this is far from the case in this modern yet authentic Thai restaurant.
The spacious Ruan Songnaree offers a calm and inviting ambience in stark contrast to the hectic Sukhumvit Road, just a few dozen s from the restaurant. Pleasant lighting, soothing background music and friendly service all contribute to an enjoyable meal. In addition to serving a successfully authentic (and totally delicious) menu, the restaurant's setting also helps create the traditional feel of ancient Siam with its various Thai art installations, silk tablecloths and warm wood tones. Ruan Songnaree translates to "home of two elegant women," so no prizes for guessing who are co-owners.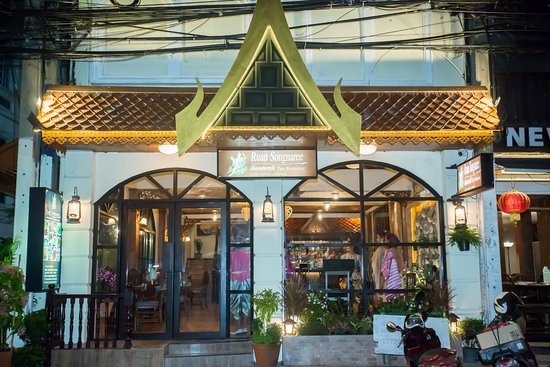 The authentic Thai theme at Ruan Songnaree continues into desserts with many proven classics. Coconut sweets are synonymous with Thai food, and sago and black beans in coconut cream for 120 baht are prime examples of this. It is a cold, sweet dessert with jelly-like sago and slightly firmer black beans offering pleasant textures, with coconut cream for a lasting sweetness. For something even more exotic, order black sesame rice dumplings and ginger tea. This is a rare find in Bangkok and a favorite dessert of many guests (120 baht).
The small outdoor terrace is a great place for cocktails, or tasting one of the many wines or beers available in the restaurant. There are enough tables and chairs for couples or solo, which means you can borrow an alfresco table if you don't mind the lack of air conditioning.
For those who want to give free rein to their tastes while enjoying delicious food in a pleasant, relaxed atmosphere, Ruan Songnaree is a great option. The restaurant also has a Thai cuisine school. You can find it 30 s from the beginning of Sukhumvit Soi 33 on the left side; The restaurant is easy to spot with its large sign and traditional Thai roof and exterior decor. The restaurant can be easily reached from Phrom Phong BTS Skytain Station or Sukhumvit MRT Subway Station (about 10 minutes).
opening hours: 11:00 – until midnight, 7 days a week
Address: Sukhumvit Soi 33 7 / 4-5, Bang
metro station: Phrom Pong BTS or Sukhumvit MRT
Phone: +66 (0) 2 664 0664
website: https://www.facebook.com/ruansongnaree/
Baan Khanitha Restaurant in Fifty Three
Baan Khanitha Thonglor Restaurant & Wine Bar is a stylish multi-level dining room serving traditional Thai cuisine in a relaxed and cozy environment. The restaurant is decorated with modern oriental touches, evoking the feeling of a Thai family home. Baan Khanitha is well known in Bangkok and has won numerous awards over the years, so this is a great place to enjoy some mouthwatering flavors of local cuisine. In fact, there are four Baan Kanitha branches in Bangkok, and each of them maintains the same high standards in food and service.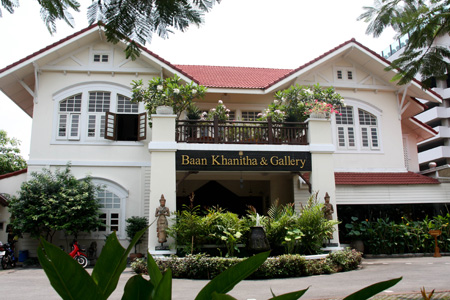 With a wide selection of drinks on offer, from fine wines to an excellent cocktail list, you are sure to find something to suit your taste, whatever your preference. In addition to a wide selection of wines, there are excellent infusions with spices and herbs, as well as lemon grass tea – an ideal drink for a pre-meal appetite. Drinks pair perfectly with exciting menu options such as deep fried cotton fish cooked in a savory mango sauce and soft-shell crab in green curry. This restaurant attracts many foreigners as well as locals and is the perfect place for a nice evening with a group of friends – or a romantic date. Most of the dishes on the menu cost around 150-300 baht, while the main courses range from 300-500 baht.
working hours: 11:00 – 24:00 daily
BTS station: Thonglor, exit 1
Address: 31 Soi Sukhumvit 53, Sukhumvit Rd., Klongton Nua, Wattana, Bangkok 10110
tel: +66 (0) 2 259 8537
cuisine: Thai
website: https://www.facebook.com/baankhanithabkk/
Hua Kling Pak Sod Restaurant
Tucked away in the narrow alley of Tonglor Soi 5, Sukhumvit, Khua Kling Pak Sod is a small and barely visible restaurant, but consistently packed on weekends. From the outside, there is no hint that a really special meal is being served here … the entrance looks like a garage and the sign, written in Thai only, is smaller than a shoebox. So why is this ballet of cars so desperate to find a parking spot at lunchtime? Simply! Khua Kling Pak Sod is one of the few places in Bangkok that serves Southern Thai cuisine. Not your usual Thai cooking, but some delicious food for those who really love it hot …
Many people who have moved to Bangkok from the southern provinces go to Khua Kling Pak Sod when they miss their recipes, and once you know how spicy these dishes can be, you realize how bland food in Bangkok really is... even by Thai standards. Sure, some dishes are less spicy, but the whole point of dining at the Kua Kling Pak Sod is to get a real blast in your mouth.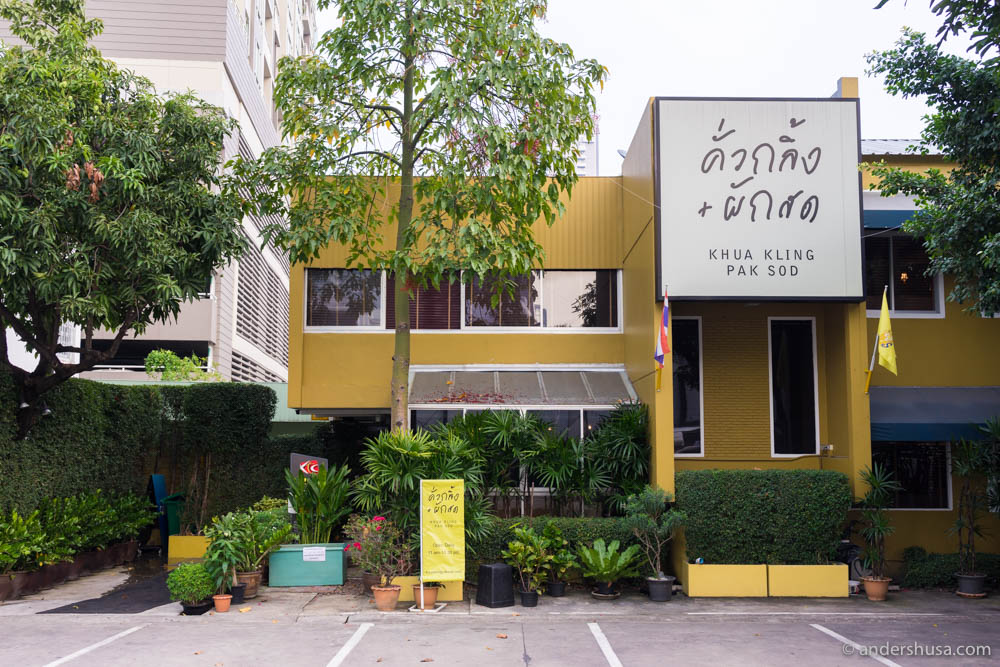 From our list of favorites, try their delicious 'Gaeng Luang': a yellow and spicy curry with fish and young coconuts. The texture of the curry is not as thick as any curry you might taste and pairs well with rice. This version is also more acidic and thinner than the Phuket version, which may indeed not be available to Thais. Khua Kling (120 – 150 baht) – Super spicy pork ribs fried in a spicy pasta are also a must try, and by the way they explain the origin of the restaurant's name. Phad Satow (180 baht) is another recommended dish, but these spicy "smelly beans" fried with shrimp paste are recommended only by the bravest of our league. Instead, choose a non-spicy dish to cool off a bit: Bai Liang Pat Kai – delicious fried leaves with an egg.
If you miss the unique cuisine of Southern Thailand too much, Khua Kling Pak Sod is the closest you can get it all without leaving Bangkok!
working hours: 11:30 – 21:30 – every day
Address: 98/1 Soi Thonglor 5, Sukhumvit 55 Rd
tel: +662 185-3977, +6686 053-7779, for foreigners + 6681-8115458
metro station: Thong Lo
website: https://www.facebook.com/KhuaKlingPakSod/
Basil Restaurant
Located on the ground floor of the Sheraton Grande Hotel Sukhumvit, Basil is one of the many award-winning restaurants in 5 * hotels with a philosophy of serving authentic traditional Thai cuisine in a modern setting. True, Basil offers a wide variety of authentic Thai delicacies with luxurious comfort and a trendy restaurant atmosphere.
With soothing piano and jazz music purring in the background, dim lighting and white candles decorating every table, Basil offers a stylish and warm atmosphere perfect for visitors looking to unwind and enjoy a delicious meal with friends or loved ones. The restaurant's popularity means that there is a gentle murmur of conversation and clinking glasses during the late evenings, but the tables are well positioned to provide an intimate atmosphere. There are several raised side rooms, painted in bright stripes of red, green and purple, set off to the side of the main room, all equipped with sliding doors for those who prefer private offices.
The main dish is a choice of mysterious Thai dishes and you can try Tom Khai Hoy Shell Yang. This is a coconut milk soup with fried scallops wrapped around lemongrass stems. The scallops are juicy and tender with a hint of herbs, while the consistency of the soup makes it best eaten with aromatic jasmine rice. Finally, you can feast on Pla Hima Kha Orn: steamed snowfish with galangal and lime sauce. Needless to say, all the ingredients used are fresh and perfectly ripe to ensure high quality and optimal taste.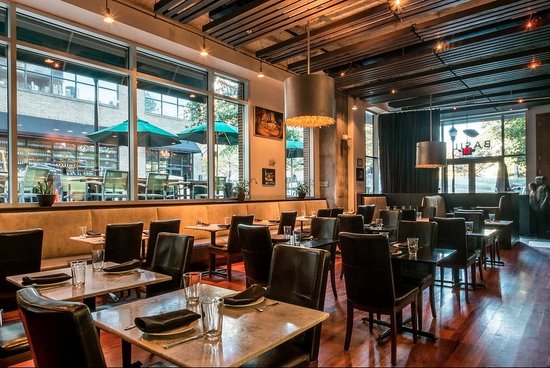 Phad Nua Nok Krajork Ted Bai Horapa – fried ostrich meat with sweet basil can certainly become an unexpected surprise of the dinner. Prepared by experts to maintain natural flavor and tenderness, Basil has managed to concoct this rather unusual ingredient with herbs and spices, resulting in an unusual twist into a traditional Thai dish.
For dessert, indulge in four Basil homemade ice creams, fresh tropical fruits, beans, vegetables and coconut milk, starting with quintessential mango sticky rice or Khao Niew Mamuang (Thai name). Eaters who love ice cream for dessert will enjoy Crepe Bai, which consists of soft pandanus crepes wrapped in shredded sweet coconut served with a scoop of mango ice cream and Fak Tong Sankaya steamed with pumpkin cream and coconut ice cream.
For the more adventurous eater, Kanom Kai Nok Krasa is a steamed sago with mung beans and peppers stuffed with galangan root. It is the perfect dessert for diners curious to experience the contrasting yet complementary flavor of sweet and savory.
Contemporary furnishings with a touch of traditional Thai elements decorating the interior, Basil is the perfect dining experience for anyone craving authentic Thai delicacies in a cozy and contemporary setting.
working hours: Mon-Fri 12:00 – 14:30, daily 18:00 – 22:00
Location: Ground Floor, Sheraton Grande Sukhumvit Hotel, 250 Sukhumvit Road, Bangkok
tel: +66 (02) 649 8366
Supanniga Eating Room
Inspired by his grandmother's recipes, owner Mr Eh opened the Supanniga Eating Room, offering a mouth-watering range of traditional Thai dishes from both her hometowns, Trat (east coast) and Khon Kaen (northeast), where the family now lives. With a comfortable yet chic setting, an outside terrace and some strong martinis, this Thong Lor restaurant is well worth your visit in Soi 8.
It is very easy to find it, in the old house, on the right side, just a few s in front of the Ei8ht mall, if you walk from the BTS Thong Lo skytrain station. It's ten minutes on foot, but you can take a taxi from Sukhumvit Road for about 50 baht.
Over three floors, this restaurant is a combination of sleek concrete and wood, the name is taken from the hotel of the same name, which is owned by Mr. Eh's family in Isan. Despite the exterior, the house feels more spacious inside. There is a low bar at the back of the first floor and a decent selection of wine on the shelves. On the third floor, there is a comfortable outdoor seating on the veranda with a sofa and cushions, which is the best place in the house. The tables are set in blue-and-white Chinese china, the colors are accented with light yellow, and despite the modern hues, the restaurant makes you want to get to the table faster.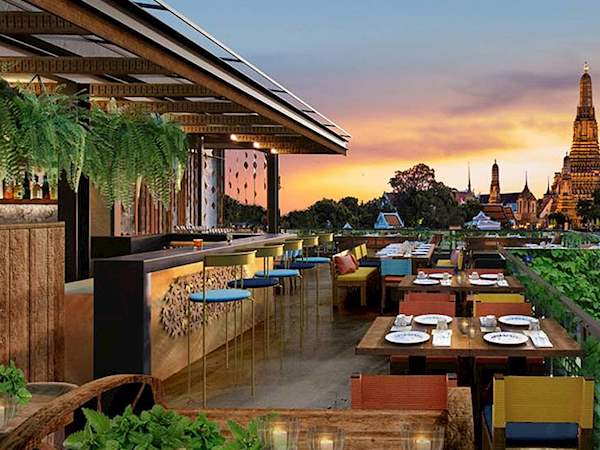 Desserts include the classic mango with sticky rice and the more inventive Thai panna cotta tea; much less creamy than its Italian counterpart. Along with a well-stocked wine cellar, the Supanniga Eating Room serves a decent selection of strong martinis including Earl Gray, a tea martini. Their fresh juices and mocktails also complement the food nicely, especially the sweet and refreshing Roselle.
Supanniga Eating Room is a fantastic local restaurant that caters to the needs of discerning eaters hoping to sample a time-honored regional cuisine.
BTS station: Thong Lor
address: next to 'Ei8ht' shopping mall, 160/11 Sukhumvit Rd, Thong Lor
tel: +66 (0) 2 714 7508
Chilli Culture Thai Restaurant
Chilli Culture is a Thai restaurant that not only serves delicious Thai food, but covers virtually every region of Thailand's rich culinary heritage. This makes Chilli Culture Restaurant a great place for large groups, some of whom may be looking for more rare, authentic Thai options, and others looking for some of the most famous food in the travel scene, such as pad thai or green curry.
Located on Sukhumvit Soi 11, often referred to as the "Sukhumvit Party Street", Chilli Culture is 500 s down the street at the head of the T-junction, and you can't miss it. If using public transit, get off at Nana BTS Skytrain Station and take Exit 3.
Other great dishes include the famous Northern Thai dish Khao Soi, made with a mixture of crispy egg noodles and served with chicken or pork, pickles and onions (220 baht). If you are a fan of Thai food with a real kick of pepper, be sure to tell the waitress (phet krap / ka) that you want it to be spicy.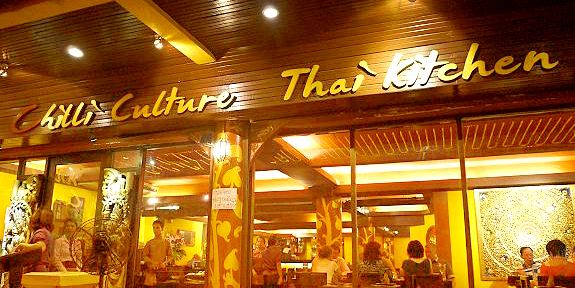 Soi 11 is a bit rowdy in the evening, but thankfully this restaurant creates a relaxed atmosphere with an interior that evokes many exotic images of Thailand: a large Ganesh statue on authentic antique furniture greets guests, and Buddha figurines with fresh flower garlands are scattered throughout the restaurant. earthy reds and oranges complementing the overall golden hue.
Chilli Culture is successfully located on the line between authentic Thai and tourist restaurants, and the English speaking staff and many sections are also ideal for families. Surprisingly, the prices are also good.
BTS station: Nana (exit 3)
address: Soi 11, 500 s up the street near the 'T' junction
tel: +66 (0) 2254 2882
Also Like