Traditional Polish dishes are very high in calories, but at the same time very tasty. Polish cuisine is dominated by meat dishes prepared in various ways. Let's find out what dishes are available to Polish carnivores?
Minced meat cutlet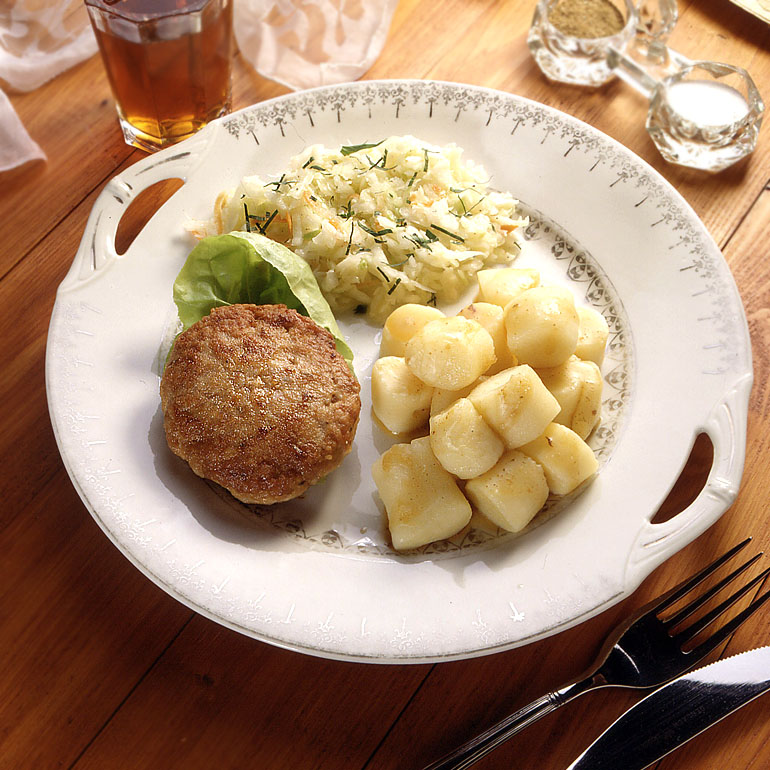 They are usually made from pork or beef, sometimes with the addition of veal. Cutlets are usually served with a side dish of mashed potatoes and vegetables in the form of a salad (chopped or grated vegetables, sauerkraut, cucumbers seasoned with sour cream) or roasted beets. This combination is a constant item on the menu of Polish dairy bars and canteens. Meatballs (as well as pork chops) became popular during the Polish People's Republic, although they were cooked here before. In almost every cookbook of the 19th century, you can find a recipe for chopped beef, pork, or veal chops, although, in fact, it was about ordinary minced meatballs. This recipe has not changed for centuries: "Take a kilo of meat and turn it twice through a meat grinder. Add one egg, salt, a little onion to taste. Divide the resulting mass into equal piles, roll in breadcrumbs and blind oval cutlets. The first Polish cookbook of the 17th century (St. Chernetsky's "Copendum Ferculorum") contains a recipe for "figatels" – a kind of meatballs from various types of minced meat, which were prepared in the same way as today's cutlets but seasoned according to the norms of that era.
Meat in horseradish sauce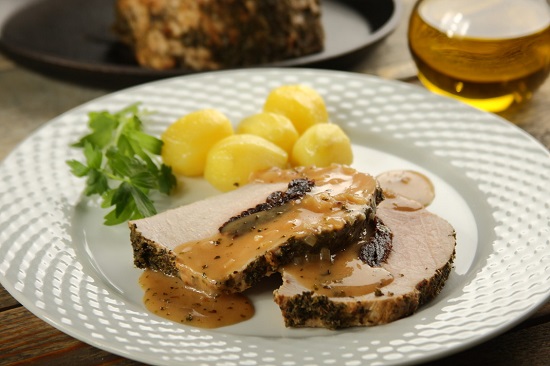 Meat has always occupied an important place in the history of Polish cuisine, which was well understood by the compilers of ancient cookbooks. Maria Okhorovich-Monatova, one of the most widely read culinary authors of the late 19th and early 20th centuries (her "Universal Cookbook" was published in the late 19th century and translated into English) emphasized that a selected piece of meat is the most common dish regardless of family well-being. "Everyone loves this dish, without it it is impossible to imagine a real dinner. It is often present in the diet of monarchs. Even the Austrian Emperor Franz Joseph could not do without a piece of meat for dinner. A century earlier, the famous Jan Schittler (chef at the court of the last Polish king Stanislaw August Poniatowski and author of numerous cookbooks) shared this opinion: "The primary dishes on every table are soup and a piece of meat." It is worth noting that in those days a "piece of meat" was understood as a boiled (stewed) piece of meat in meat (not only beef) broth, to which various garnishes and sauces were added. Today, this dish is still popular – beef cooked in broth and served in horseradish sauce. You can try it in canteens and restaurants offering traditional Polish menus. If the dish is prepared correctly and from high-quality products, it is definitely worth a try. You'll lick your fingers!
Veal paprikash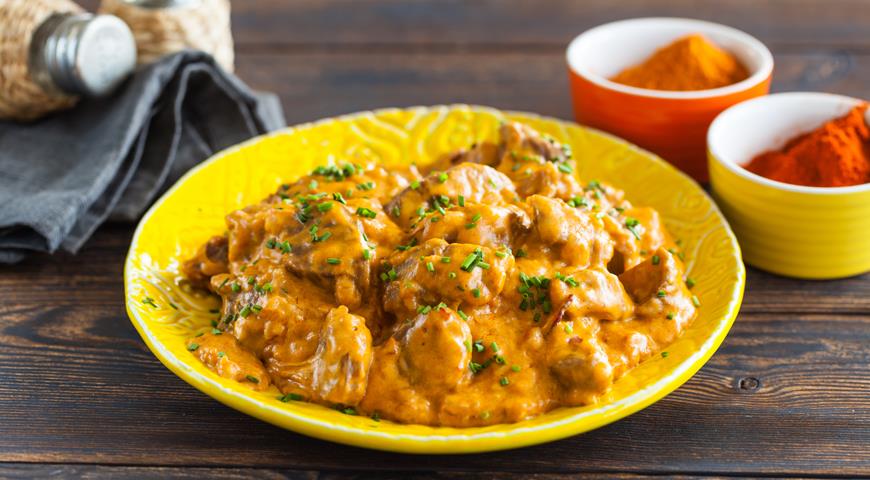 Veal paprikash got into Polish cuisine from Hungary. The dish appeared in Polish cookbooks in the 19th century. Diced roast veal is served with garlic, paprika (preferably the current Hungarian), and direct sauce. Experts believe that this is why paprikash differs from goulash. Maria Disslow, the author of the well-known culinary column "How to cook", advises to add a ring to the paprikash, but much more is served with potatoes. Pickles must be served with paprikash. In restaurants specializing in traditional Polish cuisine, master-cooked paprikash can become independent of taste!

Beef zrazy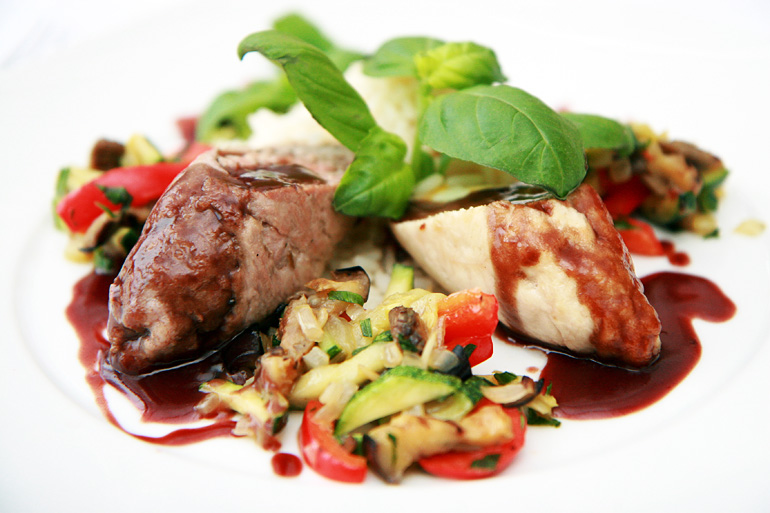 It is impossible to imagine Polish cuisine without immediately, which Polish housewives prepare in two ways. Zrazy zawijane are pieces of meat (usually beef) into which the filling is wrapped. There are also zrazy in the form of meat rolls stewed in onion or mushroom sauce. Legend has it that this dish, which came from Lithuanian cuisine, was adored by King Vladislav Jagiello. Despite their origins, rolls were mostly associated with noble cuisine. At least a dozen variations of this dish could be found in every 19th-century cookbook. Today zrazy are served with a side dish of buckwheat or pearl barley. Given its history, it is not surprising that such an important dish for culture appears in the pages of the Polish national epic "Pan Tadeusz" by Adam Mickiewicz.
Interestingly, zrazy were sometimes served for breakfast, especially in the morning before the hunt.
Today there are countless species at once. You can find them in the menu of traditional Polish restaurants. It is worth trying zrazy with bacon, pickles, onions, mustard, and wild mushrooms. We also recommend tasting the Old Polish tenderloin roll with wild mushrooms and sour cream.
Tatar steak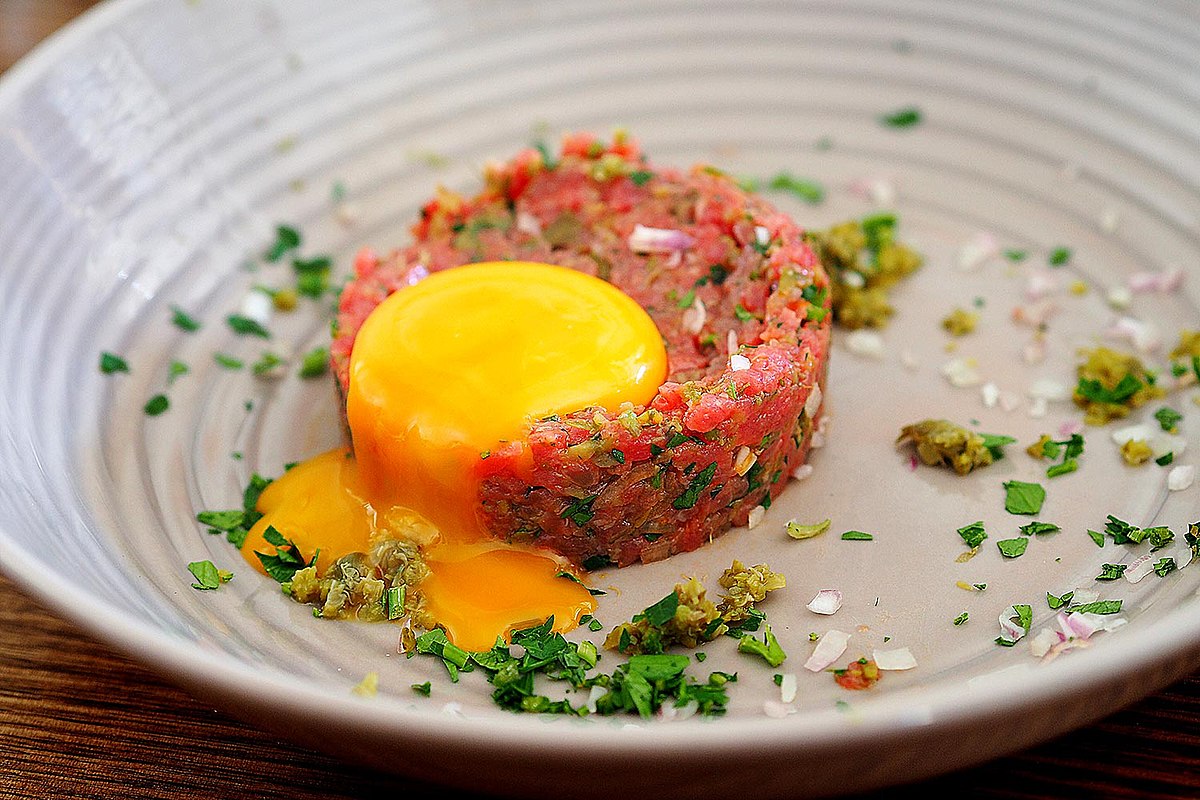 Tatar steak ("tatar") is a very common dish in Poland. Presumably, it appeared here under the influence of French cuisine. In the early twentieth century, expensive French restaurants served a dish of thinly sliced ​​raw beef (steak l'americanne avec sauce tatare – "American steak with tartar sauce"). When this dish first appeared in "Larousse Gastronomique" in the 1930s, its name was shortened to the form "steak Tatars".
Tatar steak was one of the favorite dishes of Poles of that era. It was on the menu of almost every restaurant of the interwar period. It was recommended, "for people suffering from circulatory problems and lack of appetite." The recipe of the end of the XIX century, which has undergone only minor changes today, said: "Clean the beef tenderloin from fat and veins (…) then chop with a knife the amount of meat you intend to eat. Add finely chopped onions or shallots, a pinch of salt and pepper.
From the resulting mass form rounded steaks. Make a recess in each of them and add raw egg yolk. Garnish the dish with finely chopped gherkins, pickled mushrooms, radishes, and capers. If you prefer a sharper taste, add sunflower oil with a teaspoon of mustard.
Of course, Tatar steak should be ordered only in good restaurants, where special attention is paid to the quality and freshness of meat and eggs.
Pork goulash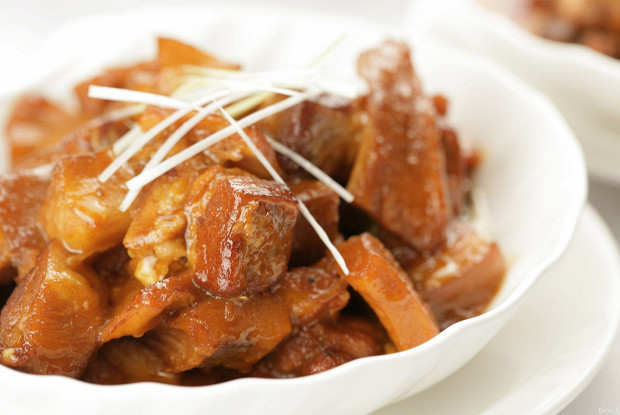 Polish pork goulash has almost nothing in common with the Hungarian national dish. The Polish dish with this name dates back to the culinary tradition of the second half of the 20th century, although the goulash recipe, close to the Hungarian one, can be found in ancient Polish cookbooks. Nowadays, pork goulash has become synonymous with cheap homemade food – it is usually served in buffets or inexpensive canteens. This goulash is prepared from inexpensive pieces of pork carcass, cut into pieces, and stewed in a sauce with the addition of typical Polish spices, in other words, with allspice. Goulash is served with potatoes, sometimes it acts as a filling for potato chips.
Pork knuckle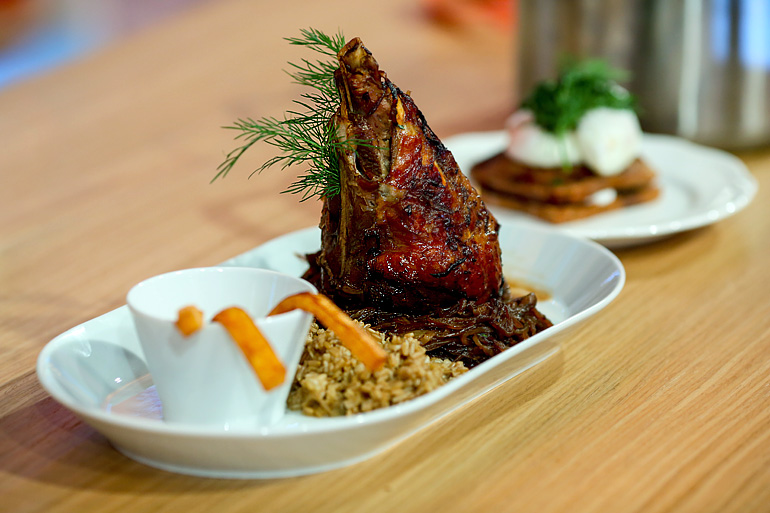 No cheap catering establishment can do without a pork knuckle ("Golonka") – be it a roadside cafe or a snack bar in the city. The knuckle, the part of a pork leg with a bone adjacent to the shin or forearm, is usually served with horseradish or mustard, and cabbage or peas are served as a side dish. In Poland, this dish is so popular that there are even special culinary festivals, where chefs experiment with this is not the most, admittedly, useful for the stomach dish. It was not originally characteristic of Polish traditional cuisine and was borrowed from the Germans – first in Greater Poland, which after the partitions was more than a hundred years under Prussian rule. Since then, the knuckle has become so ingrained in Polish cuisine that it seems as if it has always been here. Moreover, the Minister of Agriculture added pork knuckle to the list of traditional Polish dishes.
Сotelettes de volaille

Pork knuckle
Cotelettes de volaille is a dish made from beaten chicken fillet stuffed with butter and spices (garlic and dill, sometimes with the addition of cheese, mushrooms, and ham), then rolled in breadcrumbs and, according to a traditional recipe, fried in ghee. Cutlet de volia was a common dish of the interwar period, and after 1945 the best Polish restaurants considered it the pinnacle of culinary art. After 1989, the dish moved to the menu of cheap restaurants. Now fried in sunflower oil cutlets in Kyiv can be found in every roadside cafe. Despite the fact that the Polish name – cutlet de volia – suggests French origin, the dish has nothing to do with French cuisine. It came to Poland from Russia during the partitions of the XVIII century. It is believed that the Cotelettes de volaille was invented by the legendary French chef Marie-Antoine Karem, who served at the court of Tsar Alexander I.
Duck in apples with marjoram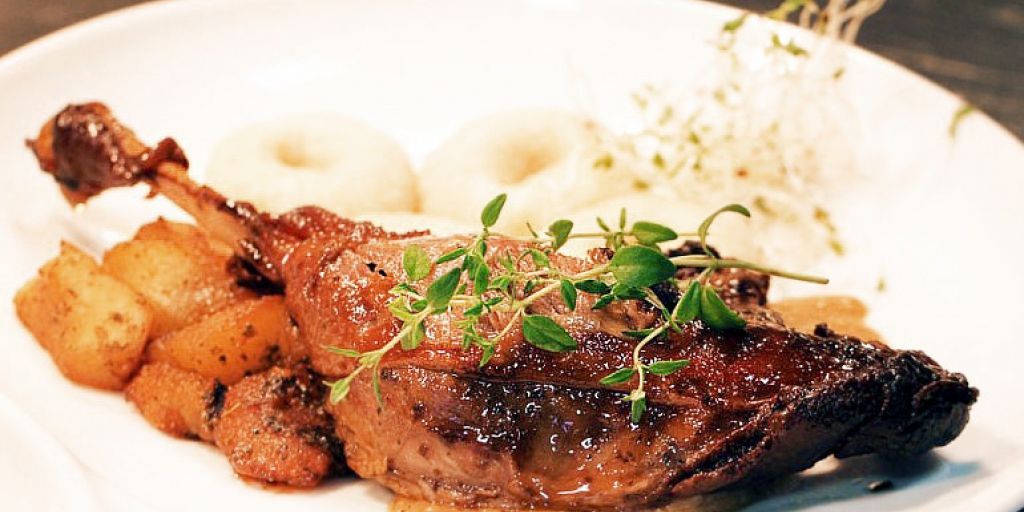 Duck baked in apples with marjoram is a dish that is usually on the Polish holiday table. It is quite easy to find in the menu of restaurants with national Polish cuisine. According to a late 19th-century recipe that has not lost its relevance, to make this dish, you need to grate the duck inside and out with a mixture of salt and marjoram (some add garlic), then fill with apples and bake. The side dish depends on the region: in Wielkopolska it is usually potato dumplings or red cabbage.
Bigos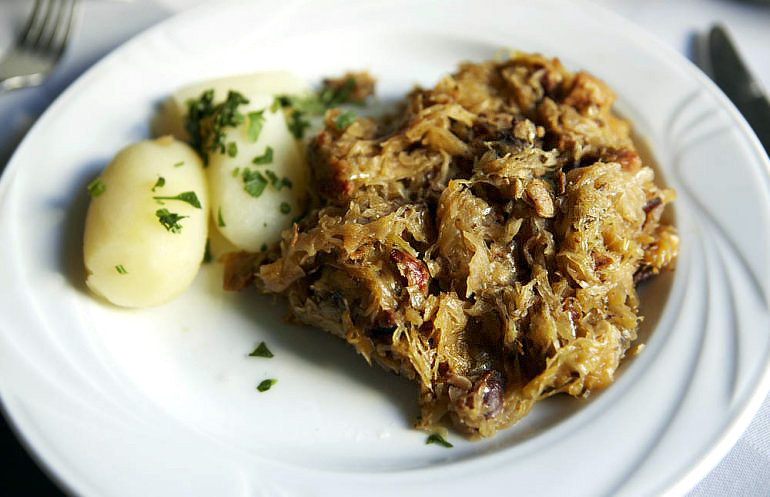 And finally, don't forget about bigos! This dish is a real symbol of Polish cuisine. When ordering it at a restaurant, it is not necessary to ask how it was prepared. Real bigos are several types of meat and a small amount of cabbage, not the other way around!
Also Like