Vietnamese cuisine is an unusual combination of products from which truly delicious dishes are obtained. Prices for food in cafes are low even in resort areas. Well, the local street food is worthy of special praise. We will tell you what each tourist should try in Vietnam. We will advise what products you can bring home to prepare everything you especially like in your kitchen. Descriptions of Vietnamese dishes with photos will help you not to get confused in local cafes.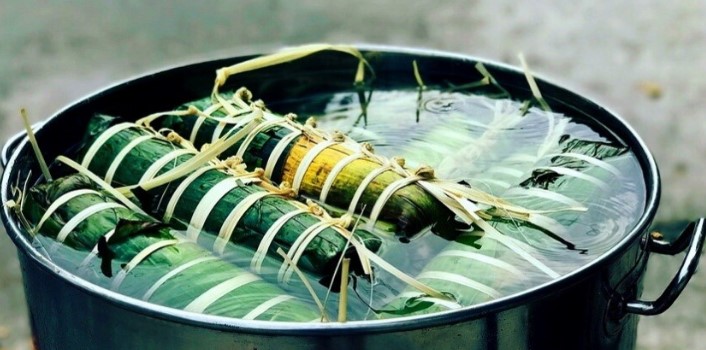 Pho Soup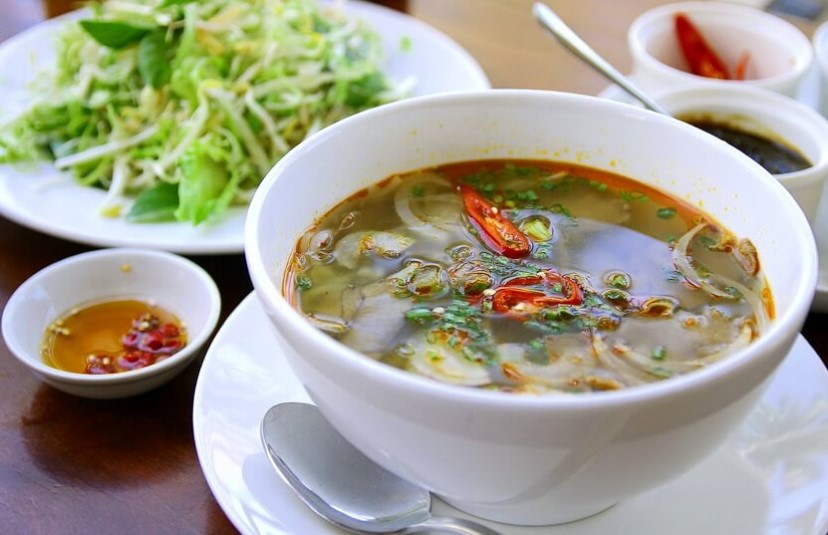 This is the first dish to try on a Vietnam vacation. Pho is especially popular in Hanoi. It can be classified as street food because they sell pho soup in almost every food store. It is unusual, aromatic, spicy, really tasty. It is cooked in a strong meat broth with many spices (not hot). Rice noodles, pieces of meat, herbs, sometimes hot peppers with lime are always added to pho soup. It is worth remembering the types of this traditional Vietnamese soup:
bò | pho bo – with beef;
gà | pho ga – with chicken;
cá | fo ka – with fish.
You can bring a blank for a soup home from Vietnam (look for bags labeled phở надпис in supermarkets). Instant noodles with pho flavors are also popular – not very healthy, but delicious gastronomic souvenir.
Nem Ran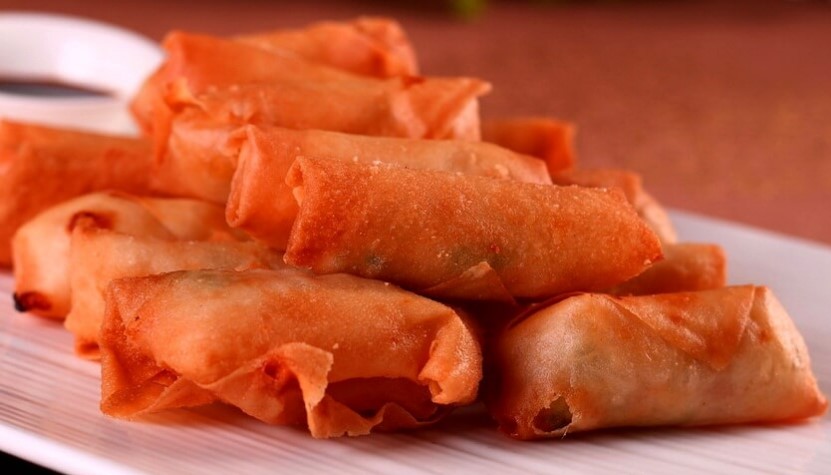 Also known as spring rolls. Crispy rice noodle pancakes with a delicious filling of shrimp, vegetables with rice, chicken, meat, or something else. They are usually small in size. This is popular street food in Vietnam that is worth trying with local beer, as a side dish with meat, or as a standalone dish. Feel free to take it – although they are fat, they are very tasty. We advise you to eat street spring rolls since in restaurants they differ from street food only by their higher price.
Bring rice "paper" for making spring rolls from Vietnam to eat even at home.
Salad Rolls (Gỏi cuốn)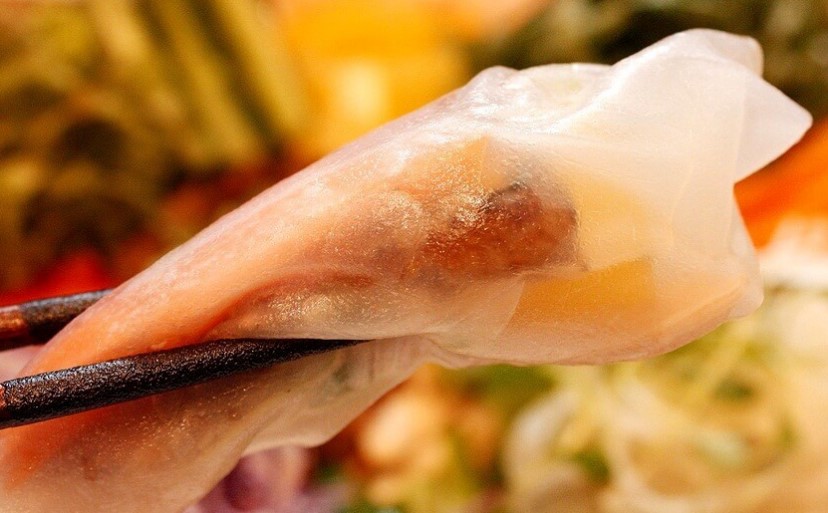 This is the second type of rolls that are also considered traditional for Vietnamese cuisine. If you are slimming or just trying to eat healthily, you should try this variant of rice noodle rolls in Vietnam. They hardly differ from popular spring rolls: the same dough, the same filling options. Only salad rolls in Vietnam are not fried, but steamed. It turns out to be a light, healthy snack – a great addition to lunch or a harmless snack on the street. The most interesting ones are with shrimps.
Crunchy Pancake (Bánh xèo)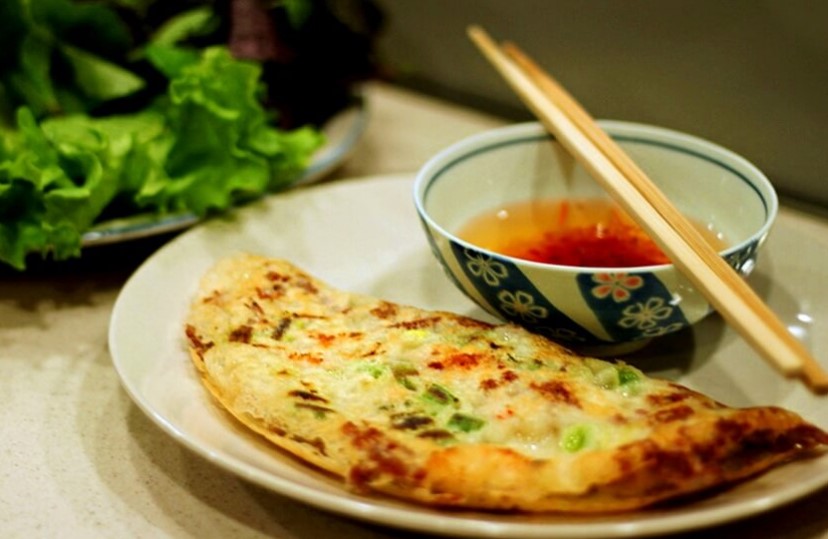 Literally translated, the name of the dish sounds like "hissing pancake", because during cooking it emits a characteristic loud sound. It is made with turmeric rice flour and is filled with meat, shrimp, beans, noodles, bean sprouts, or something else. This dish in Vietnam can be eaten by vegetarians, as vegetable fillers are very popular. Pancakes are fried in a lot of oil, and it is customary to serve them with a lot of greens to slightly muffle the fat content.
You can bring spices, Vietnamese beans, or thin rice cakes home from Vietnam – prepare a snack in your kitchen.
Banh Mi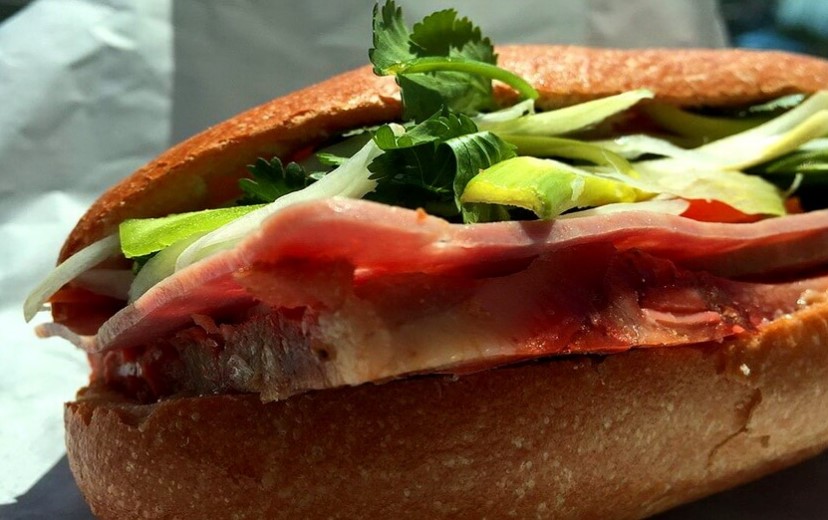 Classic Vietnamese breakfast and very popular street food – the legendary crispy bread sandwich with a delicious filling. In large cities of Vietnam, separate shops are often allocated for bánh mi trade – sandwiches fly out quickly. The filling can be varied (it makes sense to try several options because they are all good). Popular:
bì – pork resembling bacon;
xíu mại – pork meatballs;
cá mòi – sardines;
pa-tê – pate;
gà nướng – grilled chicken;
chay – vegetarian tofu sandwich
chả cá – fish;
trứng ốp-la – with a fried egg (the most popular breakfast);
kẹp Kem – with ice cream and peanuts.
If you wish, you can collect the legendary Vietnamese buns home. Local supermarkets sell them vacuum packed.
Banh Chung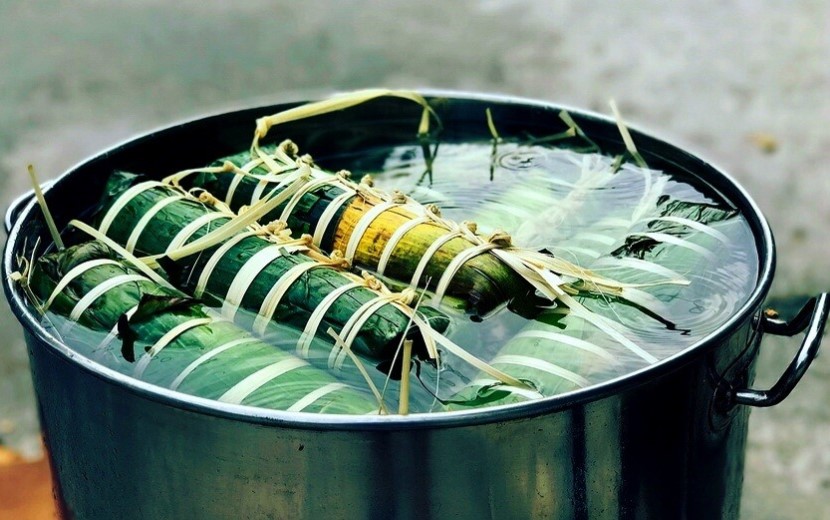 Be sure to try another legendary street food in Vietnam. The pie is steamed. It is made from glutinous rice, mung beans, and pork, wrapped in bright green leaves. It may not sound very appetizing, but it is actually delicious. The Vietnamese eat such a dish on New Year's, but they constantly cook it for tourists. Perhaps it will be tastier to take bánh chưng rán – the same pie but fried.
Mung beans can be brought home from Vietnam, as well as glutinous rice (this variety is usually sold in small packages weighing less than 500 grams).
Fried Rice (Cơm chiên)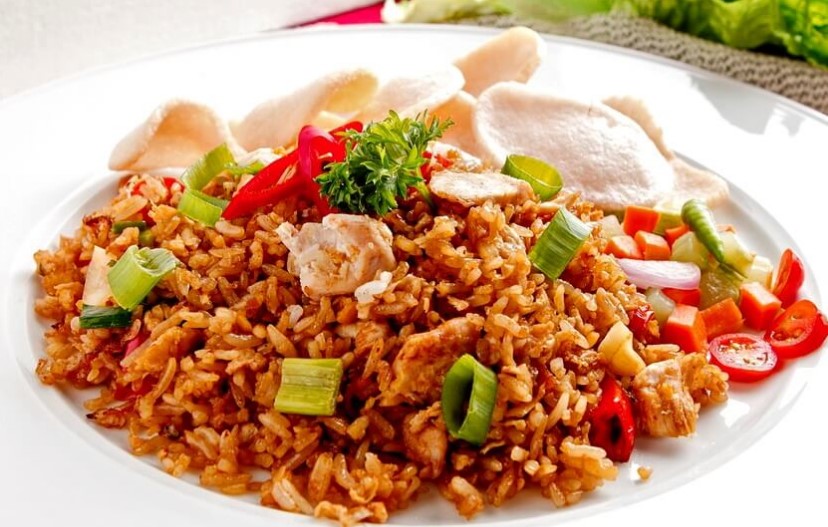 Perhaps the most important thing that every tourist should definitely try in Vietnam. Even if you are not very fond of rice, do not refuse this dish. Most often, an egg, spices, and a little greenery are added to rice. You choose the filler yourself: shrimp, minced meat, minced pork, vegetables, soy sprouts, peanuts … In Vietnam, both connoisseurs of meat and seafood and vegetarians will find their "own" rice. This is a simple yet surprisingly delicious dish. It goes especially well with local beer. Fried rice is very cheap food that can be bought on the street in Vietnam.
Bun Cha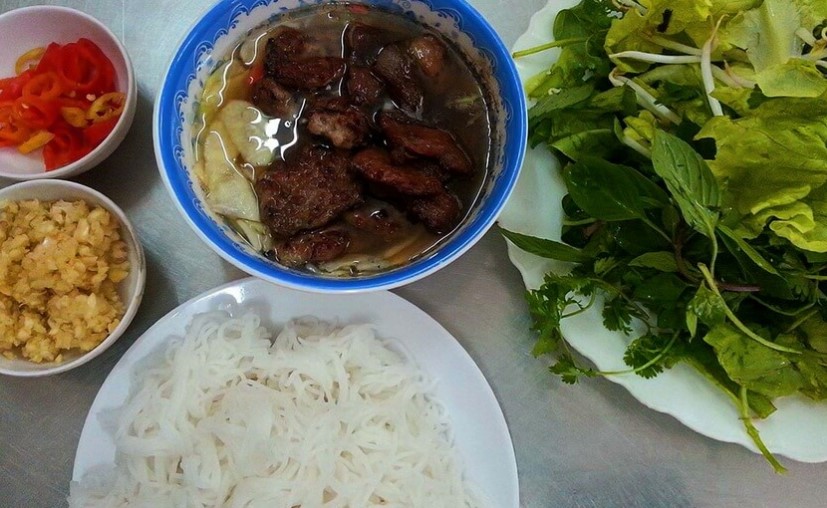 The most popular Vietnamese dish loved by both tourists and locals. It is made from fried pork with rice noodles. Greens, fish sauce, green papaya, some spices are required. The dish turns out not spicy, but fragrant. Bun cha is delicious to try with salad rolls or crispy spring rolls. Similar dishes in Vietnam are prepared with chicken, seafood, vegetables – pork can be replaced with any ingredient.
Bring back from Vietnam a bottle of fish sauce, lemon juice concentrate, pickled papaya, and a package of rice noodles. All of these can be found in local supermarkets.
Chao Tom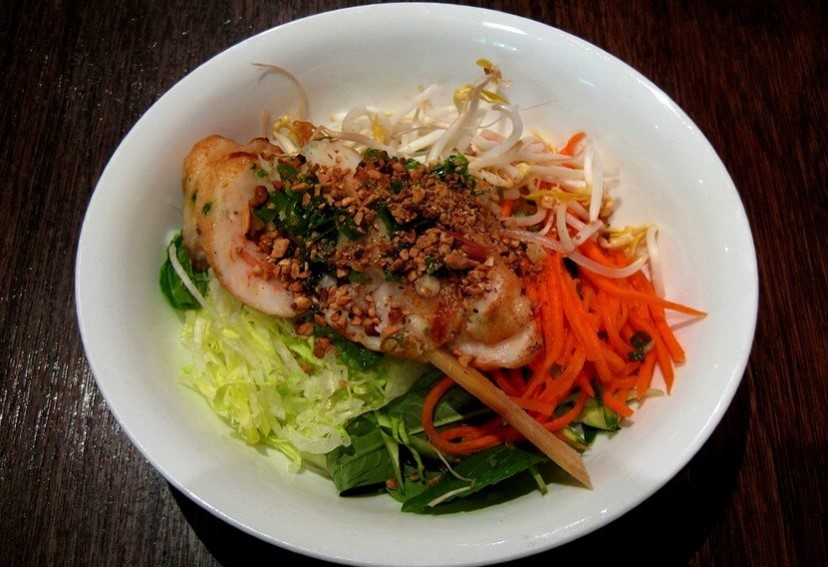 In Vietnam, you should definitely try the seafood dishes. The most delicious options are grilled or deep-fried. You should also pay attention to the legendary chạo tôm cutlets. They are made with specialty shrimp that are difficult to taste outside of Vietnam. They are served with rice noodles, fresh vegetables, herbs, a little spices. The dish is very tender, shrimps literally melt in your mouth, and the side dish successfully complements and reveals their taste. So if you try seafood in Vietnam, do not ignore this simple and very tasty food.
Coconut Soup (Chè bà ba)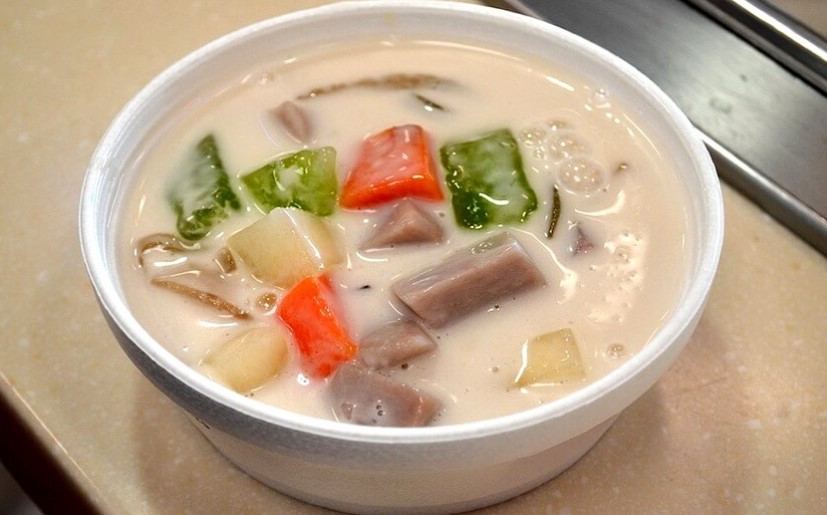 For sweets in Vietnam, we advise you to try an unusual soup with coconut milk, which is usually served for dessert. However, it is so satisfying that it can be taken as a main dish. The Vietnamese cook coconut soup with the addition of the leaves of the useful taro plant, tapioca, and most importantly, sweet potatoes. The unusual combination of coconut, the natural sweetness of root vegetables, the unusual taste of greens – all this gives a delicious taste.
Also Like