The peculiarity of Dominican cuisine lies in the unusual ways of preparing simple products. Stews, seafood, beans, rice, vegetables – nothing supernatural. However, local dishes are hard to resist. We will tell you what food to try in the Dominican Republic for a tourist. We have compiled a list with names, descriptions, and photos of local traditional dishes. A cheat sheet will come in handy even in an all-inclusive hotel: classic Dominican cuisine is a frequent guest at buffet tables.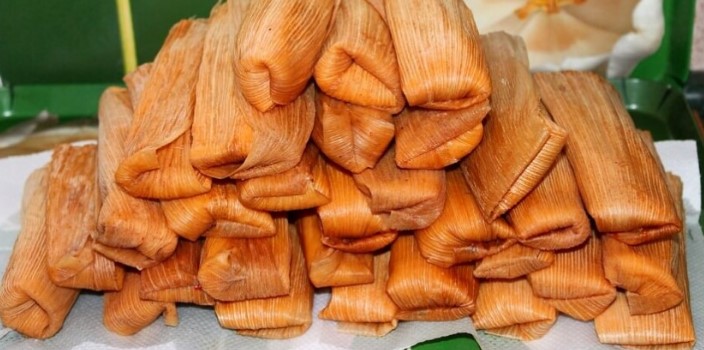 La Bandera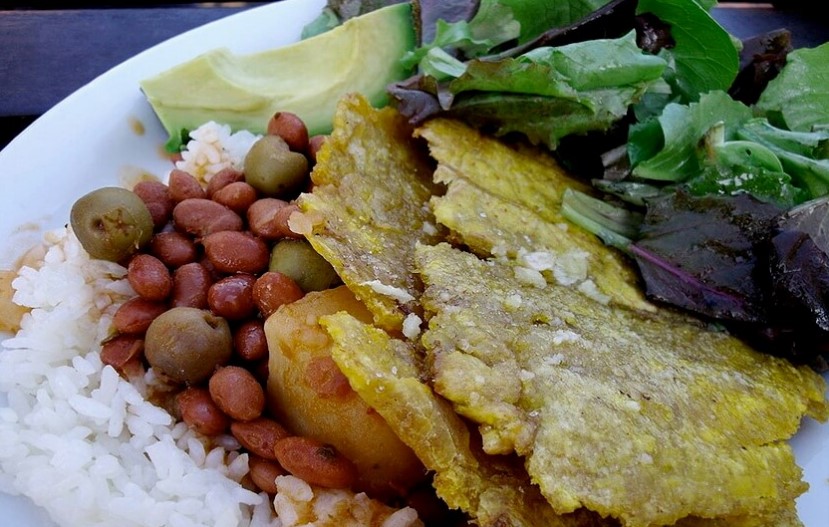 The most famous food in the Dominican Republic. The dish consists of white rice, bean stew, and meat. La Bandera national cuisine restaurants serve with a slice of avocado, slices of tomatoes, fresh salad. Another faithful companion of the dish is the crispy fried bananas in the Dominican style. Drive around the country – you will find dozens of la Bandera recipes. With beef, chicken, pork or goat meat, noodles without vegetables, or corn kernels instead of tomatoes – try them all. In translation, La Bandera means "flag". Order your meal at a local cafe. Try to find a connection between the state and gastronomic symbols of the country. We have not found it.
Sancocho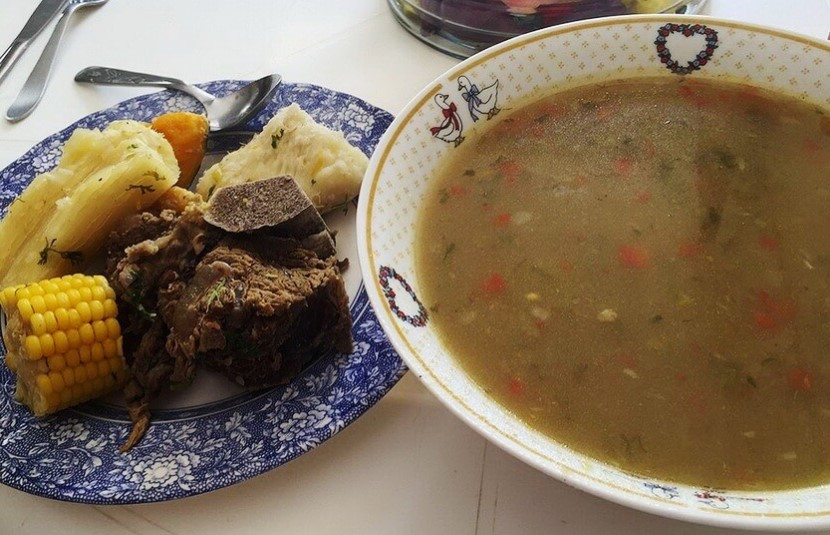 The thick Dominican soup captivates tourists with its simplicity and piquancy. Locals cook it every day for themselves, in restaurants of national cuisine or at hotels. The chowder is cooked in a vat. The highlight of sancocho is aromatic spices, pepper, fresh garlic. The meal is served in a deep bowl with an extra plate. It is customary to catch the ground – it is eaten like a stew, sipping the broth separately.
Mangu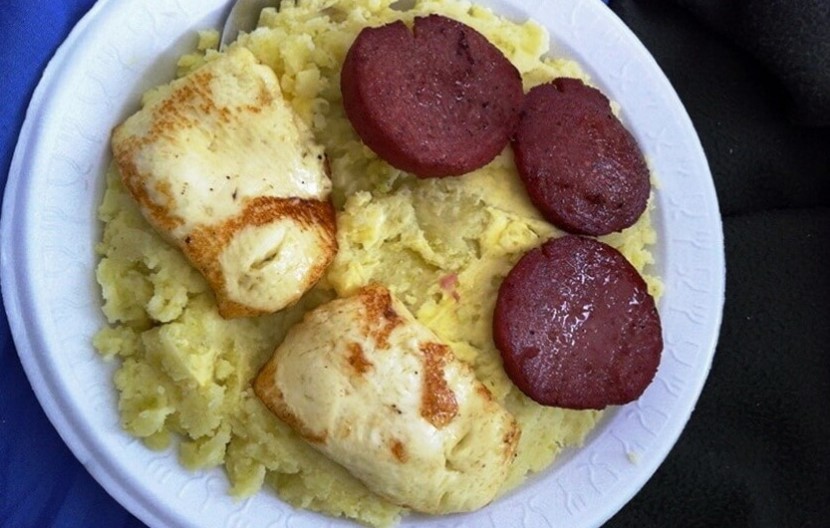 The traditional breakfast in the Dominican Republic is called Los Tres Golpes – "three strokes". It consists of manga with grilled salami, fried eggs, and grilled cheese. Mangu puree in the Dominican Republic is made from boiled green bananas. They are crushed and generously seasoned with oil. It turns out a delicate side dish with a creamy taste. This traditional food is easy to sample at all-inclusive hotels in Boca Chica or Punta Cana. Tourists often think that they have mashed potatoes in front of them of an unpleasant greenish tint and ignore the side dish. Correct this misunderstanding. Don't give up on sweet mangu. The dish is prepared according to the same principle, but with sugar instead of salt.
Mofongo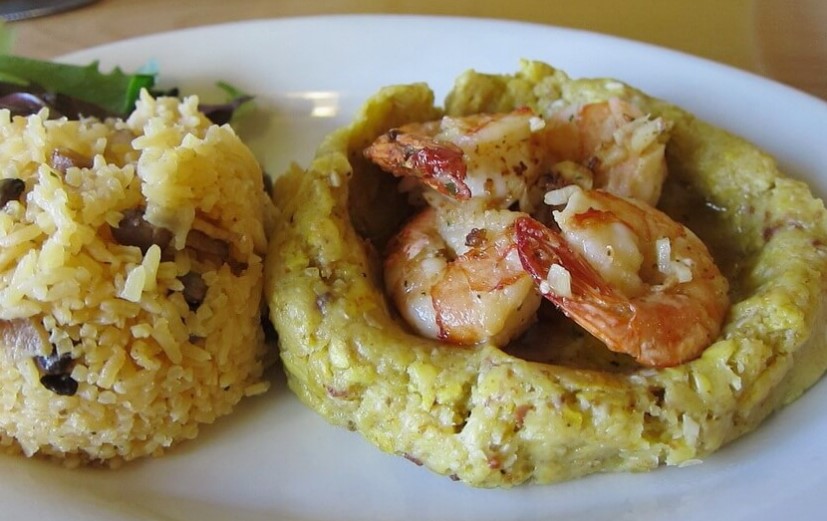 In the Dominican Republic, you will eat bananas more often than you think. They often disguise themselves as vegetables. Mofongo is based on fried banana puree. A ball or edible plate is formed from it. The classic version is cooked with mouth-watering brown bacon. Tourists prefer to order mofongos with shrimps or other seafood in the Dominican Republic. Locals love to eat it with crispy chicharrones cracklings. The traditional side dish for mofongo is spicy rice, juicy vegetables, or banana fries.
Pescado Con Coco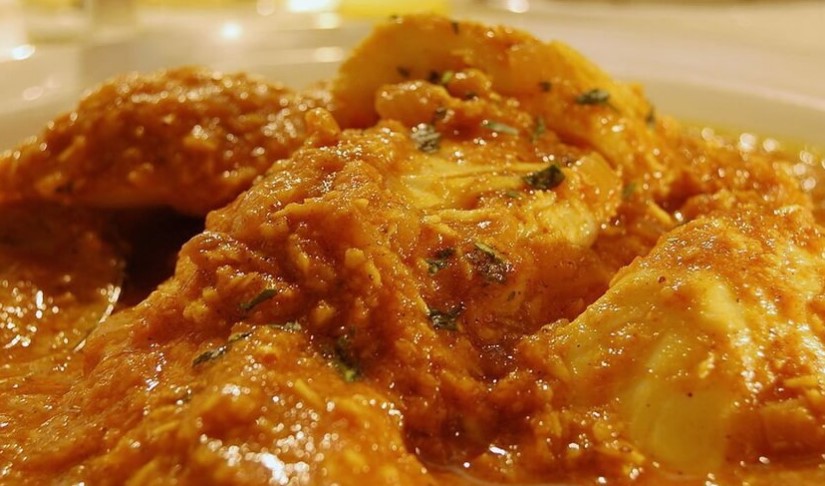 Among tourists, the dish is known as "Dominican fish". It looks like curry looks unappetizing. Pescado con Coco captivates with its taste, not its appearance. The dish is based on the most delicate fillet of white fish toasted in olive oil. It is poured with a thick sauce made from coconut milk, fresh tomatoes, bell peppers, garlic, and herbs. The fish turns out to be spicy because a little salsa is added to the mixture and generously sprinkled with spices. The scent is fantastic! Try with rice or beans.
Guanimes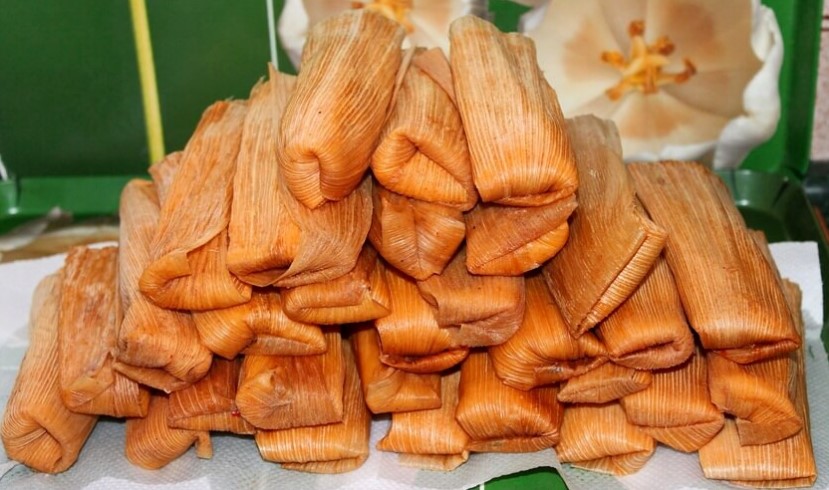 For street food in the Dominican Republic, it is worth trying guanimes. The appetizer is prepared in a corncob shell or in banana leaves. The inedible outside hides the hot, appetizing filling. The leaves are stuffed with a mixture of cornmeal and meat, seafood, beans, or nuts. Spices give the appetizer an outlandish taste. In the hotels of the Dominican Republic, you can try sweet guanimes with mashed bananas with coconut cream. Anise, honey, and cinnamon are added to the appetizer – you get a sweet-honey dessert.
Yaniqueques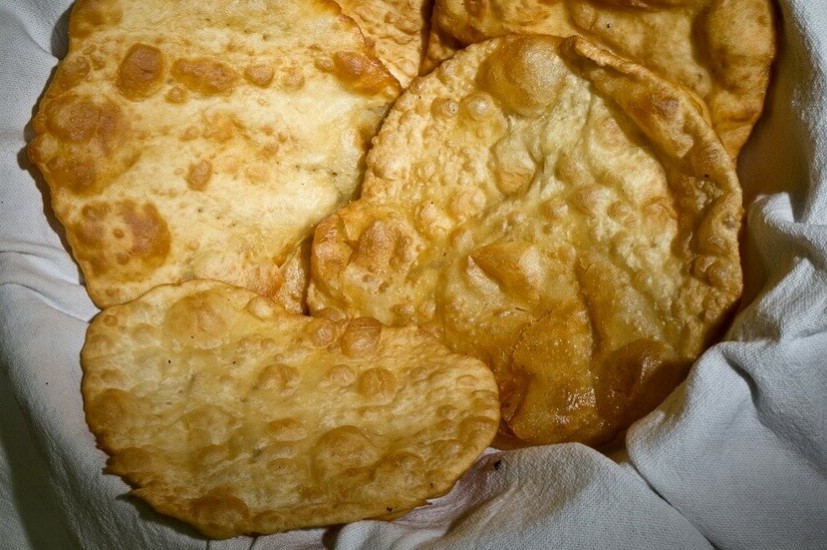 The most popular beach snack in Boca Chica and Punta Cana to try while on vacation. They are kneaded in cornmeal with water and fried in boiling oil. The cakes are golden, fatty, with a crispy crust. Inside, they are soft, crumbly. Tourists eat them on the beach with beer or soda. The appetizer is primitive, but it always flies with a bang.
Pastelon de Platanos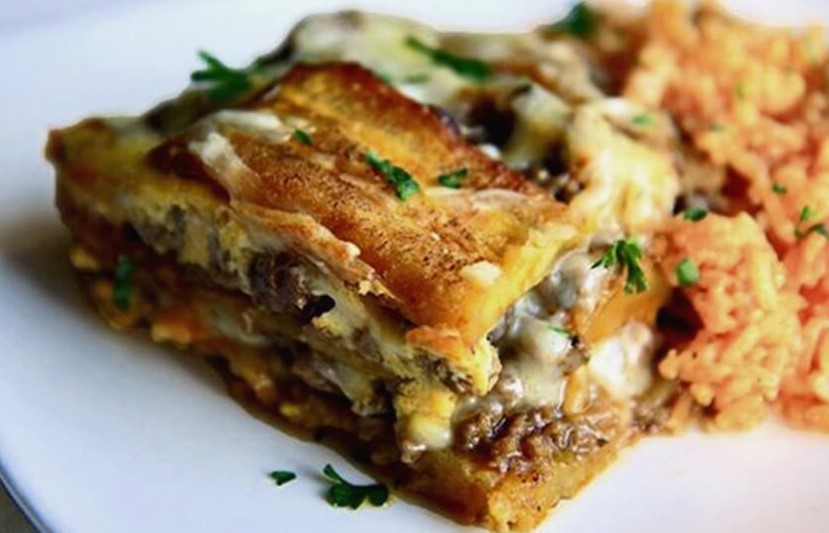 The most popular dishes in the Dominican Republic are casseroles. They are prepared from meat, sweet potatoes, bananas, beans, vegetables … In a word, from everything that comes to hand. Pastelon de Platanos is worth trying out of interest, at least. Imagine a lasagne that has been replaced with sweet, fried bananas. The rest of the ingredients differ slightly. The Dominican dish turns out to be sweet-meat, creamy-tomato, fantastically tender. The cooks do not spare minced meat, cheese, and vegetables, so the dish is excellent and is always in high demand among tourists.
Arroz Con Leche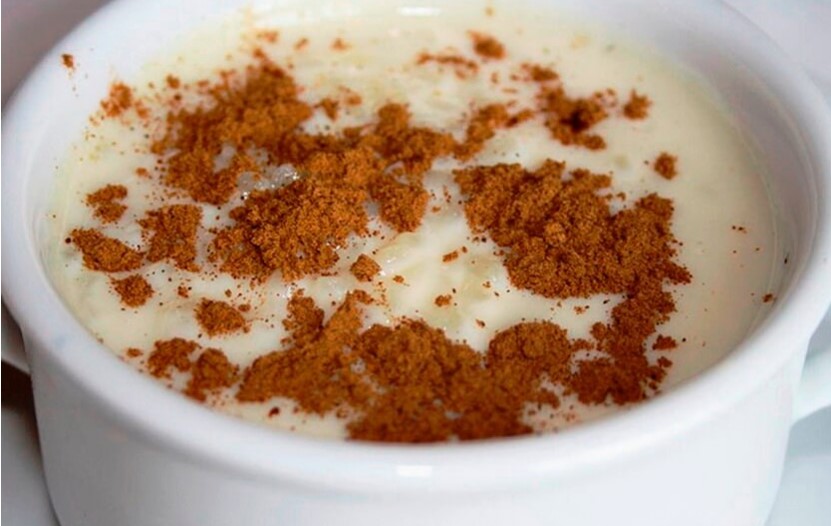 Traditional sweets of the Dominican Republic are puddings, sweet rice, or desserts with bananas. Arroz con leche is no exception, but it's worth a try anyway. Rice pudding is cooked in milk with sugar, cinnamon, zest, and citrus juice. Sweet, refreshing, aromatic – try it with nuts or biscuit crumbs for even better. In the Dominican Republic, they like to eat dessert with sweet banana chips. In hotels, the sweets are served in transparent glasses or disposable cups.
Donuts (Donas Dominicanas)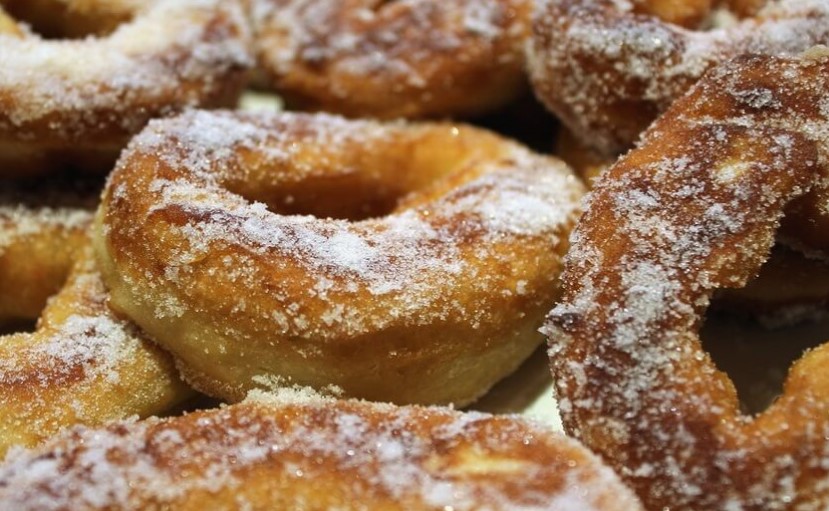 If you don't like puddings and jellies, donuts are your Dominican treat. It is popular street food and a frequent visitor to buffet hotels. They are distinguished by a spicy aroma and a bright aftertaste of sweet spices. Donuts in the Dominican Republic are baked with nutmeg, cinnamon, and anise powder. Ruddy, juicy, slightly sticky with powdered sugar – especially good with local coffee.
Also Like