Ghanaians have a rather simple but very aromatic cuisine. Most dishes consist of large chunks of stew or fish, usually served with staples such as rice or yams. Onions and chili peppers, along with tomatoes, palm nuts, and broth, are the basis for most stews. Meat is not often found on the table of the average Ghanaian, it is usually replaced by cheaper fish. While traveling in this country, it is impossible not to taste the traditional cuisine. Let's take a look at the main dishes.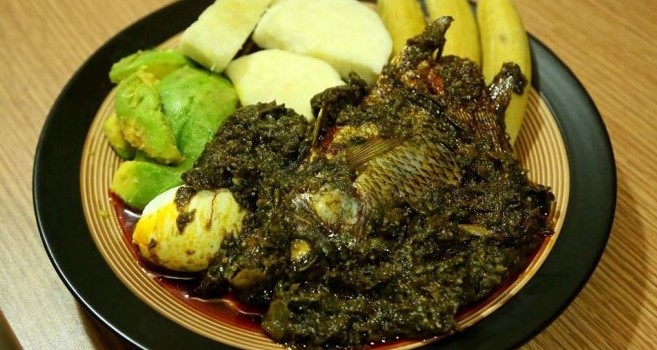 Kelewele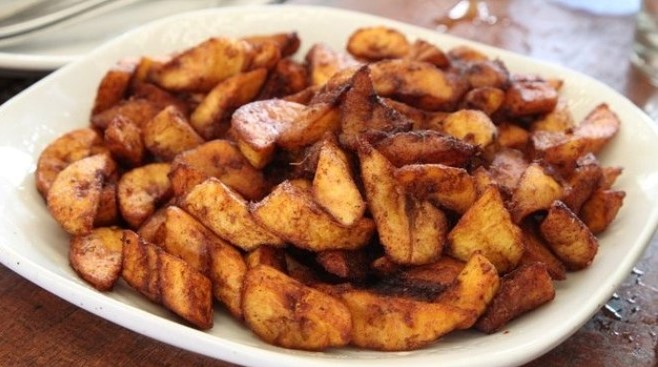 No list of traditional Ghanaian foods would be complete without this delicious meal. These are fried tomatoes soaked in pepper, ginger, and garlic, and the pleasant plantain adds sweetness to the sour and spicy ingredients.
Red-red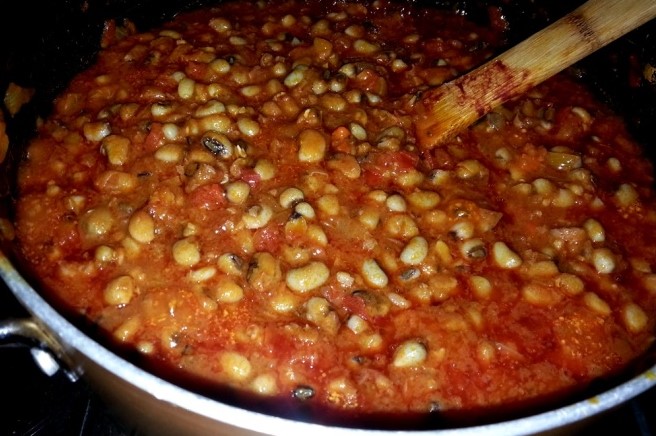 This is fried plantain with beans and red palm oil. Can be served with or without fish. This is one of the Ghanaian dishes that doesn't use a lot of spices because the main flavor comes from the ingredients it is served with. Red-red is also an ideal choice for vegetarians.
Jollof Rice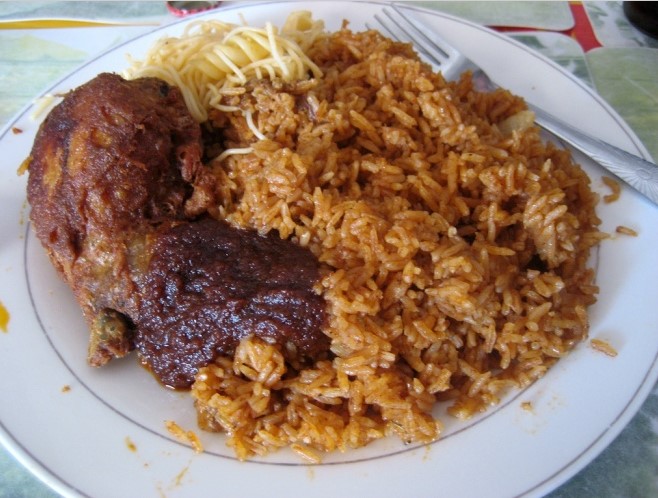 This is Ghana's favorite rice dish. It is cooked with lots of tomatoes and vegetable oil, which makes the rice red. Jollof is served with meat or fish.
Waakye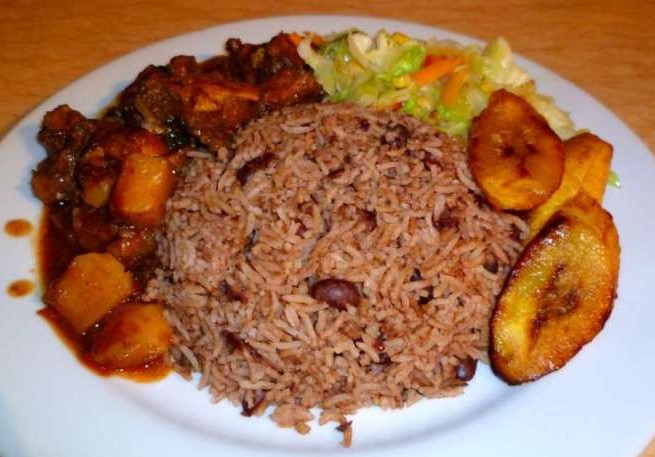 This is another food that showcases the creative use of rice by the Ghanaians. The dish is a mixture of beans and rice and was originally exclusively northern, but can now be found throughout the country. Waakye is served as a main course with fried plantain, whole boiled eggs, hot peppers, spaghetti, or avocado.
Kontomire Stew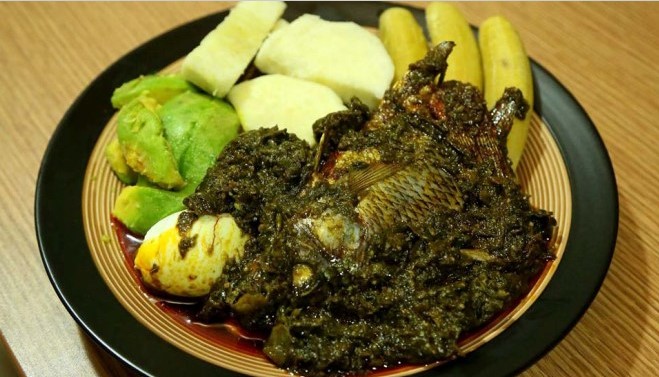 One of the specialties of the local Ghanaian cuisine is the use of a variety of leafy vegetables, local herbs, and spices. The Kontomire stew is made with boiled tender kokoyama leaves, salted fish, and boiled eggs and goes well with boiled vegetables and avocados.
Fufu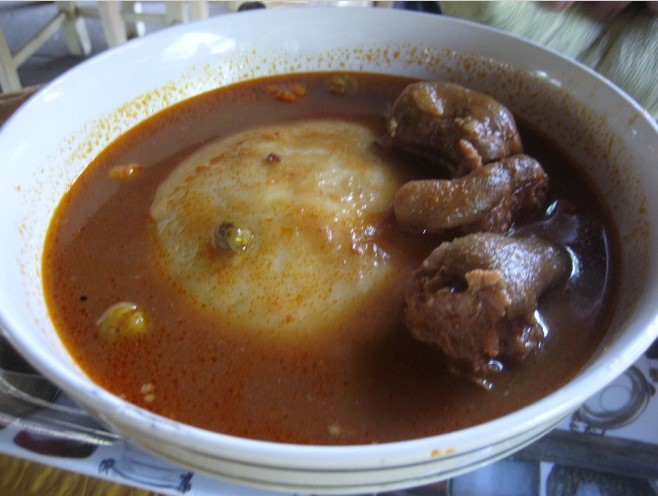 Fufu is a thick porridge made from boiled root vegetables of cassava, yams, sweet potatoes or plantain bananas pounded in a mortar. Fufu is rolled into small balls and swallowed whole, eaten instead of bread with soup or sauce.
Kenkey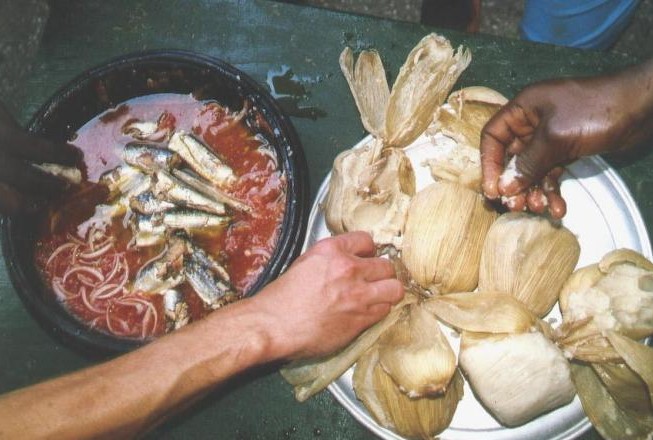 This is another corn dish that is made by molding fermented corn dough into balls and wrapping dried corn leaves around them, which are then boiled. The meal is served with hot pepper sauce, fried crabs, octopus, or fish and is a delicacy of the Akran people.
Puff Puff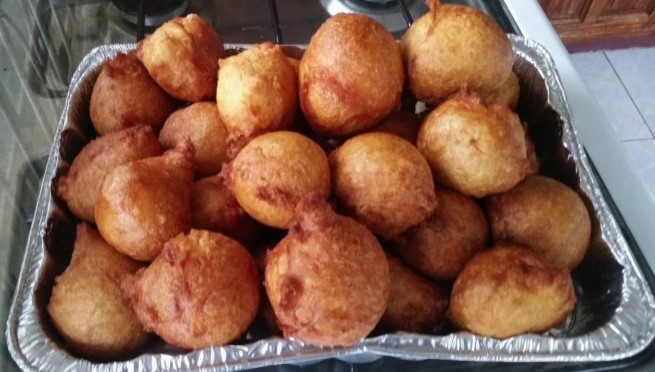 Fried in butter until golden brown, dough balls are composed of flour, yeast, sugar, oil, salt, water, and eggs. After frying, the puff is often sprinkled with sugar or spices and poured with fruit syrup. Delicious!
Yams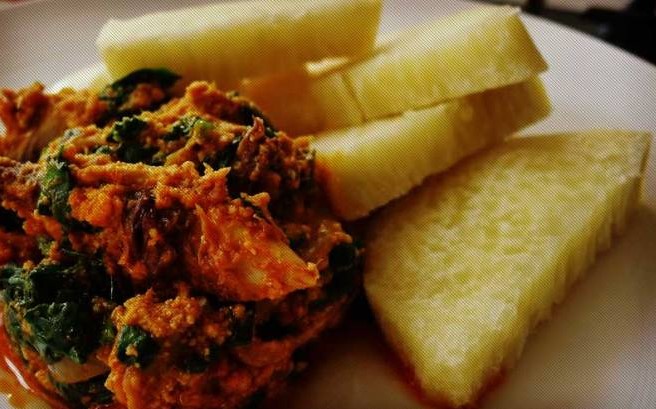 Like the potatoes you're familiar with, yams are served either boiled or fried. In the latter case, yams are eaten with hot peppers or sauce.
Bread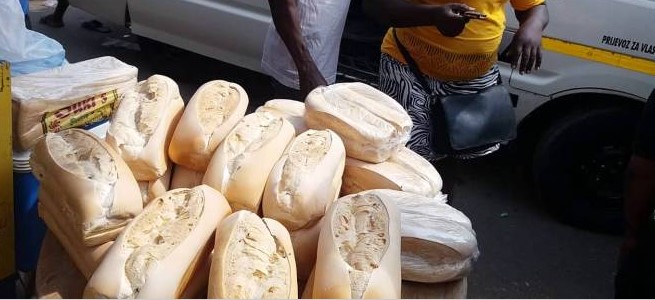 It plays an important role in the country's traditional cuisine. Ghanaian bread is baked with wheat flour, sometimes with cassava flour added to improve texture. There are 3 types of bread in Ghana:
tea (similar to a baguette);
sugar (sweet bread);
brown (whole wheat).
Also Like