10 Interesting Facts About Pumpkins
by Editorial Staff
Orange, juicy, bright, tasty, useful! Pumpkin is a real symbol of autumn. And what do you know about pumpkins? We will tell you 10 interesting facts about pumpkins, and if you have something to add, be sure to leave a comment under this post!
Facts About Pumpkins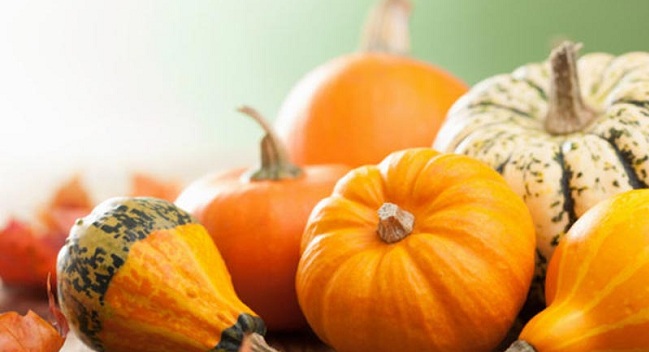 In fact, the pumpkin is a berry, and one of the largest in the world. Its fruits can weigh up to several hundred kilograms.
Fresh pumpkin can be bought only from August to November, as it is during this period that the harvest takes place. Autumn is the best time to cook different pumpkin dishes: cream soups, pies, casserole.
Homeland pumpkin is Mexico. In its territory, scientists have found the oldest pumpkin seeds about 7,000 years old. After the discovery of America, it gradually became widespread on other continents. Pumpkin can be grown anywhere in the world except Antarctica.
Pumpkin is 90% water and has a high content of beta-carotene. It is also rich in sodium and potassium, which are needed to maintain muscle tone and regulate water balance in the body.
There are about 800 different varieties of pumpkin in the world, but only 200 of them are edible. In addition to oranges, there are blue, green, and white pumpkins.
Pumpkins can be stored for several weeks in a dark place. However, sliced pumpkin can be stored in the refrigerator for up to 30 days.
About 35 pumpkins are needed to prepare one liter of pumpkin oil. The oil helps lower cholesterol in the body and prevents cardiovascular disease. It is rich in vitamins A, E, and K, selenium, phytosterols, and linoleic acid.
Pumpkin edible flowers.
The record for the size of a pumpkin grown in 2010 belongs to farmer Chris Stevens of New Richmond, Wisconsin, USA. His pumpkin pulled 821.2 kg and thus set a new world record, which is officially confirmed by the Guinness Book of Records.
Pumpkin is a champion among vegetables in terms of iron content, so it can be safely eaten by those who suffer from anemia.
Also Like
Comments for "10 Interesting Facts About Pumpkins"