15 Interesting Facts About Radishes
by Editorial Staff
Quite cute edible pink and red balls, solid and with a white spot, elongated pink with a white tail and white, like icicles. What do you know about Radish? We will tell you 15 interesting facts about him, and if you have something to add, be sure to leave your comment under this post!
Facts About Radishes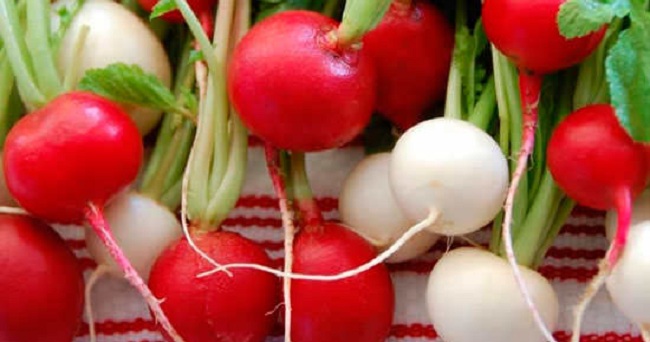 Radish is a relative of the radish, turnip, cabbage, and … mustard.
In Europe, the radish appeared thanks to the Italian Marco Polo, who, returning from his famous trip, brought radish seeds from China. It was at the end of the XIII century.
Many French national dishes are prepared using root vegetables and radish leaves. Already from the XIV century, radish became so popular there that in many other countries it was called "French radish".
Essential (mustard) oils give the characteristic taste of radish. As compensation for the bitterness, they "cleanse" the body of viruses and bacteria.
Radish has protective properties. It increases the resistance of cells to the harmful effects of the external environment. Therefore, radishes are subconsciously loved by all smokers and people working in hazardous industries.
You can lose weight with radishes. And the point is not that it is low-calorie - 100 grams of radish contains only 28 kcal, but that it contains rafanol, a special substance that rid the body of toxins. And it doesn't matter that radish slightly increases appetite - eat right - and the weight will return to normal.
Radish contains a large amount of ascorbic acid. 250 grams of radishes provide a daily requirement of vitamin C. Therefore, spring radishes are real salvation from seasonal vitamin deficiency.
Radish is one of the favorite foods of vegetarians in all countries. The thing is that in addition to vitamins and trace elements, radishes contain vegetable protein, which, moreover, is easily absorbed by the body.
A common radish measures about 2 cm in diameter and weighs only 20-30 grams. And Nissan Tamir, an Israeli farmer, managed to grow a 10 kg radish! This is by far the largest radish, and it is listed in the Guinness Book of Records.
We usually eat radishes raw, but they can be cooked. In same France, radish is part of the holiday soup. It is boiled with two types of meat and leeks in a tightly closed saucepan for 2 hours. The taste is simply divine! Radishes can be fried and used in this form not only in hot salads but also as a side dish for main courses.
In radishes, not only the root crop itself is edible, but also the leaves. They can be eaten raw - in salad and boiled - in soups. The green soup made from radish leaves turns out to be especially tender, although for a start the leaves do not interfere with scalding them with boiling water or soaking them for 15 minutes in cold water to get rid of the bitterness. By the way, if the roots of radishes in the refrigerator are stored for about 2 weeks, then the leaves - no more than 3 days. Then they are completely useless and tasteless.
Our great-grandmothers got rid of bruises and bruises with the help of a miracle root crop. To do this, it was enough to squeeze the radish juice onto a napkin and apply it to the bruised area. Now you can also use this method if you do not have the right products from the pharmacy at hand.
Radishes can be grown year-round at home on a windowsill. She has a short growing season, therefore, with sufficient lighting, it grows in 3-4 weeks and pleases the whole family with taste, saturating with vitamins.
Radish was chosen as one of the first vegetables grown on space stations. It turned out that this plant grows beautifully in zero gravity and supplies "live" vitamins to the astronauts' table almost without interruption.
On December 23, in the town of Oaxaca (Mexico), a grandiose holiday is held: "Night of the Radish". It dates back to the 16th century, when the monks first brought radishes to Mexico, and, in order to draw attention to the new product, they carved figurines out of it. Now the holiday turns out to be simply grandiose. All nearby, and even visiting farmers compete in creative radish crafts. And these are not individual specimens, but real statues and compositional paintings, sometimes of enormous size.
Especially for the fair, giant radishes are grown on the city field near the airport. To make them bigger, they are generously supplied with fertilizers, so, of course, they cannot be eaten. But you can admire it. By the way, the owner of the winning radish sculpture receives $ 1,300 and endless delights of onlookers.
Also Like
Comments for "15 Interesting Facts About Radishes"