12 Interesting Facts About Mangosteen
by Editorial Staff
We have already written about dragon fruit - one of the most popular fruits in Southeast Asia, especially in Thailand. We decided to continue the series of notes dedicated to fruits, which can be seen in abundance on Thai food stalls. The turn of mangosteen has come - another delicious exotic fruit, famous all over the world for its healing properties.
Facts About Mangosteen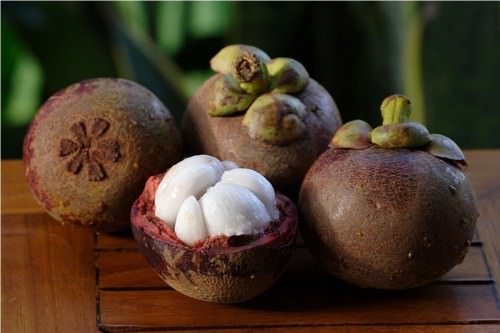 The inhabitants of the city call the mangosteen the "Queen of Fruits". Yes, exactly this way and nothing else.
The mangosteen fruit tree is not found wild. It is a natural hybrid of the related species of fruit trees of the Clusiaceae family - Garcinia malaccensis and Garcinia hombroniana. Most often, polypods, which include mangosteen, are larger than their "parents", have an increased content of nutrients, and are more resistant to external adverse environmental factors.
The mangosteen fruit tree grows exclusively in Southeast Asia and is widely cultivated in many countries, among which Thailand, Vietnam, Myanmar, Cambodia, and India should be distinguished first of all. It also spread in Central America, Colombia, Brazil, Australia, as well as in several African countries: Zanzibar, Liberia, Ghana, and Gabon.
Mangosteen is a tall evergreen tree, decorated with a dense pyramidal crown and black-brown bark. For good growth and fruiting, he needs a humid climate, nutritious soil, and a temperature of at least 7-10 C °. At the same time, the hot sun can harm the tree and leave sunburn on its leaves.
During the flowering period, which occurs in early spring, the crowns of trees are covered with large flowers with fleshy petals of a yellowish-pink color. Most often, flowering and fruiting occur once a year.
A feature of mangosteen is that it does not require pollination. Its flowers are both male and female at the same time, and therefore they are capable of self-fertilization. This is a very rare phenomenon in nature.
For this reason, mangosteen is very difficult to propagate vegetatively, so they are grown from seeds, or more precisely, from sub-seed nodules. And here everything is not simple, since the "seeds" have a very short life cycle. It takes 5 to 10 years for a tree grown from seed to bear its first fruits.
After the appearance of the ovary, the fetus begins to form rather quickly. It takes just over 3 months to fully mature. When ripe, the skin becomes soft and dark purple or purple in color. The fruits are small, about 3-4 centimeters in diameter. Under the thick skin is a juicy and aromatic flesh of a creamy white color. It is divided into segments that resemble cloves of garlic. There are seeds inside them.
The pulp is obtained in the same way as for rambutan. Carefully make a circular cut and break the fruit in half, and then remove the pulp. Be careful, as the juice from the shell can severely stain your skin and clothing.
Mangosteen pulp is very beneficial for health. It contains vitamins E and C, thiamine, riboflavin, calcium, zinc, magnesium, potassium, sodium, as well as antioxidants and xanthones - natural chemicals. They help to protect the immune system, maintain microbiological balance, increase the general adaptability of the body to the external environment and ensure good mental performance.
Since early times, the inhabitants of Southeast Asians have used this fruit in the treatment of dysentery (in powder form), eczema, and other skin diseases (in the form of an ointment), and, of course, mangosteen is one of the main fruits on any Thai table.
Fun fact about mangosteen: This fruit has natural defenses against parasites, including yellow latex, which it releases during its growth to protect itself and to kill any pests. Therefore, the crop is not treated with any pesticides or any other chemical treatment during harvest.
Also Like
Comments for "12 Interesting Facts About Mangosteen"