12 Interesting Facts About Daikon
by Editorial Staff
Due to the high content of vitamins, daikon strengthens the immune system, and its phytoncides kill microbes. Daikon removes excess fluid from the body, cleanses the liver and kidneys, stimulates the stomach and intestines, and is even able to dissolve gallstones. The Japanese have developed a variety of daikon cultivars, varying in shape and size. Today this unpretentious vegetable, originally from East Asia, is grown all over the world due to its beneficial properties. What do you know about Daikon? We will tell you 12 interesting facts about him, and if you have something to add, be sure to leave your comment under this post!
Facts About Daikon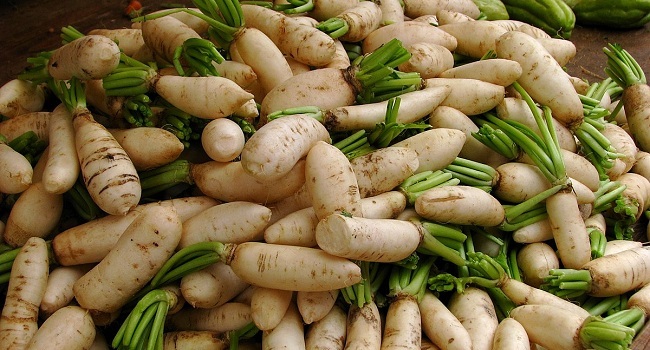 Other names for daikon are "white radish", Japanese or Chinese radish.
Translated from Japanese, "daikon" is "big root".
The most common daikon variety, aokubi-daikon, is shaped like a long, thin carrot.
The most unusual daikon variety - Sakurajima - has roots in the shape of a huge turnip: about 50 cm in diameter and up to 45 kg in weight.
Daikon is one of the main materials for carving (the art of carving vegetables). Its dense white pulp makes beautiful carved lotuses, daisies, and roses.
Daikon tastes milder than its radish and radish cousins, making it a versatile vegetable. Fresh young daikon root vegetables can be eaten separately, seasoned with sour cream or vegetable oil, or added to salads.
Daikon is included in the daily diet of millions of people in Asia. In Korea, kimchi is made from it; in China, daikon pies are popular. In Japan, it is served raw with sushi, fish dishes, and tempura, added to miso soup, boiled and served with soy sauce, stewed with seafood, marinated in vinegar, dried, and salted for the winter. Besides, daikon can be found in traditional dishes of Tibetan, Vietnamese and Indian cuisines.
Only those who grow them in the garden can enjoy the fresh daikon greens because it has a very short shelf life.
Root vegetables and daikon greens are recommended to be introduced into the diet for effective weight loss.
Daikon has little nutritional value, its main value is its high content of vitamins C and B, fiber, pectin, and myrosinase enzyme - substances that promote digestion.
Daikon root vegetables have antiseptic and bactericidal properties, therefore they are effective in the fight against colds and infectious diseases.
The calorie content of daikon is 18 kcal.
Also Like
Comments for "12 Interesting Facts About Daikon"