Chicken Tapaka (Dish of Caucasian Cuisine)
by Editorial Staff
Chicken tobacco (tapaka chicken) is a popular dish of Caucasian cuisine. It is chicken fried with garlic, pepper, and spices.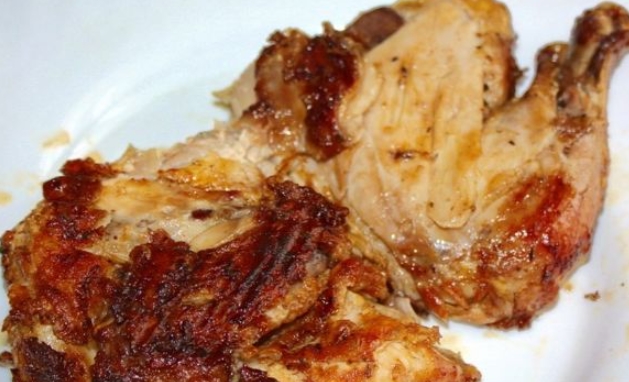 Cook: 1 hour 30 minutes
Servings: 4
Ingredients
Chicken – 2 carcasses
Spices and seasonings (salt, black pepper, and sweet peas, bay leaf, ground black pepper, ground paprika, thyme) – 5 tablespoon.
Garlic to taste
Vegetable oil – 5 tablespoon.
Ghee cow butter – 30 g
Directions
For some reason, I remembered one meal. On one of my trips to the Union on vacation (yes, this is me talking about the times when the Union was still in the yard …) my friends and I went to "Aragvi". If anyone does not know what it is, I will not explain. It seems to me that this is a useless work, telling what it was like in the early eighties.
So, if you do not get more detailed, I remembered the local "Aragvi" chickens of tobacco. And so, you know, I wanted to crunch this fried-fragrant bird, which already … !!!
What to do, remnants of the past cursed by modern liberal-democrats … It
was this desire that led me to a shop in one of the villages that are located around our pond. And in this shop there was such a pair of birds. Never imported any, but what neither is ordinary, village.

True, a detailed examination revealed, that is, a perfect confirmation of the naturalness of the birds was found. Their, so to speak, home origin and the absence of any chemical nasty things. What confirmation? Yes, that's it….
And how to deal with it? Yes, just everything. We take such a device. Simple and, by the way, very necessary in the household. It costs a penny, but its usefulness and areas of application … In general, I advise you to buy and use.
This time I used it like this. And everything turned out neatly, quickly and efficiently. The skin, however, is slightly cracked, but this is nothing.
After that, the chickens must be cut. But not really, but rather a cut. On the breast.
The carcass seems to unfold. Then you have to work hard and clean everything inside. What is superfluous. All sorts of films there, blood clots and unnecessary veins.
Then the carcasses must be well washed and dried. It is best to do this with paper towels.
And then the carcasses must be beaten off. But without fanaticism. I didn't have a special hammer, so I took a crush. And so that nothing flies, does not splash, cover the bird with a film. Very convenient for a clean environment.
According to the precepts of connoisseurs and the laws of the genre, further chickens should be marinated. Remember what was written there at the beginning? About garlic, peppers and spices … So let's do the marinade.
Let's take a few peas of black and allspice, a couple of bay leaves. And all these leaves and peas must be crushed. In a mortar. So that it doesn't work out fine. It would be best, of course … But I don't have a mortar here either, so I crushed all these peppers and lavrushka with a crush.
And then to this set he added salt, red paprika, ground black pepper, and a spoonful of thyme. It would also be nice to have coriander, but alas.
And then mix everything well. This is where a mortar would be needed, which does not exist. Therefore, I again crumpled a little with a crush.
Garlic. The amount depends on the taste. Chop it finely. I advise you not to press, but to chop.
Fill the resulting mixture with vegetable oil. It was possible, of course, to take something tasty, aromatic, but it seemed to me that a simple, sunflower-seed would be better. Without unnecessary aromas to. In general, I took the most, I repeat, simple and unflavored. Don't pour too much. A maximum of seventy grams.
We send the garlic in the same bowl. To the rest of the ingredients of the marinade.
And mix everything thoroughly. Very good. To dissolve the salt. Well, okay, let it not "dissolve", but evenly distributed throughout the marinade. Although, it will settle anyway, you will have to stir again "before".
And then cover the bowl with a saucer and set aside for an hour. So that all aromas and tastes come together in one line … marinade.
And after an hour, rub the birds with the resulting composition. First, on the one hand.
Then rub just as well on the other side.
Then I put the birds in a bowl, covered them with a plate, put a load on top, and put them in the refrigerator.
They stood there for a day … Almost.
And in the morning … in the morning I took out the tapa.
Tapa is such a frying pan. It looks like this. Or something like this. True, some say that a real tapa – it also has a cover with a screw. For better gripping (or pinching?) Of the product lid.
Just in case. Don't ask where I got it. I don't remember. I got caught in some selpa.
And the cover of this tapa matches it. The same cast iron and very heavy. So that, then, fried in tapa to press it. Strong.
Then we put the tapa together, that is, cover it with a lid and put it on fire. Let it be worth it. It doesn't take long, but it needs to warm up well for twenty minutes.
Why, ask, warm? Here's a look at the result and, if anything, do as I do, and your cast-iron dishes will always be ready for new achievements. If, of course, the dishes are really genuine cast-iron, and not a cocoa-thread "Teflon-thinking of us always"!
I wanted to limit myself "on the street" only to preparing tapa for use, but then I decided to fry the tobacco chickens over an open fire. True, it is winter outside, and although it is not very frosty, the wind is today. And not July, honestly, affectionate. As soon as these fishermen sit on the ice all day? .. It's cold. But! I decided … And I will !!! Out of harm.
We take out a bowl of chickens. Look, what they have become. Pickled, fragrant. It seemed to me that the bird would not completely fit into the tapa, so I cut it in half. Not along, of course. Across.
The pan has warmed up well. Look, like ghee from cow's butter … or rather, how this butter reacted in the pan !!! And I added some vegetable oil. Just a spoon, literally, one and a half tablespoons. Even less. The oil warmed up slightly, without fanaticism.
And then he put the bird there.
I put the lid on top. Why put it down? Yes, because this is not a lid, but a cast-iron stove … honestly.
I cooked for twenty minutes. Why so long? And all for the same reason – winter is outside. And the breeze. Although not very frosty, still. Therefore, even though there is fire from below, there is wind from above. Cold.
Then he turned the bird over.
And again put the lid on top. I roasted the chicken tobacco for another fifteen minutes. You only need to stir a little chicken after about five minutes. His skin is tender, sticks.

That, in fact, is all. Marinade for chicken tobacco turned out to be just what you need. As I said, you could add a bit of coriander seeds. But, in general, everything turned out very tasty.
There is only one remark. From my own feelings. Do not take birds weighing more than five hundred grams. Then they will be better fried, crunchier, and much tastier.
Angela for you at your meal!
Also Like
Comments for "Chicken Tapaka (Dish of Caucasian Cuisine)"