Chicken Tabaka (Tapaka)
by Editorial Staff
Tobacco chickens (tapaca) are something that's really delicious. We've been cooking them for three days straight.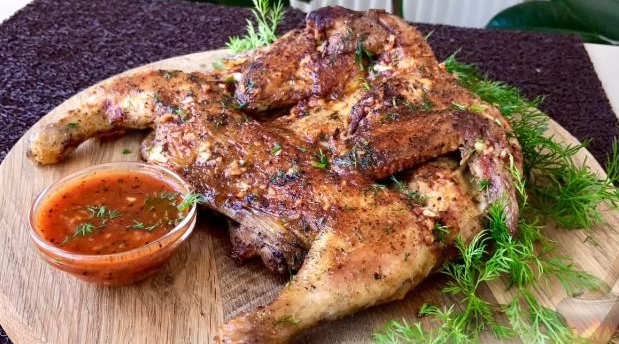 Ingredients
Chicken – 600-700 g
Large salt
Black pepper
Hot red pepper
Garlic – 4-6 teeth
Basil
Paprika
Tomato juice – 200 ml
or ketchup – 100 g
Dill – to taste
Melted oil
Directions
Chicken Tabaka
We take a chicken weighing no more than 1 kg, mine, and dry with paper towels. We put the chicken on the back and cut it in half, but not the end, just the breast. We take the inside out and open the chicken.
We put the meat on the board with a cut-down and we cover it with a plastic bag. We hit it with a kitchen hammer to break the bones and the wheezing.
On both sides, we sprinkle the chicken with salt and pepper. We rub the spices well. Leave it for 30-60 minutes or overnight.
We pour olive oil on the pan and squeeze garlic through the press. We add paprika, red and black pepper, basil.
Reduce the fire to a minimum and inject tomato juice. Take out 2 minutes.
We take a cast-iron frying pan and heat it with melted oil (or butter with vegetable).
Send the chicken to the pan with wings down. Switch on the middle light and cover the lid, which is smaller than the pan. We put a heavy load on top and heat it for 8-14 minutes.
We roll it over and grease it with tomato sauce. Fry the tobacco chicken on the other side, set the weight for 8 minutes.

Chop up the dill and send some in the sauce.
We soak the finished tobacco chicken with sauce.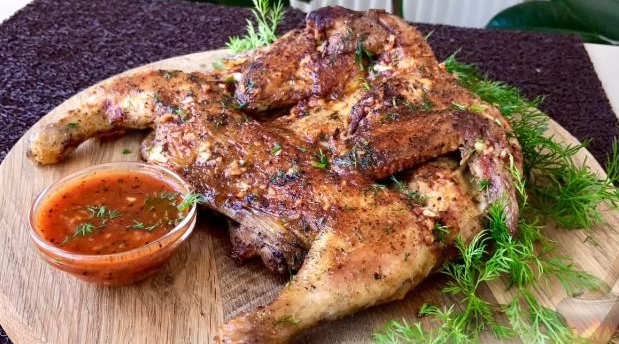 Bon appétit
Also Like
Comments for "Chicken Tabaka (Tapaka)"