White Asparagus Cream Soup
by Editorial Staff
Do you want to taste tenderness? Then be sure to read this recipe! You will be enveloped in a creamy texture with the same mild smell and taste. And it looks beautiful. Worth your attention!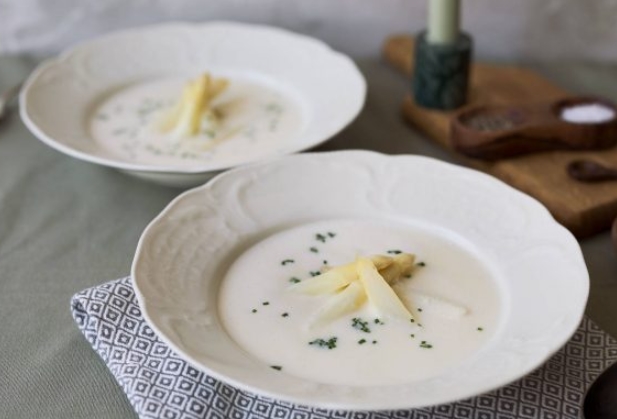 Servings: 4
Cook: 30 mins
Ingredients
Asparagus – 1 Kilogram (White)
Butter – 100 Grams
Water – 600 Milliliters
White wine – 150 Milliliters (dry)
Onions – 3 Pieces
Lemon – 0.5 Pieces
Salt – 2 Tbsp. spoons
White sugar – 2 Tbsp. spoons
Wheat flour – 2 tbsp
Ground white pepper – 0.25 Teaspoons
Directions
Peel the asparagus. Chop the onion finely. Squeeze the juice out of the lemon.

In a large saucepan, bring wine, water, salt, sugar and lemon juice to a boil. Then dip the asparagus in boiling water. Boil it for 8 minutes.

Then remove the asparagus and cut it into medium slices.
Then melt the butter in a saucepan. Fry the onion in it for one minute with flour. Next, pour in the asparagus broth, and add the vegetable itself. Cook the soup for another 10 minutes.
Then puree the soup with a blender.

Also, add salt and pepper to taste. You can leave a couple of asparagus slices for serving.
Bon Appetit!
Also Like
Comments for "White Asparagus Cream Soup"