Asparagus and Its Cooking Methods
by Editorial Staff
Summary
| | |
| --- | --- |
| Prep Time | 10 mins |
| Cook Time | 15 mins |
| Total Time | 25 mins |
| Course | Side Dish |
| Cuisine | European |
| Servings (Default: 4) | |
Ingredients
20

spears asparagus, white, purple or green
butter
oil
salt and pepper
sugar
Lemon juice
Vegetable broth
Dough (tempura dough)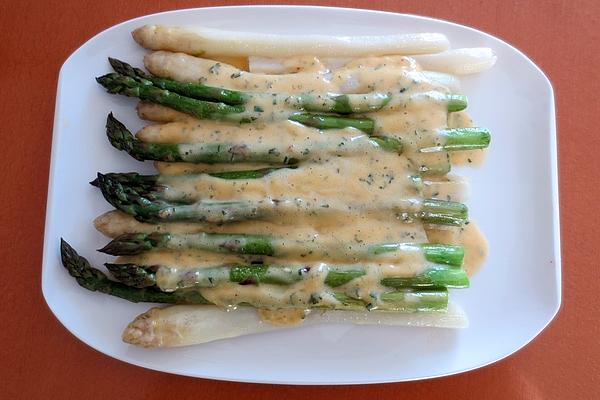 Instructions
The various cooking methods named here do not claim to be complete.
A distinction is made between moist and dry cooking methods. When it comes to the wet cooking methods, I describe boiling, blanching, steaming, stewing and glazing. When it comes to dry cooking methods, I describe deep-frying, gratinating, grilling and sautéing.
White and purple asparagus - from now on referred to collectively as white - is completely peeled with a peeler starting from the head and cut off about 1 cm long at the lower end. With green asparagus, the white end, if present, is cut off and the green end is peeled 1 - 3 cm long. The rest remains unpeeled.
1. For cooking, put the asparagus in boiling salt water, if possible standing in an extra inlet so that the heads are not covered with water. If you like, you can add a little sugar and lemon juice to the water. Depending on the thickness, the process takes 10 - 15 minutes for white asparagus and 3 - 8 minutes for green asparagus. Then you lift out the inlet so that the water can drain off completely and place the no longer moist asparagus on serving dishes of your choice
2. The process for blanching is the same as for cooking. However, you end the cooking process after half the time. The asparagus is briefly quenched in ice water, dried and only processed further shortly before serving.
3. For steaming, the asparagus cooks closed in steam in a steamer insert, while the boiling water does not come into contact with the asparagus. The cooking process will take half longer than when cooking.
4. When steaming, the asparagus cooks in fat, butter or oil without liquid with a lid or in aluminum foil. It is seasoned beforehand, e.g., with salt, lemon juice and sugar. The cooking process can take up to 35 minutes, depending on the thickness of the asparagus.
5. When glazing, butter or oil is lightly caramelized with a little sugar, then you add the asparagus, turn it frequently and cook it in a liquid such as broth or stock, which covers half the asparagus, and you`re done. Turn the asparagus more often. This takes about as long as cooking.
6. When deep-frying, the asparagus is placed in a fat bath at around 160-180 degrees. You can pull it through a tempura dough beforehand. Cooking time a little less than when cooking.
7. When gratinating, the previously cooked or blanched asparagus may be in the oven with high top heat. cooked with a layer of cheese. Duration depending on the degree of browning.
8. When grilling, the raw or lightly blanched asparagus, possibly with a little fat, is placed on a heated grid or in a grill pan in order to achieve a grid-like color.
9. When sautéing, the asparagus cooks in fat, swirling and turning, without adding any other liquid. Duration up to 15 minutes for thick bars.
You can also cut the sticks into 3 or 4 parts, depending on the cooking method and preferences. If you mix white and green asparagus, you have to note that the green one has shorter cooking times.
Which sauces are served with it is a matter of taste, a Hollandaise or Béarnaise will certainly remain the absolute classic. The photo shows white and green asparagus with bearnaise.
Many other vegetables can also be cooked using these methods. However, bell peppers, zucchini and aubergines are usually not cooked or blanched.
Also Like
Comments for "Asparagus and Its Cooking Methods"