Banana Bread
by Editorial Staff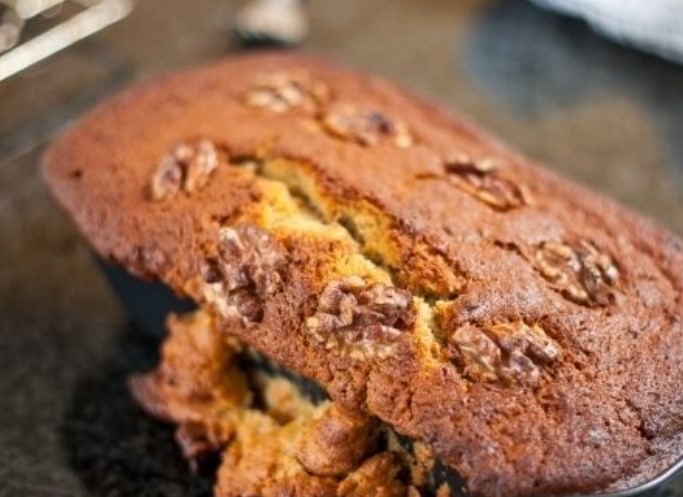 I like banana bread for its delicate flavor and nuts. It bakes quickly and is easy to prepare. Ripe bananas can be found without any problems and are usually discounted. Make the banana bread dough in one go, simply by mixing all the ingredients.
Cook: 2 hour
Ingredients
Ripe bananas – 2-3 pieces
Butter – 110 Grams
Sugar – 220 Grams
Eggs – 2 Pieces
Vanilla – 1 Teaspoon
Baking powder or baking powder – 1 teaspoon
Salt – 1 Pinch
Flour – 280-290 Grams
Walnuts – 10 Pieces
Directions
Beat butter with sugar until smooth.
Add eggs and vanilla to the mixture. Stir.
Crush the bananas with a fork and add to the dough.
Sift the flour and combine in a separate bowl with baking powder and salt. Then add the flour mixture to the dough. Peel and chop the walnuts, also add to the dough. Stir. Leave a few beautiful, un-chopped nuts for decoration

Put the finished dough in a non-stick dish, greased with butter or vegetable oil. Place the nuts on top. Bake in an oven preheated to 180 degrees for an hour and 15 minutes. Check the readiness with a wooden toothpick or match (it must be dry!)
After removing the banana bread from the oven, let it rest and cool for about 20 minutes.
Slice the finished banana bread and serve with tea.
Bon Appetit!
Also Like
Comments for "Banana Bread"