Beef Stroganoff (Stroganoff Beef) with Mustard
by Editorial Staff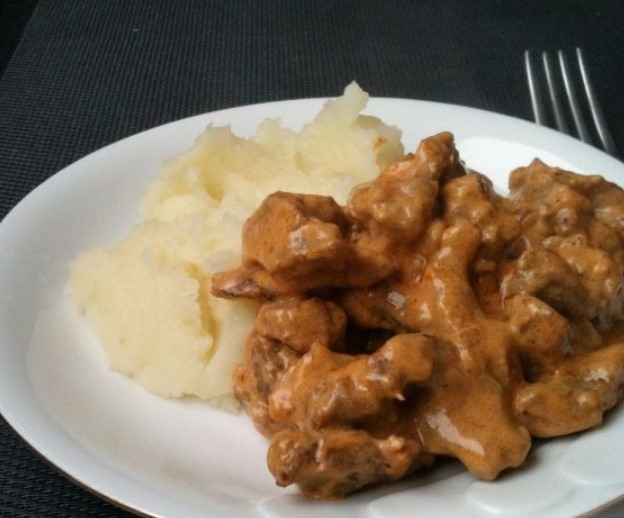 The fried meat, which is then stewed in a tender sour cream sauce with mustard and tomato, turns out to be soft, juicy and literally melts in your mouth.
Cook 1 hour
Servings 8
Ingredients
Beef (pulp) – 800 g
Bulb onions – 1 pc.
Water or broth – 2 cups
Flour – 1 tbsp
Butter – 100 g
Vegetable oil – 1.5-3 tbsp
Hot mustard – 1 tbsp
Black peppercorns – 10 pcs.
Sour cream – 2 cups
Tomato paste – 1 tbsp
Ground black pepper – 0.5 teaspoon
Salt – 0.75 teaspoon
Directions
Prepare products according to the Stroganoff beef recipe with mustard.
To make beef stroganoff from beef, cut the meat into flat pieces of about 1 x 2 cm.
Season with salt and pepper.

Peel, wash and finely chop the onion.
Fry the flour in oil. To do this, melt the butter, add flour.
Fry, stirring all the time, over medium heat for 5-7 minutes.
Dilute with broth or water. Boil, add mustard and peppercorns.
Boil, drain. Add sour cream, tomato to the sauce and stir.
Heat the vegetable oil separately. Place the meat and onions. Mix.
Fry the beef with butter and onions, stirring occasionally, over medium heat until golden brown (10-15 minutes).

Place the meat in the sauce and place the beef stroganoff over low heat.
After 15 minutes, beef stroganoff with mustard is ready.
Ready-made Stroganoff beef can be served with mashed potatoes or other side dishes.

Enjoy your meal!
Also Like
Comments for "Beef Stroganoff (Stroganoff Beef) with Mustard"