Cabbage Pancakes with Oat Flakes
by Editorial Staff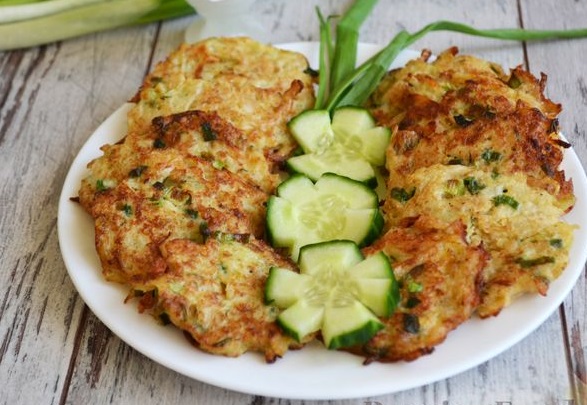 Today I suggest that you cook tender cabbage pancakes with oatmeal, which are perfect both as a side dish and as an independent vegetable dish. You can also make cabbage pancakes for breakfast.
Ingredients
White cabbage – 300 g
Oatmeal flakes – 0.5 cups (50 g)
Bulb onions – 0.5-1 pcs. (80 g)
Green onions – 3 pcs. (30 g)
Fresh dill – 2 branches
Eggs – 2 pcs.
Water (boiling water) – 120 ml
Vegetable oil – for frying
Salt to taste
Ground black pepper – to taste
Directions
We prepare all the necessary ingredients.

To begin with, pour boiling water over the oatmeal and leave it aside to swell.
Chop the cabbage into thin strips. Peel the onions and chop finely.
Preheat a frying pan with vegetable oil and put the cabbage and onions there.
Fry cabbage and onions for 10 minutes over medium heat. Put the finished cabbage in a deep container and leave to cool.
Wash the dill and green onions, dry, and chop finely. When the cabbage has cooled, add greens to it.
We transfer the swollen oatmeal to a colander so that the glass is excess liquid.
Add oatmeal to the container to the cabbage. We also drive eggs here.
Salt and pepper the mass to taste.
Preheat a frying pan with vegetable oil. Put the resulting mass in hot oil with a spoon, forming pancakes.

Fry cabbage pancakes on both sides until golden brown. Cabbage pancakes with oatmeal are ready.
Enjoy your meal!
Also Like
Comments for "Cabbage Pancakes with Oat Flakes"