Chocolate Muffins with Meringue Cream
by Editorial Staff
Every housewife (or owner who is familiar with the arrangement of pots, bowls and molds in the kitchen) needs a universal recipe, according to which, in a short time, without fuss and hassle, it would be possible to organize a cake or small cupcakes. This cream cake recipe is just that – effortless.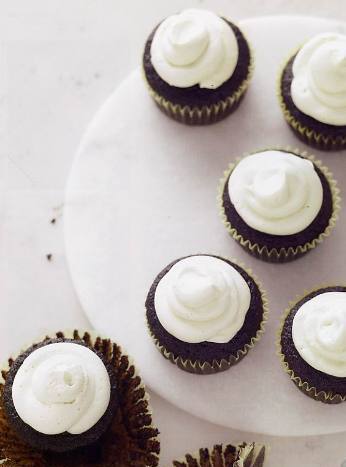 Ingredients
For cupcakes:
Cocoa powder (better Danish processing) – 1 ¼ cup
Flour – 2 ½ cups
Sugar – 2 ½ cups
Baking soda – 2 ½ teaspoon.
Baking powder – 1 ¼ teaspoon.
Table salt – 1 ¼ teaspoon.
Large eggs – 2 pcs.
Egg yolk – 1 pc.
Warm water – 1 ¼ cup
Buttermilk (or sour milk or low-fat yogurt) – 1 ¼ cup
Butter, melted and chilled – ½ cup and 2 tbsp
Vanilla extract – 1 ¼ teaspoon
*
For the cream:
Sugar – 1 ½ cups
Egg whites – 6 pcs.
Salt – a pinch
Tartar – ¼ teaspoon
Butter, room temperature – 450 g
Vanilla extract – 1 teaspoon
Directions
Preheat oven to 175 degrees. Place paper cakes in muffin cups.
Combine cocoa, flour, sugar, baking soda, baking powder, and salt.
Add eggs, yolk, water, buttermilk, butter and vanilla. Stir until smooth for 3 minutes.
Divide the dough into molds (halfway up). Bake the muffins in the tins in the oven for about 20 minutes (turn the tins after 10 minutes). You can check that the muffins are done with a wooden stick
Transfer the prepared muffins in the tins to the wire rack and let sit for 10 minutes. Remove from molds and cool completely. Cover with meringue cream (see below for how to make the cream).
Also Like
Comments for "Chocolate Muffins with Meringue Cream"