Cookies "Chocolate Meringue"
by Editorial Staff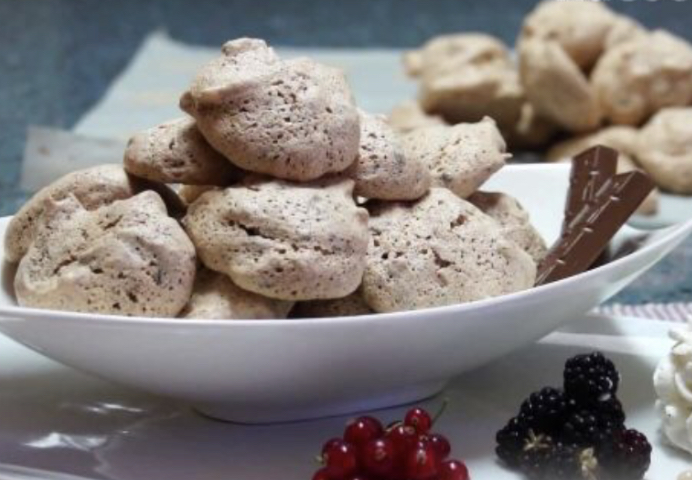 Meringue is a very tasty, light baked goods. Today we will be making chocolate meringue cookies.
Ingredients
Egg white – 4 pcs.
Sugar – 200 g
Flour – 75 g
Chocolate – 125 g
Vanilla sugar – 20 g
Ground cinnamon (optional) – 0.5 teaspoon
Directions
Preparing products for chocolate meringue.
Separate 4 egg whites into a mixer bowl. Beat at high speed until fluffy.
Add 200 grams of sugar in three steps. Add two bags of vanilla sugar. A few basic rules for whipping the whites well:
– whites should be cold, and they should not contain a single gram of yolk;
– The mixer bowl must be absolutely clean and dry.
In the whites, whipped with sugar, sift 75 grams of flour and, if desired, add half a teaspoon of ground cardamom and cinnamon.
Add 125 grams of chopped chocolate.

Mix well, but very gently in one direction until a homogeneous mixture is obtained.
Using two teaspoons, spread the protein dough in small balls on a baking sheet lined with baking paper.

We bake chocolate meringue cookies in a preheated oven at 160 degrees for 25-30 minutes.
After 25-30 minutes, remove the meringue cakes from the oven, cool on a baking sheet, transfer to a dish and serve very tender, light and tasty chocolate meringue for tea or coffee.
Also Like
Comments for "Cookies "Chocolate Meringue""