Chocolate Cake with Cookies
by Editorial Staff
If you are looking for interesting and uncomplicated baking options, then pay attention to this recipe for how to make a chocolate cake with cookies. Awesome option without too much hassle.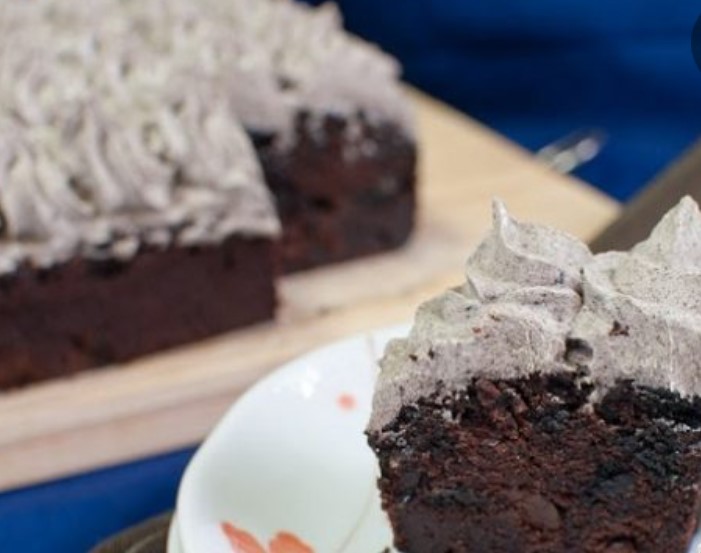 Cook: 2 hour
Servings: 8-10
Ingredients
Flour – 150 Grams
Cocoa – 50 Grams
Baking powder – 1 teaspoon
Soda – 0.5 Teaspoons
Salt – 1 Pinch
Sugar – 120 Grams
Egg – 2 Pieces
Vegetable oil – 125 Milliliters
Vanilla extract – 1 Teaspoon
Milk – 185 Milliliters
Water – 185 Milliliters
Chocolate cookies – 250 grams (+ cream)
Butter – 125 Grams
Curd cheese – 125 Grams
Powdered sugar – 150 Grams
Directions
First of all, turn on the oven and set it to heat up to 180 degrees. Sift flour, cocoa, baking powder, baking soda into a deep bowl.
Add sugar and whisk thoroughly for at least 3-4 minutes.

Combine milk with vegetable oil (you can take any, the main thing is that it has no saturated smell. It is very interesting to use grape seed oil here).
Stir and add eggs one at a time while beating.
Combine liquid ingredients with dry ingredients. Add vanilla extract.
When the mass becomes homogeneous, pour in boiling water. If you wish, you can use coffee, then our chocolate cake will have a light coffee aroma.
Whisk everything quickly until smooth. Break the cookies in large pieces and add to the dough.
Prepare an ovenproof dish. Line it with parchment or oil and flour.
Pour the dough into a mold and place in the oven for about half an hour.
In parallel, you can do the cream. Combine softened butter with cream cheese and icing sugar. Whisk until fluffy.
Crush some more cookies and add to a bowl.
Stir until smooth. Here is such an appetizing cream as a result.
Remove the finished cake from the oven and cool. The ideal option is to wrap it in plastic wrap and let it sit in the refrigerator for a couple of hours. During this time, it will become even softer and more moist.

Spread some of the cream in an even layer on the cake, and deposit the rest with a pastry syringe.
This is the result. I hope you enjoy this version of the cake.
Bon appetit!
Also Like
Comments for "Chocolate Cake with Cookies"