Chocolate Meringues (Best Recipe)
by Editorial Staff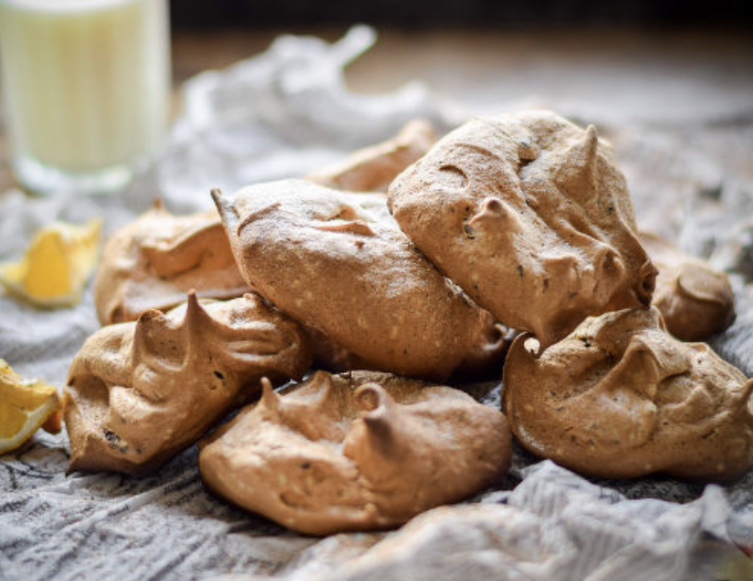 Chocolate meringue is an ideal dessert for friendly gatherings, which is perfect with a cup of coffee, you can offer children a glass of milk. Meringue turns out to be very tasty, airy, and weightless.
Ingredients
Eggs – 3 pcs.
Sugar – 3/4 cup
Cocoa powder – 3 tbsp
Black chocolate – 120 g
Corn starch – 1 tbsp
Salt – 1/4 teaspoon.
Directions
Prepare foods for chocolate meringue.
Combine sugar with cornstarch, mix well.
Cut the dark chocolate into small pieces with a knife.
Beat three chicken egg whites until peaks with a pinch of salt. Beat for 2-3 minutes at medium speed.
Pour a mixture of sugar and starch into the proteins in parts.
Beat egg whites until glossy.
Sift cocoa powder into proteins.
Gently mix the cocoa into the whites, stir in with a spatula in a circular motion from top to bottom.
Add chocolate to the proteins.
Mix everything gently.

Cover the baking sheet with parchment, put the puffed proteins with a tablespoon.
Bake the meringues at 140 degrees for 25-30 minutes, then do not open the oven for about half an hour.
Serve the finished chocolate meringues.
Enjoy your meal!
Also Like
Comments for "Chocolate Meringues (Best Recipe)"