Chocolate Sponge Cake with Cocoa
by Editorial Staff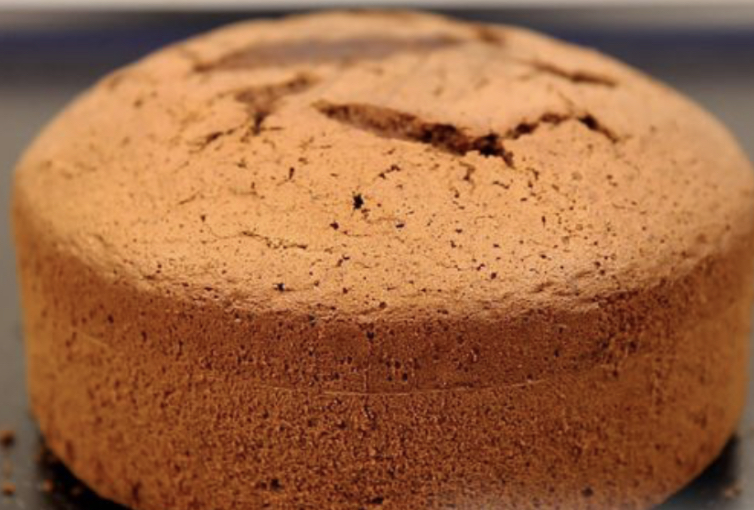 I want to share a recipe for a simple chocolate sponge cake with cocoa. Just 4 main ingredients – and a chic, fluffy, airy sponge cake is ready! Easy to prepare, perfect for beginners. Try it! I hope you enjoy it as much as I do!
Ingredients
Eggs (C1) – 5 pcs.
Sugar – 150 g
Flour – 120 g
Cocoa – 30 g
Baking powder – 3 g
Salt – 1 pinch
Directions
The recipe is designed for a mold with a diameter of 17-20 cm.

I add baking powder to the sifted flour and cocoa, mix and set aside for now.
Eggs are divided into whites and yolks. Carefully so that not a drop of yolk gets into the protein.
I add a good pinch of salt to the proteins.
Beat at low speed until light "beer" foam.
Then gradually increasing the speed of the mixer and adding 3/4 of the total sugar in 2-3 passes. Beat until firm and stable. When the bowl is turned over, the mass remains stationary. I put it aside for now.
I add the remaining sugar to the yolks.
Beat until light whitening and increase in volume.
With gentle movements, I connect the whites and yolks.
The mass should remain light, tender, airy.
Then sift dry ingredients to the beaten eggs in 2-3 passes. Stir well each time with a spatula, thoroughly, but not for long.
The dough will fall off a little but remain fluffy and airy.

I bake a sponge cake in a split from 17 cm in diameter. I covered the bottom with parchment, I don't grease the sides with anything.
The oven is preheated to 170 degrees. The approximate baking time is 30-35 minutes.
Focus on your oven and a dry toothpick, but do not open the oven for the first 25 minutes!
On the wire rack, let the biscuit cool for 10-15 minutes. Cut out of the ring and leave to cool completely.
Then I wrap the biscuit in a bag or plastic wrap and put it in the refrigerator for 5-6 hours.
Chocolate sponge cake for cocoa is ready!
From the specified amount of products, a biscuit is obtained with a diameter of 17 cm and a height of 8 cm.

Airy, lightweight, porous. Delicate and aromatic.
The biscuit itself is dry and needs to be impregnated!
I hope you enjoy the recipe and find it useful! Enjoy your meal!
Also Like
Comments for "Chocolate Sponge Cake with Cocoa"