Chocolate Sponge Cake on Egg Whites
by Editorial Staff
A biscuit is being prepared on egg whites with the addition of cocoa powder.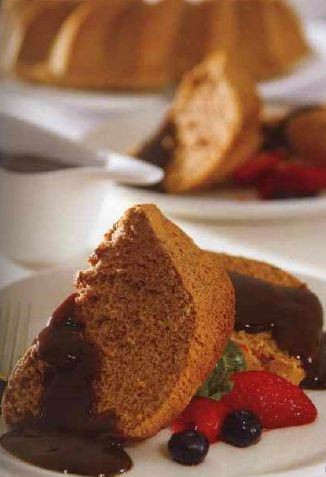 Ingredients
Egg whites – 10 pcs.
Powdered sugar – 225 g
Cocoa powder – 30 g
Flour – 150 g
Salt – 0.75 teaspoon
Lemon juice – 1 teaspoon
Sugar – 200 g
Vanilla extract – 1 teaspoon
Berries for serving
*
For the chocolate sauce:
Butter – 125 g
Water – 150 g
Black chocolate (chopped) – 150 g
Sugar – 250 g
Corn syrup – 60 g
Salt – 0.5 teaspoon.
Vanilla extract – 2 teaspoon
Directions
Turn on the oven to preheat to 180 degrees.
In a bowl, combine the icing sugar, flour, cocoa and salt.
In another bowl, beat the egg whites with lemon juice until fluffy. Continuing to beat at high speed, gradually add sugar, beat until stable peaks are formed. Add vanilla extract, mix well.
In the protein mixture, gently, stirring with a spatula, add the flour mixture. Place the dough in an ovenproof round dish, 24 cm in diameter with a hole in the middle. Place in a preheated oven, bake a chocolate sponge cake for 40-50 minutes, until tender.
Remove the finished chocolate sponge cake from the oven, turn it over and string the shape over the neck of the bottle so that the cake does not settle. Leave in this position until cool.
Meanwhile, prepare the chocolate sauce. In a saucepan over medium heat, melt the butter with 150 g of water. Bring the mixture to a boil, add chocolate, melt. Then add sugar, corn syrup and salt and cook for 5 minutes. Then remove from the stove, add vanilla extract, mix the sauce well.
Gently remove the cooled chocolate sponge cake from the mold, first holding a knife between the cake and the edges of the mold.
Serve with chocolate sauce, garnish with fresh berries.
Also Like
Comments for "Chocolate Sponge Cake on Egg Whites"