Filled Potato Rolls
by Editorial Staff
Filled potato rolls are a hearty and tasty dish that will please all family members. The preparation itself is not particularly troublesome, but the result will exceed all your expectations.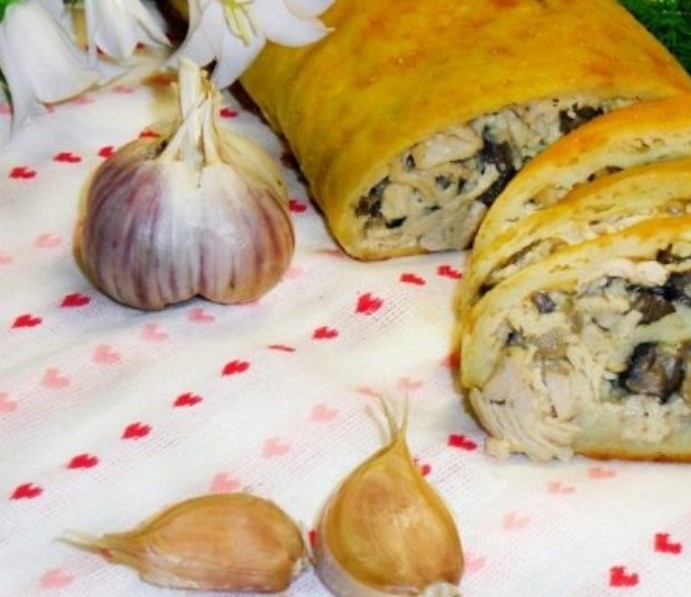 Cook: 1 hour
Servings: 6
Ingredients
Wheat flour – 1 Glass
Potatoes (medium) – 3 Pieces
Chicken Egg – 2 Pieces
Chicken fillet – 500 grams
Champignons – 500 Grams
Cream cheese – 200 Grams
Onion – 1 Piece
Garlic – 1 Clove
Salt, pepper, vegetable oil – To taste
Directions
Soak mushrooms in cold water, rinse and peel well. You can use champignons or any other mushrooms. Fry them in vegetable oil in a frying pan with finely chopped onions and grated or minced garlic. The water should evaporate.
Boil the chicken fillet in salted water until tender. This will take you about half an hour. You can use pork or beef instead of chicken, then the cooking time will increase by an hour. Cut the meat into small pieces.
In a separate bowl, combine the mushrooms fried with onions and garlic and boiled breast.

Add cream cheese to them and mix everything well. Cream cheese can be replaced with regular hard grated cheese.
Boil the potatoes in salted water. To shorten the cooking time, pre-cut the potatoes into small pieces. Cook the finished potatoes in mashed potatoes. Beat in one egg, add flour and salt.
Knead the dough.
Roll out the dough into a thin layer using a rolling pin. This should be done on parchment.
Put the filling of cheese, meat and mushrooms on the rolled dough. Roll the roll very gently with baking parchment. Thanks to him, the thin and tender potato dough will not break. You can make not one, but several smaller rolls.
Transfer the roll to the dish in which you plan to bake it. Then brush it with a raw, beaten egg to create a golden-brown crust. Preheat the oven to 180 degrees and bake the roll for 40 minutes.
Bon appetit!
Also Like
Comments for "Filled Potato Rolls"