Rolls With Cream Filling
by Editorial Staff
Recipe for making straws stuffed with heavy cream, sugar and brandy.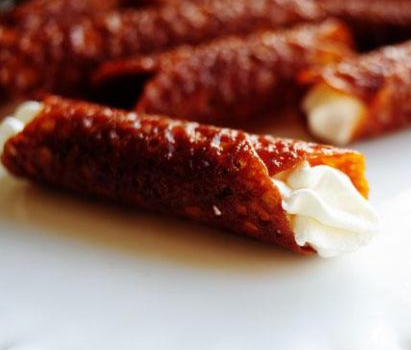 Cook: 20 mins
Serving: 16
Ingredients
Butter stick – 1 Piece
sugar – 1/4 Cup
Cognac – 1 Art. the spoon
Flour – 3/4 Cup
Salt – 1/8 Teaspoon
Ground ginger – 1/4 teaspoon
For the filling: heavy cream – 2 cups
Sugar – 1/3 Glass
Brandy – 2 Art. spoons
Directions
Preheat the oven to 175 degrees. Line a baking sheet with parchment paper. Melt the butter in a skillet with molasses, sugar and brown sugar over medium heat, stirring constantly with a wooden spoon until bubbles appear on the surface. Simmer for one minute, then turn off heat.
Add flour, ginger and salt. Stir everything together very quickly, then mix with the cognac.
Using a spoon, place the dough on a baking sheet, making eight cookies per sheet.

Bake for 10 minutes. Remove the baking sheet from the oven and let cool for 2-3 minutes.
Pick up the cookies one at a time and roll them up using a large metal handle or potato press.
When the tubes are completely cool, fill them with the creamy filling.
To prepare the filling, combine the cream, sugar and brandy in a bowl. The cream should be very cold. Beat the mass with a mixer at high speed. Place the cream in a pastry bag and fill the straws with the filling. Serve immediately.
Bon appetit!
Also Like
Comments for "Rolls With Cream Filling"