I would like to propose a variation of the French recipe for one of the simplest and most delicious apple pies from completely ordinary and affordable products – a shifting pie, Tarte Tatin with apples. When it comes to caramelized apples, this is already interesting. And when chopped dough is added, it turns out to be a small homemade masterpiece.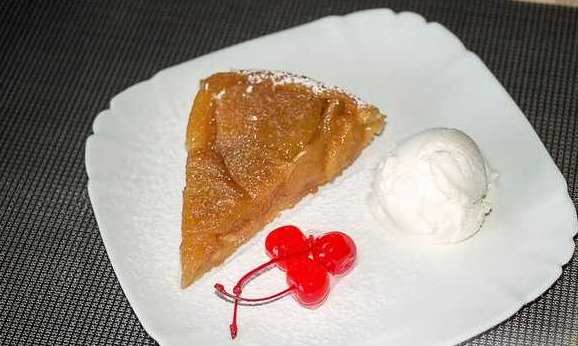 Ingredients
For the dough:
Sifted flour – 160 g
Butter (cold) – 100 g
Cold water – ~ 60 ml
Salt – 1/2 teaspoon.
Lemon juice – 1 teaspoon.
For filling:
Apples – 1 kg
Sugar – 100 g
Butter – 50 g + for greasing the mold
Lemon (zest) – 1 pc.
Lemon juice (if the apples are not sour) – to taste
Directions
Mix flour and salt and chop together with cold butter into crumbs.
Add lemon juice to cold water, pour into crumbs and mold everything into a lump. You don't need to knead. The main thing is to do everything quickly so that the butter does not melt.
Put in the refrigerator for half an hour.
Prepare products for the filling.
Peel the apples, core them and cut into 8 pieces, pour over the lemon juice. Add lemon zest to them. Place the apples in a greased pan (my shape is 24 cm in diameter).
Melt sugar in a heavy-bottomed saucepan. Add butter and mix well.
Pour apples with the resulting caramel.
Place in the oven at 180 ° C for 15 minutes.
Roll out the dough and cover the apples with it.
Wrap the edges of the dough inward and prick on top with a fork or a sharp knife.
Bake shortcrust apple pie in a preheated oven at 200 ° C for about half an hour.
Remove the finished cake from the oven, walk along the walls with a knife.
Quickly flip the apple pie onto a serving plate. Do not remove the form immediately, do it in 5-6 minutes.
French flip-flop (tart taten) with apples can be served both warm and cold.
Bon Appetit!