French Apple Pie
by Editorial Staff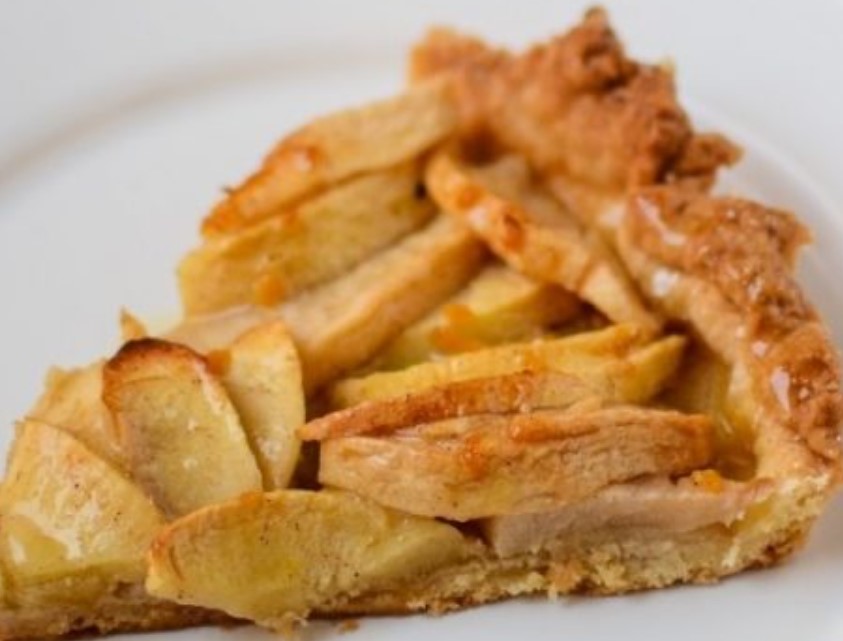 French Apple Pie is a flavorful, fresh and budget dessert made from apples and dough. This cake is especially popular in Brittany and Normandy. French apple pie is prepared within an hour.
Cook: 1 hour 30 mins
Servings: 6-7
Ingredients
Flour – 150 Grams
Butter – 75 Grams
Egg yolk – 4 Pieces (2 yolks – for dough and 2 – for cream)
Lemon – 1 Piece (only the zest is needed, you can replace it with an orange)
Sugar – 2 Tbsp. spoons (1 tbsp – for dough, 1 – for cream)
Apples – 2-3 Pieces
Fat cream – 2 Tbsp. spoons
Fat cream – 2 Tbsp. spoons
Cinnamon – 1/2 Teaspoon
Directions
In a large bowl, chop the butter, sift the flour, beat in two yolks, add a tablespoon of sugar and the zest of half a lemon.

Stir the dough ingredients with a mixer.Knead the dough out of the crumbs by hand
Knead the dough out of the crumbs by hand
Place the dough in a non-stick or silicone mold and with your hands "stretch" it in a layer along the bottom.
When the dough is stretched along the bottom and sides of the pan, pierce it with a fork in several places (this way it will not rise during baking).
Bake the tart base in an oven preheated to 180 degrees for 10 minutes.
Rinse the apples, peel them. Cut into 8 slices, cut out the seeds and stalks, then cut each slice into 2-3 more pieces.
Start spreading the apple wedges on the baked dough in a shape from the center in a circle (fan).
Spread apple slices around.
Fill the whole baked base with apples.
Put a spoonful of sugar, cinnamon, zest from the remaining half of the lemon, two yolks in a bowl. Pour in the cream.
Beat the ingredients with a mixer until smooth.
Pour the whipped mixture over the apple wedges.

Bake the pie in an oven preheated to 180 degrees for 30 minutes. Do not turn off the oven after baking the French apple pie.
Melt some butter and pour over the finished cake.
Sprinkle the icing sugar over the buttered pie and place in the hot oven for another 5 minutes to caramelize the sugar.
The French apple pie is ready!
Bon Appetit!
Also Like
Comments for "French Apple Pie"