French Toasts "Croque-Monsieur" and "Croque-Madame"
by Editorial Staff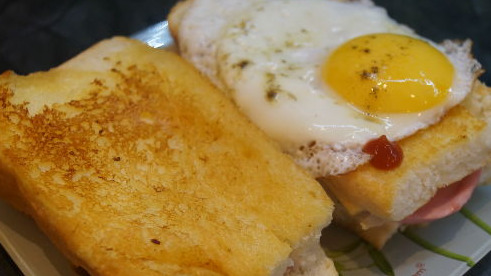 Croque-monsieur is a French ham and cheese sandwich. Very tasty, crispy (fr. Croguer – crunch). A ham and cheese sandwich served with a fried egg on top, reminiscent of a lady's hat, is called Croque Madame.
Cook: 10 minutes
Servings: 2
Ingredients
White wheat bread – 4 slices
Boiled sausage – 4 slices
Hard cheese – 4 slices
Butter – 15 g
Chicken egg – 1 pc.
Directions
We cut the bread. Spread butter on the bread. We cut the cheese and sausage.
Turn the bread butter down, put cheese and ham on top. Then put the bread on top, butter up. Preheat the pan. Fry sandwiches on it. We got two Croque Monsieur sandwiches.
To make the "Crock-Madame" sandwich, fry the eggs and put them on top (Madame's hat is ready).
Enjoy your meal!
Also Like
Comments for "French Toasts "Croque-Monsieur" and "Croque-Madame""