Fried Eggs with Eggplant, Zucchini and Tomatoes
by Editorial Staff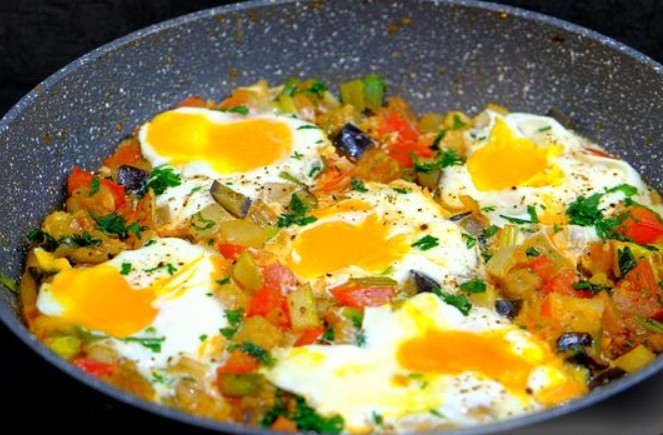 A simple recipe for eggs and vegetables for breakfast. I use a lot of vegetables available in summer: eggplant, zucchini, onions and green onions, tomatoes and bell peppers. The result is a very juicy and healthy breakfast dish, and most importantly – quickly and easily!
Cook: 20 mins
Ingredients
Eggs – 5 pcs.
Small eggplant – 1 pc.
Zucchini – 0.5 pcs.
Bulgarian pepper – 1 pc.
Bulb onions – 1 pc.
Large tomato – 1 pc.
Garlic – 2 cloves
Green onions – 2 pcs.
Fresh parsley – to taste
Salt to taste
Ground black pepper – to taste
Vegetable oil – 3-4 tbsp
Tabasco sauce or chili (optional) – to taste
Directions
Peel the onions and bell peppers. Cut off the stalks of eggplant and zucchini.
Cut the eggplant and zucchini into cubes with a side of about 1 cm.
Cut the bell peppers into squares. Chop the onions.
If the eggplants are bitter, they need to be salted, left for 20 minutes to give off their bitterness, and then rinsed and dried.
Cut the tomato into small pieces.
Peel and chop the garlic. Cut the green onions into 1 cm pieces.
Fry eggplants, zucchini, bell peppers and onions in vegetable oil for 10 minutes, salt to taste (I added about 0.5 teaspoon of salt). Add tomatoes, green onions and garlic. Fry for another 7-10 minutes. Season with pepper and salt to taste. Optionally add tabasco sauce or chili peppers.

Make small depressions in the vegetable mass (according to the number of eggs), pour the eggs into them. Season the eggs with salt and pepper to taste.
Chop the parsley and sprinkle the eggs with vegetables.

Cover the skillet with a lid and fry the eggs until the protein is tender.
Fried eggs with eggplant, zucchini and tomatoes are ready.

Enjoy your meal!
Also Like
Comments for "Fried Eggs with Eggplant, Zucchini and Tomatoes"