Fried Eggplant
by Editorial Staff
Fried eggplants always look great on the summer table. There are many recipes, fried eggplant with garlic is very good.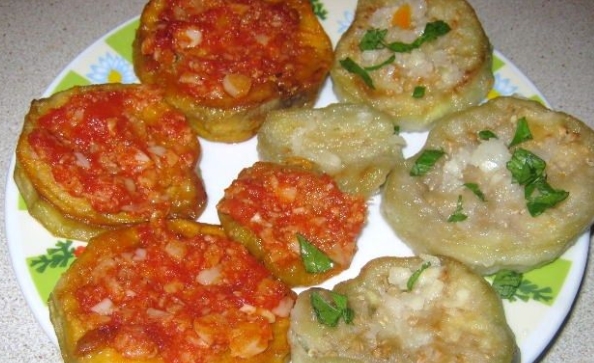 Servings: 4
Cook: 1 hour
Ingredients
Eggplant – 2-3 pcs. (500-600 g.)
Salt – 30g
Refined vegetable oil – how much will it take
Garlic to taste
Vinegar to taste
Flour – 3-4 tablespoons
For the tomato sauce:
Sunflower oil – 0.25 cups
Tomatoes – 4 pcs. (about 100 g)
Garlic – 4-5 cloves
Salt – 0.5 teaspoon
For the garlic sauce:
Garlic – 3-4 cloves
Vegetable oil -1 tablespoon.
Vinegar 0.5 teaspoon
Salt 0.5 teaspoon
Directions
Wash the eggplants, cut off the stalks and peel (conveniently with a knife for peeling potatoes).

Cut into 0.5 cm thick circles, fold into a bowl and season with salt. Mix well.

You can tilt the dishes for 30 minutes to drain the bitterness. Or you can simply rinse the eggplants in cold water after 30 minutes and squeeze out the bitterness.
Preheat a frying pan, then pour in just enough oil to cover the bottom of the pan. I recommend rolling eggplant mugs in flour. Then the fried eggplant will retain more juice. But you can also fry without flour.
Fry the eggplant over medium heat on both sides until golden brown. It usually takes me 1.5-2 minutes. on one side, then the same amount on the other. Top up sunflower oil as needed in a tablespoon. While the fried eggplants are cooling down, let's make the sauce.
Serve fried eggplants with a grated garlic sauce (crush in a garlic bowl) and vinegar. I put 3-4 cloves of garlic, 1 tablespoon. vegetable oil, 0.5 teaspoon vinegar and 0.5 teaspoon salt .. Mix everything.
Grease fried eggplants with garlic sauce and grind with herbs.
Or you can make tomato sauce. Tomato sauce for fried eggplant is prepared as follows: grate tomatoes, add a pinch of salt, coarsely chopped garlic.
Then we heat the sunflower oil in a frying pan and, stirring often, fry the grated tomatoes in it, until the state of a homogeneous gruel for about five minutes.
Fried eggplants are especially good with this sauce! Serve chilled.
Enjoy your meal!
Also Like
Comments for "Fried Eggplant"