Fried Eggplant with Garlic
by Editorial Staff
Fried eggplant with garlic is a delicious snack. Eggplant, sliced ​​and fried, seasoned with garlic, herbs and salt.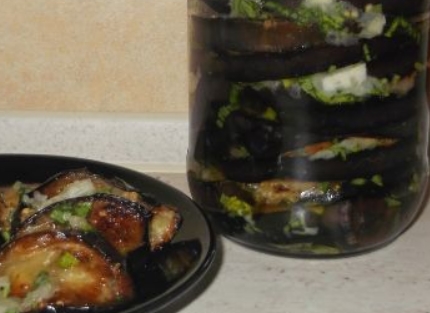 Ingredients
For 1 can with a capacity of 0.5 l:
Eggplant – 500 g
Garlic – 2-3 cloves
Parsley – 5 sprigs
Salt – 1 tbsp
Vegetable oil – about 1 cup
Directions
Prepare fried eggplant and garlic snacks.

Choose eggplants of the same ripeness and size. Wash, dry, cut off the stem and cut into 1 cm slices.

Heat 2 tablespoon in a frying pan. tablespoons of vegetable oil, put the eggplant circles. Fry the eggplants over medium heat until golden brown. First, fry for 3-5 minutes on one side.
Then turn over, add 1 more tbsp of vegetable oil and fry the eggplant for about 3 minutes on the other side.
Peel and crush the garlic.
Finely chop the greens. Mix herbs with garlic and salt.
Dip each eggplant slice into the mixture and place tightly in prepared jars.
Pour the eggplant in a jar with vegetable oil (2-2.5 tablespoons) – boiled and cooled or refined in advance.

Close with prepared lids. Store in a cool place.
Enjoy your meal!
Also Like
Comments for "Fried Eggplant with Garlic"