Fried Eggplants
by Editorial Staff
Do you like eggplant? Then this recipe for fried eggplant with tomatoes is just for you.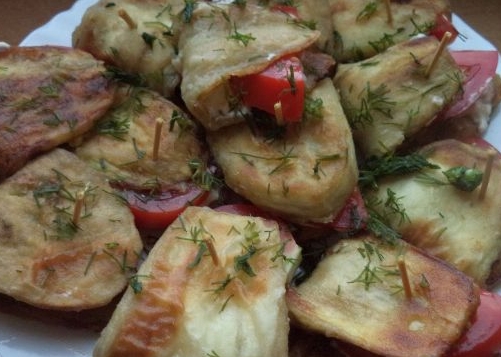 Cook: 50 mins
Servings: 4
Ingredients
Eggplant – 800 g
Tomatoes – 1-2 pcs.
Garlic – 2-3 cloves
Mayonnaise – 70 g (to taste)
Flour – 3-4 tbsp (how much will it take)
Vegetable oil – 6-8 tbsp (how many will it take)
Salt – 2 tbsp
Directions
Wash eggplants.

Peel the eggplants, cut them lengthwise into slices about 0.6 cm thick.
Salt prepared eggplants (2 tablespoons), mix and leave for 15-20 minutes.
Rinse well, squeeze out excess moisture.
Dip each plate in flour on both sides.
Heat a frying pan, pour in vegetable oil (3-4 tablespoons). Put prepared eggplants in hot oil. First fry on one side over medium heat for about 2 minutes (until golden brown).
Then turn over and fry on the other side for about 2 minutes more.
So fry all the eggplant slices. Add oil as needed (1-2 tablespoons). Cool the fried eggplants.
Make the sauce. To do this, peel, crush the garlic, mix it with mayonnaise.
Wash the tomatoes, cut into thin slices.
Grease each piece of fried eggplant with sauce.

Then put a slice of tomato, roll the eggplant 2-3 times. Fried eggplants are ready!
Bon Appetit!
Also Like
Comments for "Fried Eggplants"