Fried Eggplant in Egg
by Editorial Staff
Pour eggs over the eggplants for a wonderful snack! The recipe that people always ask me! Amazing taste! Try making this eggplant appetizer and let someone guess what it's made of! 100 points snack! It's easy to prepare!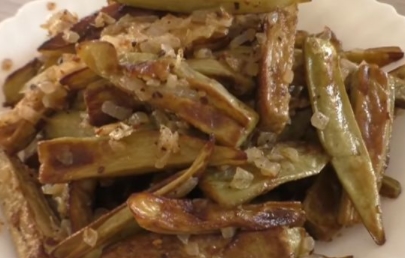 Ingredients
Eggplant – 2-3 pcs.
Eggs – 2 pcs.
Bulb onions – 2 pcs.
Vegetable oil – for frying
Salt to taste
Ground black pepper – to taste
Chopped dry mushrooms – 1 tbsp
or mushroom bouillon cube – to taste
Directions
Peel the eggplants and cut into small cubes. Beat eggs with a pinch of salt.

Fill the eggplants with eggs, mix and put them in the refrigerator for a couple of hours. During this time, mix 2-3 times.

Peel the onion, cut it into small cubes and fry in a little oil until golden brown. Remove the onion from the pan.
After the onion, fry the eggplants until golden brown, cook in batches. There is very little vegetable oil, the eggplants are saturated with eggs and do not absorb oil.
With the last batch of eggplants, return all the fried eggplants and onions to the pan. Add black pepper, salt and mushroom powder (if you add a salt cube, be careful). Mix everything and cool.
Be sure to try this eggplant appetizer and write how you taste!
Also Like
Comments for "Fried Eggplant in Egg"