Fried Eggplant with Melted Cheese
by Editorial Staff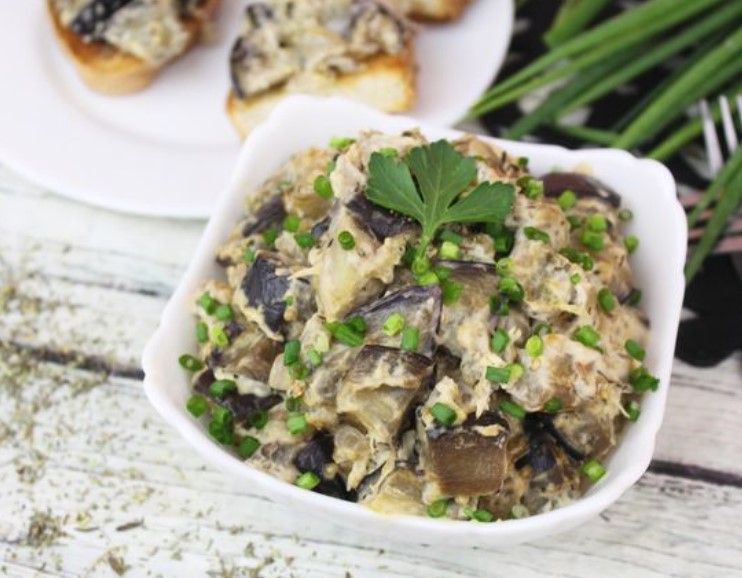 In the summer season, eggplant dishes are especially popular – fried, stewed, baked, in the form of caviar … But sometimes you want to deviate from the usual recipes and cook something completely new, with an interesting taste. This dish does not contain any "overseas" ingredients, but the result is surprising – due to the addition of melted cheese, eggplants fried with onions are very tender. And dried Provencal herbs make this appetizer especially aromatic.
Cook: 20 mins
Ingredients
Eggplant – 2 pcs.
Processed cheese – 100 g
Bulb onions – 1 pc.
Salt to taste
Ground black pepper – to taste
Dried Provencal herbs – to taste
Vegetable oil – 2 tbsp
Green onions (for serving) – 2 pcs.
Directions
Prepare food.

Wash the eggplants, dry and cut off the edges on both sides. Cut the eggplants into cubes about 1.5×1.5×1.5 cm.
Heat a skillet with vegetable oil. Fry the eggplant over medium heat for 5 minutes, stirring occasionally.
Peel the onion, wash and cut into small cubes.
Add the onion to the eggplant.
Saute until the onions are soft (5 minutes).
Cut the melted cheese into large cubes.
Add the melted cheese to the eggplant and onion. Pour in dried Provencal herbs, salt and pepper to taste.
Heat the contents of a skillet over low heat for a couple of minutes to melt the cheese.

Sprinkle fried eggplants with melted cheese with finely chopped green onions and serve warm or cold as an addition to main courses or as an appetizer.
Bon Appetit!
Also Like
Comments for "Fried Eggplant with Melted Cheese"