Fried Eggs in Zucchini with Chicken and Tomato
by Editorial Staff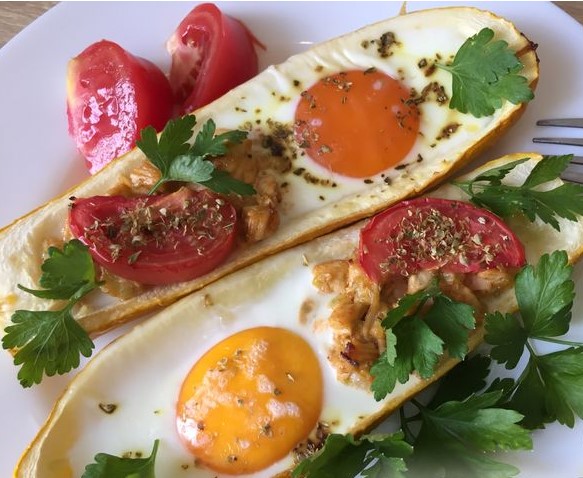 Scrambled eggs in zucchini, with chicken and tomato, perfect for a weekend breakfast. Preparing such a breakfast is a little more complicated than the usual scrambled eggs, but the whole family will be delighted if they are waiting for such a delicious awakening. Make your family happy!
Cook: 20 mins
Ingredients
Young zucchini – 1 pcs.
Eggs – 2 pcs.
Tomato – 2 slices
Chicken fillet (or sausage, ham, sausages) – 50 g
Mayonnaise – 1 tbsp
Butter – 20 g
Dried oregano – 2 pinches
Ground paprika – 0.25 teaspoon
Salt to taste
Fresh parsley (for serving) – 2 sprigs
Directions
Instead of zucchini, you can take regular zucchini. I boiled chicken fillet in salted water until tender (20 minutes after boiling). Instead of chicken, you can use sausage/ham/sausages.
Preheat the oven to 180 degrees. Cut the zucchini in half lengthwise. Using a knife and a teaspoon, remove the pulp with seeds, being careful not to damage the walls of the zucchini.
Grease a baking sheet with 10 g of butter. Put the zucchini on a baking sheet and place in the preheated oven for 10 minutes. Cut the zucchini pulp and boiled chicken into cubes.
Melt the remaining butter in a skillet and fry the zucchini for 3-5 minutes, until cooked through.
Add chicken to the fried zucchini.

Mix. Add mayonnaise and paprika. Salt if desired. I didn't salt, as I cooked meat in salted water.
Stir again and turn off the heat. The meat filling for the zucchini is ready.
Place the filling on a plate.
Meanwhile, the zucchini are baked, become soft, but keep their shape well. Stuff 1/2 part of the zucchini boats with the cooked meat filling. I have half of the filling left. Carefully break the eggs, being careful not to damage the yolk, and pour one by one into the zucchini "boats".

Cut off two slices of tomato and place on top of the meat filling. Sprinkle the egg and tomato with dried oregano and salt to taste. Send the zucchini with the egg, chicken, and tomato to the oven and bake at 200 degrees for 5-7 minutes, so that the protein completely grabs and the yolk remains liquid.
Garnish with scrambled eggs in zucchini, with chicken and tomato, fresh parsley, and serve immediately, complementing with toasted toast. Enjoy your meal!
Also Like
Comments for "Fried Eggs in Zucchini with Chicken and Tomato"