Fried Eggs with Tomatoes and Onions
by Editorial Staff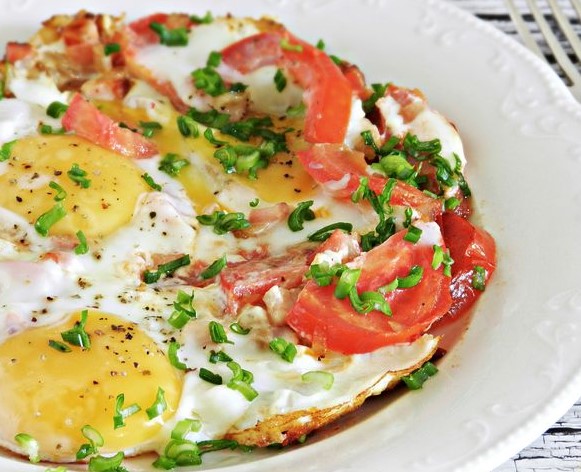 Fans of a tasty and satisfying breakfast will certainly appreciate this simple, but very appetizing dish – scrambled eggs with tomatoes and onions. And who did not have time to have breakfast, cook scrambled eggs for lunch, and it will satisfy your hunger for a long time.
Ingredients
Eggs – 3 pcs.
Cooked-smoked brisket – 30 g
Tomatoes – 2 pcs.
Bulb onions – 1 pcs.
Green onion – 1 pcs.
Fresh parsley – 1 sprig
Salt to taste
Ground black pepper – to taste
Directions
Peel and cut onions into cubes. Also, cut the brisket into cubes. Wash the tomatoes and cut them in half. Cut each half into slices, not too thin so that they remain intact in the finished eggs.
In a skillet over medium heat, fry the brisket and onion until golden brown, for 5 minutes. Add salt and pepper to taste. Put tomato slices on the onion with brisket.

Stir and fry the tomatoes along with the onions and brisket for 1-2 minutes to let the tomatoes juice. Then break eggs into a frying pan.

Season with salt, pepper, and fry the eggs with tomatoes and onions. It is desirable that the protein is completely cooked and the yolks remain runny. It is beautiful and delicious.
Transfer the cooked eggs with tomatoes and onions to a plate, sprinkle with finely chopped herbs and serve immediately.
Enjoy your meal!
Also Like
Comments for "Fried Eggs with Tomatoes and Onions"