Fried Shrimp Salad
by Editorial Staff
On a note, for lovers of non-hacked dishes, I want to offer a very simple option, how to prepare a salad with fried shrimps and white asparagus. Tasty, healthy and very original!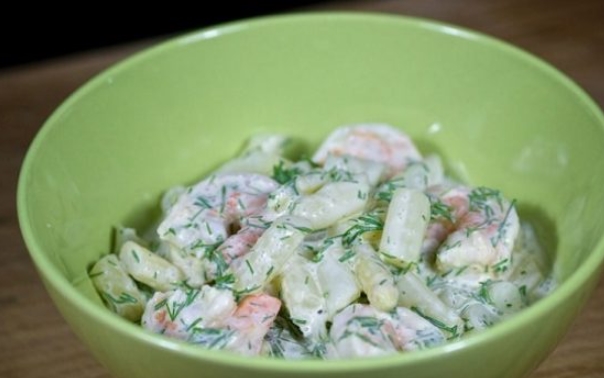 Servings: 3-4
Cook: 20 mins
Ingredients
Shrimp – 250 Grams
White Asparagus – 400 Grams
Olive oil – 1 tablespoon the spoon
Salt – 1 Teaspoon
Spice – To taste (chili flakes, curry, etc.)
Soy Sauce – To taste (optional)
Greens – 1 Bunch
Mayonnaise – 1.5 Art. spoons
Cream – 100 Milliliters
Lemon juice – 1 Tbsp. the spoon
Pepper – 1 Pinch
Directions
First of all, we will deal with shrimp. Heat a little oil in a frying pan, put the peeled seafood there.

Simultaneously place a large pot of water on the fire, bring to a boil. Cook the shrimp for a few minutes, then add the spices (you can use whatever you want in this simple grilled shrimp salad recipe), in this case, chili flakes.

Now add some curry and soy sauce. If you don't add the sauce, add a little salt. Fry a little more, stirring occasionally, until tender. Remove from heat and cool.
Wash and peel the asparagus, remove the rough ends. Place the asparagus in boiling salted water. After boiling again, boil for 3-5 minutes (if the asparagus is thick, then you can hold it on fire for 10 minutes, and then remove it from heat and leave it in water under the lid for another 10-15 minutes). Then put it under cold water and cool.
While the main ingredients are cooling, you can do the dressing. Combine cream and mayonnaise in a small bowl.
Add lemon juice to taste.
And also a pinch of pepper and (if desired) other spices. Stir everything until smooth.
In a deep bowl combine chopped asparagus, shrimp, and chopped greens.
Put the dressing out.
Mix everything carefully. Before serving, it is better to chill the salad with fried shrimp at home (about 20 minutes).
Bon Appetit!
Also Like
Comments for "Fried Shrimp Salad"