Greek Gyros with Pork, Home-Style
by Editorial Staff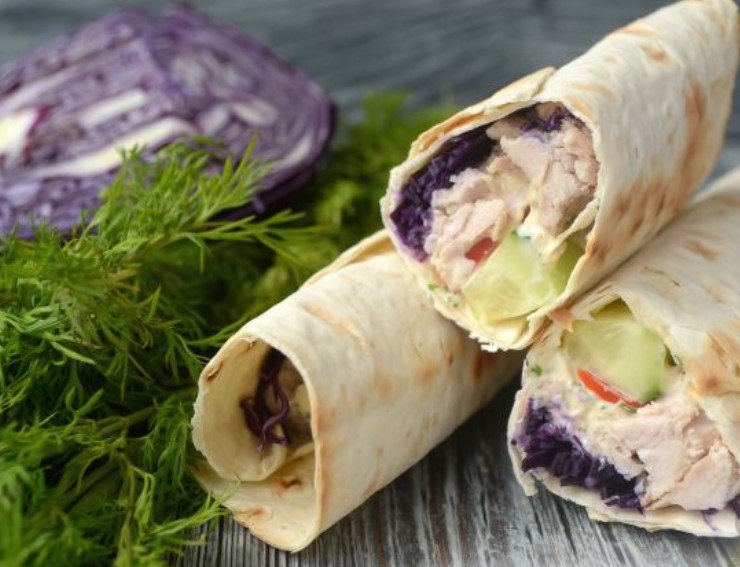 Gyros is the Greek version of shawarma, a type of fast food. Gyros is served either in pita or in a thin tortilla. You can make homemade gyros with boiled pork, vegetables and sauce.
Ingredients
Flatbread (tortilla) – 4 pcs.
Boiled pork – 150 g
Red cabbage – 50 g
Tomato – 100 g (1 pc.)
Cucumber – 100 g (1 pc.)
Mayonnaise – 100 g
Fresh dill – 1 sprig
Garlic – 1 clove
Curry – 1 teaspoon
Ground black pepper – to taste
Salt to taste
Directions
Prepare all the ingredients for the Greek gyros at home. You can use tortillas as a thin flatbread, but if you couldn't find them, thin lavash will do.
First of all, let's make the gyros sauce. To do this, mix mayonnaise, chopped garlic, curry, salt, ground black pepper and finely chopped dill in one bowl.

The gyros sauce is ready. This sauce can be used in any other dish too.
Place the tortilla or pita bread on a cutting board or flat surface. Finely chop the red cabbage and place the cabbage on one side of the flatbread. Top with slices of chopped boiled pork.
Add a few tablespoons of the sauce, cover the meat completely with the sauce.
Cut the tomato into thin half rings and place on the sauce as well. You can add a little salt.
Cut the fresh cucumber into cubes, line along the filling over the tomato.

Roll the tortilla into a roll or envelope. Do the same for the rest of the tortilla sheets.
Place the gyros with pork and vegetables in a dry, well-heated non-stick frying pan and fry on three sides for 2 minutes.
Ready-made Greek pork gyros, home-style, serve immediately after roasting, hot, cut in half.
Bon appetit!
Also Like
Comments for "Greek Gyros with Pork, Home-Style"