Herring Salad
by Editorial Staff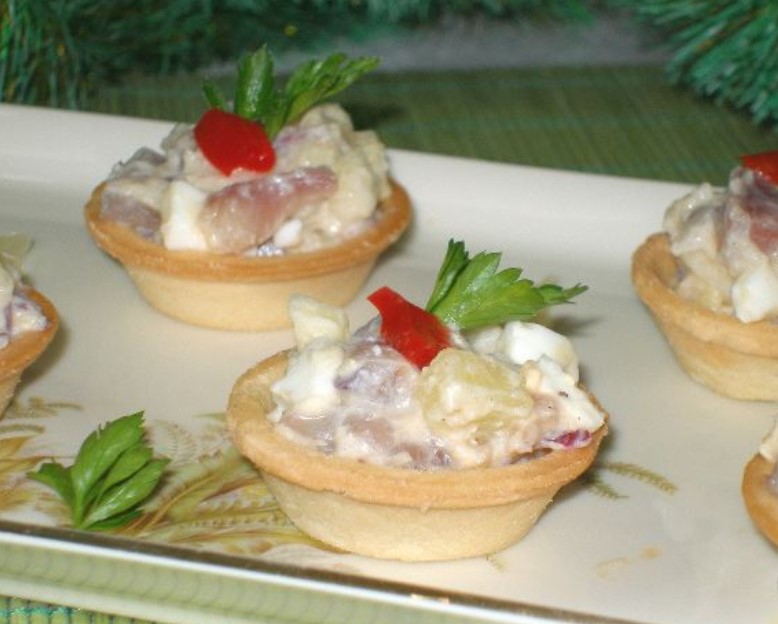 In this herring salad, the taste is balanced. Such a dish is easy to prepare, it contains the most affordable products – herring, apples, eggs and potatoes. Everyone will like it. Salad dressing – no mayonnaise. You can serve the salad in tartlets.
Ingredients
Lightly salted herring – 1 pc.
Potatoes – 1 pc.
Apple – 1 pc.
Eggs – 2 pcs.
Bulb onions – 1 pc.
Sesame – 1 tbsp
Sour cream – 3-4 tbsp
Lemon juice – 1 tbsp
Mustard – 1 teaspoon
Vegetable oil – 2 tbsp
Sugar – 1 teaspoon
Ground black pepper – 0.5 teaspoon
Directions
Prepare the necessary foods for the herring salad. Boil the potatoes in their uniforms, cool. Boil eggs hard-boiled, cool.

To make a salad dressing, pour vegetable oil into a small container, add sour cream, sugar, pepper, mustard. Mix everything.
Peel the boiled eggs and separate the yolks from the whites. Chop the yolks with a fork and add them to the sour cream dressing. Leave the dressing aside.
Cut the egg whites into cubes. Peel the boiled potatoes and cut into cubes. Peel the herring of skin, bones, entrails and cut into cubes. Peel and core the apple, cut into cubes and sprinkle with lemon juice. Peel the onion and cut into small cubes.
Place diced herring in a deep salad bowl, add onions, potatoes, apple, sesame seeds. Mix everything.
Combine the herring salad with the dressing and stir again so that the dressing is evenly distributed.

Put the finished salad of herring, potatoes, onions, apples and eggs into tartlets or put in a salad bowl and serve.
Bon Appetit!
Also Like
Comments for "Herring Salad"