Juicy Boiled Pork
by Editorial Staff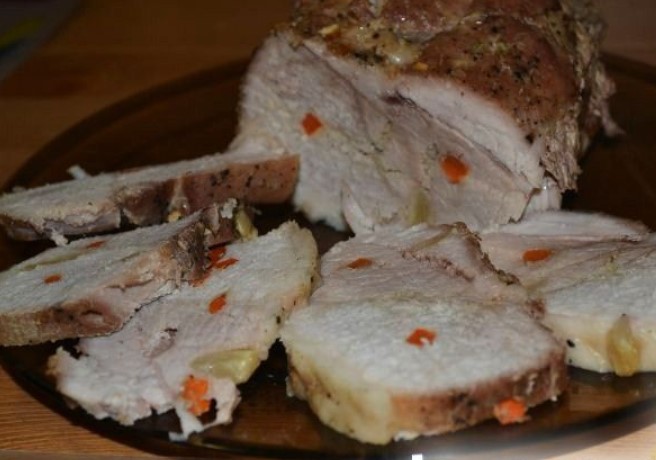 The boiled pork recipe is incredibly simple, and the result will amaze you!
Ingredients
Boneless pork – 1 piece
Medium carrots – 1 pc.
Garlic (small) – 1 head
A mixture of salt and pepper
Flour
Water
Directions
That's all we need! Rinse the meat, dry it, cut off excess fat. Cut the carrots into strips of medium thickness, peel the garlic cloves.

Next, with a thin knife (I used a tomato knife, the blade is thin and long) we make slots. At this point, how convenient is it for you and what "pattern" you want to get on the finished meat. I cut from side to side for carrots and top to bottom for garlic.
Now we take our vegetables and stuff the meat with them. I would like to advise: in order for the meat to be evenly salted, before pushing the vegetables into the holes, pour some salt and pepper into the holes themselves, and only then a clove of garlic or a strip of carrots.
At the end of the process, the meat may resemble a hedgehog, and if this bothers you, cut off the excess.

Now the dough. Firstly, it is the dough that will absorb the excess fat during the cooking process, and keep the excess fat. Thus, the meat will be juicy and not dry or fatty. Secondly, in foil, in paper, or without anything at all, you will get just a baked piece of meat, the taste will be completely different from the dough. Well, actually, the dough. Just flour and water. No salt, sugar, yeast, etc. Just this. The dough should be elastic, even if sticky, it's okay. Rub the meat with salt and pepper on top and place it on the rolled dough.
We wrap it up. Everything is not as simple as it seems. Arm yourself with a cup of water to dunk your hands and seal the seams.
This is the kind of little we get.
We put in a greased form. Now you can put this in the refrigerator for a couple of hours. This is not necessary, not everyone likes the more pronounced taste of garlic or carrots. But if you don't mind – pickle! Warm up the oven by 180 degrees. Place the meat mold in the middle. Check again to make sure the seams don't come apart. If everything is in order, close the door for 2 hours and 30 minutes. You don't need to flip, twist, etc. The meat will not burn or spoil. After the time has elapsed, you can open the oven and, at least, let the meat cool, or it is better to leave it overnight. Attention: hot meat crumbles and is difficult to cut, so it is better to wait.

That's all! The boiled pork is ready.

Enjoy your meal!
Also Like
Comments for "Juicy Boiled Pork"