Pork Boiled Pork "Tenderness"
by Editorial Staff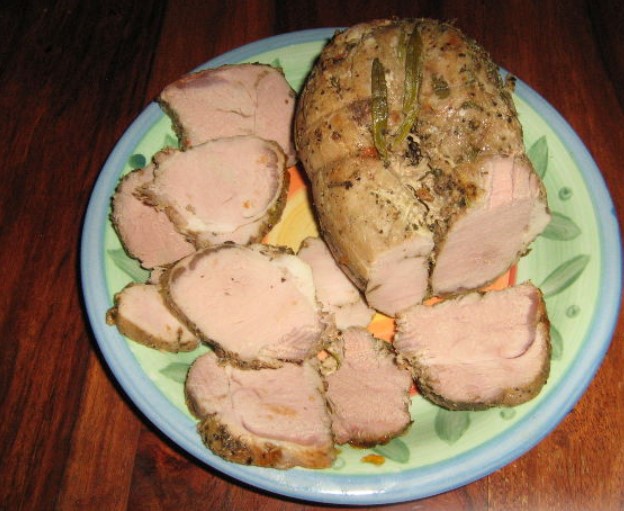 The most delicate boiled pork baked in foil. Cooking is very easy, the secret of the recipe for marinated pork pork. Try it!
Cook: 1 hour
Servings: 4
Ingredients
Pork (sirloin) – 500 g
Grill spices
Salt
Olive oil
Rosemary
Sage
Thyme
Directions
Rub the pork fillet with salt and your favorite spices, I have spices for grilling.
Place the fillet in a saucepan and pour with olive oil. We pierce with a fork in several places. Leave to marinate for 12-24 hours. From time to time we turn the fillets and pierce again with a fork in several places.

I have a long piece of fillet, so I folded it in half. Add fresh rosemary, sage and thyme. We tie it with a twine for cooking. If you decide to bake meat on the barbecue, you need to leave the piece in one layer, full length.
We wrap the pork tightly in several layers of foil.
If baking on a barbecue, place on the far edge of the wire rack, in the back, and bake for about an hour, turning over from time to time. In the meantime, we are preparing other components that are faster in cooking (kebabs, heart, kidneys, chicken wings).
If we bake in the oven – at 200 degrees for about 40 minutes.
If we chose to bake in the oven, after 40 minutes. open the foil and bake the pork pork in the oven for another 20 minutes, so that the meat is browned.
Let the boiled pork cool, remove the sprigs of rosemary and sage. Cut into thin slices.
Enjoy your meal!
Also Like
Comments for "Pork Boiled Pork "Tenderness""