Homemade Boiled Pork
by Editorial Staff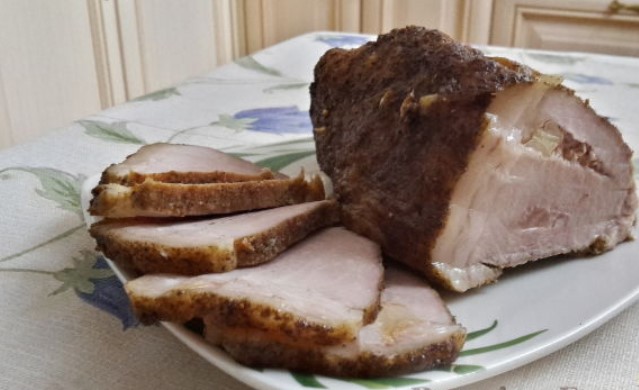 I tried many methods of making homemade boiled pork, and in each of them something did not suit me – either the meat turned out to be too tough or dry, or the spices were brought in. As a result, I came up with the perfect recipe in which tender juicy meat is combined with aromatic spices.
Ingredients
Brass pork – 600 g
Garlic – 4-5 cloves
Salt to taste
Ground black pepper – to taste
Ground chili pepper – to taste
Spices (paprika, nutmeg, black pepper, coriander, mustard seeds, suneli hops) – 2 teaspoon
Unrefined sunflower oil – 2 tbsp
Directions
Here is the necessary set of ingredients for making homemade boiled pork.
Peel the garlic and cut into slices lengthwise into 3-4 pieces.
Make cuts in the meat with a thin knife and put the chopped garlic into them.
In a small cup, combine 2 tablespoons of sunflower oil, salt, pepper, spices, ground chili and mix thoroughly.
Thoroughly coat the pork with the resulting mixture on all sides.

Wrap the pork in foil and marinate in the refrigerator for at least 3 hours. (I usually marinate pork in the morning and put it in the refrigerator for the whole day.)
After 3 hours, remove the pork from the refrigerator, place it in a baking dish and send it to the oven preheated to 190-200 degrees. Bake the meat in the oven for 1 hour 40 minutes. After the time has passed, turn off the oven and leave the pork in it for 8 hours. Do not open the oven! After 8 hours, open the oven, unfold the meat, drain the excess liquid and let the meat dry. Homemade boiled pork can be sliced ​​and served. Enjoy your meal!
Also Like
Comments for "Homemade Boiled Pork"