Canapes with Boiled Pork
by Editorial Staff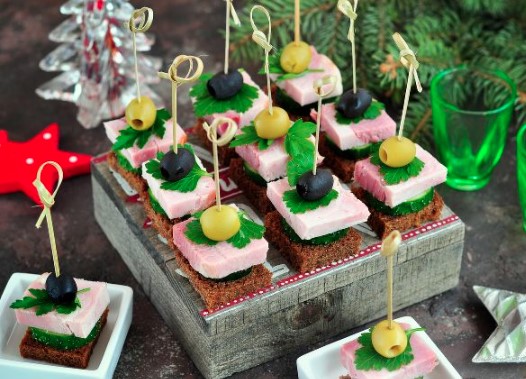 Canape is an appetizer for a festive table, which does not happen too much. Small sandwiches are easy and convenient to eat, they are just perfect for buffets. According to this recipe, canapes are made from rye bread, boiled pork, and cucumbers.
Ingredients
Rye bread – 200 g
Pork – 200 g
Large cucumber – 1 pc.
Pitted olives – 20 g
Pitted olives – 20 g
Parsley or dill to taste
Mayonnaise (optional) – to taste
Directions
I bought the bread already sliced. I cut off the crusts and cut slices of bread into identical squares. Cut the boiled pork into the same squares. The pieces should be about the same thickness as the bread.
Cut the cucumber into slices. Place the sliced ​​bread on a flat surface. (If desired, you can lightly grease it with mayonnaise; this will only make the canapes tastier.)

Place the sliced ​​cucumber on top of the bread. Place the boiled pork slices on the cucumber.
Put dill or parsley leaves on the boiled pork. (One thing to keep in mind here: the greens can wither if you plan to prepare the canapes in advance.) Top with olive or pitted olive. Fasten everything with a skewer or toothpick.

Serve ready-made canapes with boiled pork on the festive table. Bon Appetit!
Also Like
Comments for "Canapes with Boiled Pork"