Homemade Boiled Pork
by Editorial Staff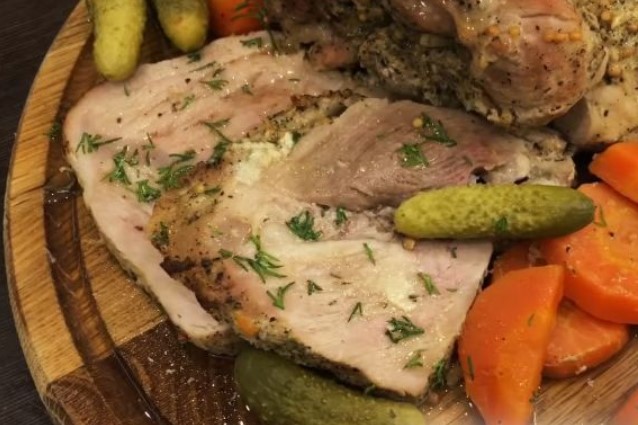 It is not difficult to cook homemade boiled pork in the oven, in the sleeve. Pork cooked according to this recipe turns out to be very juicy, tender and will always decorate any table
Ingredients
Pork (shoulder) – 1 kg
For broth:
Carrots – 1 pc
Celery – 30 g
Bulb onions – 1 pc.
Garlic – 4 cloves
Bay leaf – 2 pcs.
Dry rosemary – 1 sprig
Salt – 0.5 tbsp
Peppercorns
Water – 0.5 liters
For the marinade:
Mustard – 2 teaspoon
Mustard seeds – 1 teaspoon
Garlic – 3 cloves
Hot pepper – to taste
Ground black pepper – 1 teaspoon
Bay leaf – 2 pcs.
Directions
First of all, prepare a vegetable broth. Pour 0.5 liters of water into a saucepan, add bay leaves, allspice, rosemary, cloves of garlic, cut in half, and salt.
Cut the onion into 4 parts, cut the carrots into slices, cut off 30 g of celery.
We send vegetables to the pan. We put on fire and boil for 15 minutes, until the carrots are soft.

Let's start preparing the marinade. In a deep bowl, combine the mustard, black pepper, mustard seeds, chopped bay leaf and hot pepper, cut into small pieces.
Squeeze 3 cloves of garlic there. We mix.
We cooked the broth for 30 minutes, it should taste a little salty. We drain the broth, filtering it through a metal sieve (we don't throw away the vegetables, they will still be useful to us).
At this stage, we need a syringe. We collect warm broth into a syringe, make deep punctures over the entire surface of the meat and pour the liquid inside. Then dry the pork with paper towels
We rub the meat with the prepared marinade.
Take a baking sleeve and tie it on one side. We put vegetables in the sleeve.
Place the mustard-marinated pork on a vegetable pillow, leaving 10-15 cm of air space on both sides. Tie the sleeve on the other side.
We send the pork to the oven, preheated to 180 degrees. Meat, weighing 1 kg, cooks for 1 hour. If the weight of the meat is 1.5 kg, then the cooking time is correspondingly increased by 30 minutes.

We take the pork out of the oven and cut the bag. Readiness can be checked by making a small incision – if clear juice is released, then the baked meat is ready. If you want to get a ruddy pork pork, pour it with broth and send the pork to the oven for another 10 minutes.
Homemade boiled pork in the oven, in the sleeve, ready!
You can serve homemade pork pork hot or cold.
Bon Appetit everyone!
Also Like
Comments for "Homemade Boiled Pork"